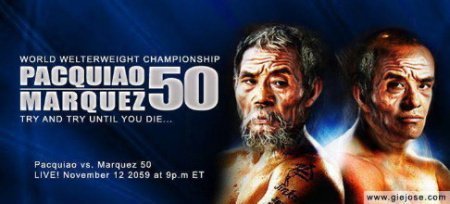 By Joseph Herron – On the eve of the monumental fourth meeting between two future Hall of Fame fighters, Manny Pacquaio and Juan Manuel Marquez, HBO's unofficial ringside scorer Harold Lederman chimed in on what fight fans should expect to see when these ring legends collide at the MGM Grand in Las Vegas, Nevada.
"One variable that's worth noting when you look at the fourth installment of the Pacquiao/Marquez saga is that two of the three ringside judges will be from outside of Nevada," observes Harold Lederman. "I screamed and yelled that Juan Manuel Marquez is entitled to have all three judges flown in from other locations, but they're using Adalaide Byrd as the lone Nevada state judge."
"But one of the judges will be from Great Britain, and the other will be flown in from New Jersey, so we'll see what happens. But at least we don't have three Nevada state judges this time for a fight of this magnitude. Maybe they'll see it differently, because my gut tells me that it's going twelve rounds once again."
Although both competing fighters on December 8th claim there will be a more resolute and decisive victor to end the fourth contest, the jovial Mr. Lederman advises all fight fans to expect more of the same from Pacquiao and JMM on Saturday night.
"These guys always seem to go the distance, no matter what they say. It should be a great fight and it will be a lot of fun for the fans. Although I don't expect it to end before the final bell sounds, I think both men will go all out in this fight because of the three controversies in their previous meetings."
"Manny is such an exciting fighter and a great ring tactician who will hit you, then step around you, and then hit you again. Juan Manuel Marquez has the biggest heart in boxing; you knock him down, then he gets up and he just kills you. Both guys are incredible and they both have styles that mesh very well. You know they're going to bang on each other, get themselves bloody, and go the distance each time they fight."
"I just can't see how it's going to end any differently than the last three bouts, I really don't. I think it's going to twelve again…I really do."
"Manny is Manny. He's still going to be the aggressor in this fight, and Marquez is still Marquez. He's still going to try and counter Manny with the straight right hand as he's coming in. No matter what both fighters say, I don't think they're changing their styles…especially when both fighters feel they legitimately won the last three fights."
While both fighters will undoubtedly bring their best to the ring tomorrow night, statistically Manny will have an interesting advantage.
In rematches, Manny Pacquiao is a perfect 5-0 with 2 knock-outs, with both KOs at the expense of future Hall of Famer Erik "El Terrible" Morales; while the great Juan Manuel Marquez has only competed in three rematches throughout his 19 year professional career, losing twice consecutively to Pacquiao and defeating Juan Diaz in their rematch of 2009's fight of the year.
Although JMM has never officially defeated Manny Pacquiao, the all-time great Mexican fighter has been the Pac-Man's equal throughout every contest.
Of the 36 total rounds fought previously, Pacquiao has only landed 13 more overall punches than Marquez, with totals of 481 for Manny and 468 for JMM. But, the 39 year old fight veteran has landed more power shots surprisingly, and has landed at a higher connect percentage overall.
In the three preceding bouts, Juan Manuel has landed 352 power connects compared to Manny's 331, and Marquez has connected with a total percentage of 31.3% contrasted with Manny's gross connect percentage of just 26.2%.
Regardless of what the numbers may or may not indicate, the incomparable Harold Lederman encourages every fight fan to simply enjoy these two ring legends' efforts on Saturday night and forget about the previous three controversial decisions.
"This match-up is special. Whether you thought Marquez really won the first three bouts, or if you think Manny deserved three consecutive victories, this is an all-time great match-up in which two great fighters are stepping in the ring once again for a special fourth time. It's very rare that we see two legends in the ring tangle this frequently during this era of boxing, so everyone should appreciate these two fighters and enjoy this historic pairing."
The "Pacquiao/Marquez IV" special HBO PPV presentation will begin at 9PM EST/6PM PST, and feature three preliminary bouts on the televised portion of the Top Rank fight card.
The HBO PPV special event will begin with a 12 round Featherweight title bout, featuring Pablo Sarmiento fighter Javier Fortuna (20-0, 15 KOs) against Ireland's Patrick Hyland (27-0, 12 KOs) for the WBA Interim 126 pound title.
Then, undefeated Mercito Gesta (26-0-1, 14 KOs) will compete for Miguel Angel Vazquez's (31-3, 13 KOs) IBF Lightweight belt in a 12 round championship contest.
Subsequently, Cuban exile Yuriorkis Gamboa (21-0, 16 KOs) will make his long awaited return to the ring against hard punching Michael Farenas (34-3-4, 26 KOs) in a 12 round co-main event for the interim WBA Super Featherweight championship.