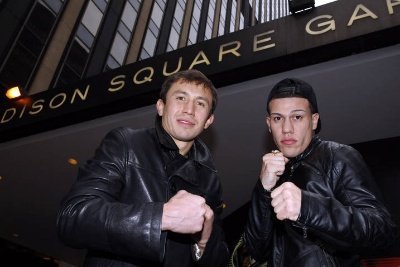 By Joseph Herron: It's been just a little over two months since "King" Gabriel Rosado (21-5, 13 KOs) earned the opportunity to fight for championship gold by defeating Charles Whitaker in an IBF Junior Middleweight title eliminator on NBC Sports Network.
But to the surprise of most, the 26 year old puncher won't be standing across the ring from IBF Champ K9 Bundrage when the opening bell sounds to begin his subsequent outing. The courageous Philly fighter will be taking on current WBA Middleweight Champion Gennady Golovkin (24-0, 21 KOs) instead.
On January 19th, at the Mecca of boxing, Madison Square Garden, Rosado will face one of the more avoided fighters and hardest pound for pound punchers in the entire sport. The title fight will be broadcast on HBO, as one part of an outstanding World Championship triple-header.
When Hall of Fame promoter Russell Peltz contacted his fighter concerning the prospect of facing the undefeated WBA Middleweight Champion, it didn't take long for Gabriel to answer with a resounding, "Where do I sign?"
Mr. Rosado explains how the January 19th fight materialized.
"When I was presented with this fight, I was never worried about fighting Gennady Golovkin," claims the current Junior Middleweight contender. "It was simply a matter of negotiating the right deal and making sure the business end of it was satisfactory. Once we took care of that, I was amped up about signing the contract and getting to work. I'm training extremely hard for this bout, and I genuinely can't wait for January 19th."
"I never thought I would be fighting for the Middleweight title this soon. I know that I won the opportunity to fight for the IBF Junior Middleweight title by defeating Charles Whitaker in my previous outing, but I really didn't want to wait on K9 Bundrage. I genuinely got the sense that he didn't want to fight me anytime soon."
"I could have been patient and just waited for my title shot at 154 against a considerably less dangerous fighter than Triple G; no disrespect to the current IBF Champion, K9 Bundrage. But the thing I really like about this fight is that it gives me the opportunity to show the fight fans how good I actually am."
"I think what the fans really love to see is that underdog who attempts to shock the world by stepping in the ring with a highly regarded champion. That's what I want to do. A lot of people are going to be shocked when I come out of this fight victorious, but I'm not going to be surprised. I know what I can do and I know what I've been through to get to this point. The rewards will be that much sweeter by fighting Golovkin."
Although the talented boxer/puncher has been campaigning in the packed Junior Middleweight division throughout his entire professional career, Gabriel states that competing for a 160 pound title won't be a "big" problem.
"I have no problem moving up in weight for this fight. I'm one of the bigger fighters in the Junior Middleweight division who has been able to somehow make the 154 pound limit. Most people don't realize that I will be the bigger man in the ring on January 19th. I stand 6'0" tall and fight behind a long 78" reach."
"At the press conference, I think my size really surprised him. I don't think he expected me to be that big. He's not going to have the size advantage. On fight night, I think we'll both probably weigh around 168 pounds and I'm going to be the taller and rangier fighter."
While the title challenger will indeed possess the greater height and reach going into the bout, most boxing scribes and fight fans believe that there will be a considerably large disparity in technical skill and punching power between the two combatants.
The proud Philadelphia born fighter believes that most are grossly underrating his abilities.
"If you noticed during my previous three fights on NBC Sports Network, I walked out of the ring with hardly any damage. Even though I engaged my opponents and exchanged with them, I didn't suffer a swollen eye or a cut, or anything like that. I don't really get hit much. I have a good defense. I'm able to mix it up and I'm able to shoulder ride shots without getting hit cleanly."
"I come from Philly. Bernard Hopkins, one of the best defensive fighters of this era, is my mentor and he's always teaching me the art of 'hit and not get hit'. I'm always studying and working on my craft. So when I'm in the mix, trading shots, I'm not fighting recklessly with my chin exposed. I have my chin tucked, and my defense is tight. But when I do have to take a shot, I can handle it."
"So I'm not worried about his skill level or punching power. What most people aren't thinking about going into this fight is the fact that Golovkin has never been in the ring with someone who punches as hard as I do. He stated recently that Kassim Ouma is the hardest puncher that he's faced as a professional. I fought Kassim Ouma, and he was probably the softest puncher that I've ever faced in my entire career."
"So people should be asking whether or not Gennady Golovkin will be able to take my hardest shots. If Triple G thought Ouma could punch, he's going to be in for a shock when he feels my power because I can crack a lot harder than Kassim Ouma."
Gabriel Rosado brings up a very interesting point. Because of the reputation that has preceded Gennady Golovkin, the current WBA Middleweight Champion hasn't been tested by the best fighters in the 160 pound division.
The considerable underdog believes that he will be the first to properly test the chin of Gennady Golovkin on January 19th.
"I'm not a big talker and I'm a very humble person, but I always call it like I see it. And from what I've seen of Triple G, his defense isn't good enough where he's going to be able to avoid my power. Although he has a deep amateur pedigree and he's a former Olympic Silver Medalist, he's not a guy who shoulder rides or dips and slips punches proficiently."
"Gennady is a fighter who comes at you and is there to be hit. He's going to have to earn his shots with me. But when I decide to let my hands go on fight night, they're going to land because he's there to be hit. Is he going to be able to withstand my power punches?"
"When I fought Soto-Karass earlier this year, he was there to be hit as well and he was a fighter who had never been stopped throughout his entire career. He couldn't handle my power and I destroyed him in five rounds. Sechew Powell is a slick southpaw who has a very good defense and I was still able to knock him out as well."
"In my previous fight with Charles Whitaker, I fought an experienced fight veteran who hadn't lost in nine years. When he tasted my power, he went into a defensive shell and was in survival mode throughout most of the fight. The hardest fighters to knock-out are the experienced boxers who are crafty and know how to survive…I stopped him in ten rounds."
"So I know Golovkin is going to be confident and come at me strong. When I let my hands go, it's going to make him try even harder and he's going to let his hands go even more. This will really put him at risk to get knocked out."
Even though Rosado is currently riding a seven fight win streak, with five of those bouts ending by way of knock-out, the hard punching fighter possesses five losses on his record. Because of Gabriel's checkered resume, most fight scribes and boxing fans aren't giving the title challenger a healthy chance of upsetting the reigning champ.
The 26 year old pugilist believes that his resume is the primary reason why everyone should take him seriously as an opponent.
"I know I have five losses on my resume, but I'm battle tested. I've been learning on the job this entire time, and I understand how to overcome adversity. Everything I've been through as a fighter to get to this point really speaks volumes about my heart and my character. This is my moment and I'm going to use my experience and developed skills to make the most of this opportunity."
"The world is going to see my talent, and a new star will emerge in boxing when my hand is raised in victory on January 19th."