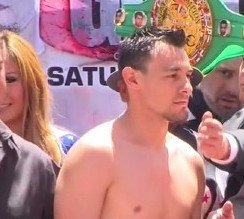 By Bill Phanco: Luis De Cubas Jr., the manager for WBC interim welterweight champion Robert Guerrero, says that he believes that a fight between Guerrero and WBC welterweight champion Floyd Mayweather Jr. is close to being done for May 4th.
There's no real mystery that Mayweather Jr. has been leaning in the direction of the three time world champion Guerrero rather than the still unproven but more popular WBC junior middleweight champion Saul "Canelo" Alvarez despite the high amount of interest in that fight by boxing fans.
Mayweather Jr. will likely let that fight build until at least September 14th, and perhaps even later.
De Cubas Jr. said to the record.com.mx "We are in the final process of closing…talks are going well and it seems that everything is on track. In two weeks we'll have a final decision. We have worked hard to put Robert in the limelight for the Mayweather fight. The difference between Guerrero and Canelo [Saul Alvarez] is that Robert has earned his place."
Guerrero has really helped himself in this past year by moving up from the lightweight division and beating two solid fighters at this weight in Andre Berto and Selcuk Aydin. Guerrero could have faced a couple of weak opponents after moving in order to get his feet wet at 147, but he chose to do it the hard way by taking two good fighters. This risky move will likely pay off big time with him getting a big money fight with Mayweather that will get him a big payday of millions.
Guerrero took the risk with his career and you can argue that he deserves the fight more than say Canelo, who despite holding down the 154 pound title, he keeps fighting welterweights. Guerrero at least is fighting guys in own weight class.
The Mayweather-Guerrero fight might end up being a lot bigger than many boxing fans think it will be. Guerrero isn't a big name in the sport, but he'll likely get a lot of support from Mexican fans anyway if he can get the Mayweather fight. And with it taking place on Cinco de Mayo holiday, this fight could do very well on HBO pay per view.