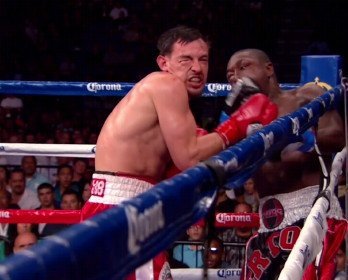 By Bill Phanco: WBC interim welterweight champion Robert Guerrero (31-1-1, 18 KO's) will stand little chance of beating WBC welterweight champion Floyd Mayweather Jr. (43-0, 26 KO's) if this fight gets made in early 2013. Golden Boy Promotions CEO Richard Schaefer is in the beginning stages of trying to put this fight together, but it's not going to be a good fight unless you like mismatches.
This is really lowering the bar for Mayweather. He's going from fighting the likes of Miguel Cotto and Victor Ortiz to the slow-handed Guerrero and it's going to be a huge drop off. Guerrero doesn't have the speed or power that those guys possess and he's going to be way out of his league Mayweather. I didn't see much from Guerrero that I was impressed with in his win over Andre Berto last weekend.
I saw Guerrero get away with holding and hitting for one of his knockdowns in the the 1st round that should resulted in Guerrero being penalized. Guerrero also did a lot of shoving, holding and throwing punches after the bell. I felt those things should have been penalized as well.
It was just a dirty, dirty fight, and if Guerrero fights like that against Mayweather, I can see Mayweather responding in kind by using his own fouls to pay Guerrero back just as Mayweather did against Ortiz after being head-butted by him in the 4th round. But it won't be a good fight between Mayweather and Guerrero. That's too easy for Mayweather.
I'd rather see Mayweather face some quality guys, not a sloppy fighter with no power and a tendency to foul from time to time. Let Guerrero prove himself worthy of fighting Mayweather by facing Keith Thurman, Kell Brook, Ortiz and Luis Carlos Abregu. If Guerrero can sweep the table of those guys then I can see him being worthy of getting a Mayweather fight but not before then. It's still too early, and his fight against Berto wasn't enough. It was too ugly and too primitive of a fight.