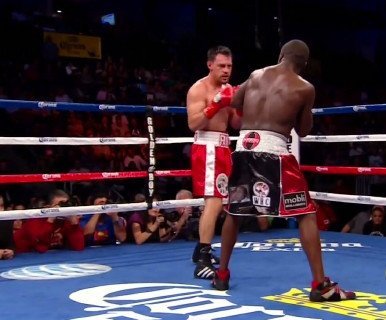 By Marc Livitz: Some called it a battle while some called it a brawl. Some complained that they don't like their sweet science so sour, while others hailed this past Saturday's meeting between Robert Guerrero and Andre Berto as a masterful production within a phone booth.
The bottom line should be all that really counts. Each fighter showed the utmost amount of grit and determination, yet the detractors didn't wait to start dissecting the bout staged for the interim WBC welterweight title.
Additionally, much scrutiny was thrown in the way of Berto due to the fact that he hadn't fought in over a year for reasons within and beyond and his control. In contrast, the stories of family, pain and triumph, which Guerrero brought with him to the broadcast, made some forget all about the fact that he had been able to amazingly jump two weight classes after a year plus break from the ring of his own.
They met and they clashed. Win ugly, but get it done.
The biggest head scratcher may have been Andre Berto's new found affinity for the shoulder roll defense which only a handful of professionals have been able to master. First comes to mind is of course the magician known as "Money", and perhaps most recently thrust into the pugilistic forefront is undefeated lightweight champion, Adrien "The Problem" Broner.
The latter of the two examples has been thrown around by some boxing scribes as the one Berto may have had on his living room TV during the seven day period leading up to his showdown with Guerrero, which would oddly suggest that the fighter from Winter Haven, Florida abandoned his original game plan when training should have been slowing to a crawl.
Either way, Guerrero will be the one moving on, at least to the next level. This begs the question: Can "The Ghost" be "The Great"? More to the point, can he dethrone the golden calf? He won a unanimous decision and then he did it again…he called out Floyd Mayweather, Jr.
Floyd has become such a brand that he's almost as much of a standard as he is a professional prizefighter, which is to be commended. Maybe the winner of the next Super Bowl MVP trophy will choose a fight with Mayweather, Jr. over a free Camaro and a trip to Disneyland. What should not go unmentioned is the fact that Guerrero stepped outside, albeit briefly his conservative personality out of the ring in order to get the public more interested in the bout.
"Some people are befuddled because now I am stepping up", said "The Ghost" in a recent interview, "but in this business nothing gets done if you don't open your mouth. I have won six world titles. I am not the type to call guys out, but sometimes you have to step out of your comfort zone. I want to push it as far as it can possibly go."
In terms of getting everything outside of the biggest payday of his career, can Robert Guerrero really consider himself a viable threat to Mayweather, Jr.? Aside from Manny Pacquiao, who himself may get his comeuppance in the eyes of many with a possible defeat to Juan Manuel Marquez on December 8, where else can Floyd go?
Of course, the easy answer is wherever he chooses, and even still a simpler reply would be to wherever the capital awaits.
A Floyd bout is an event in and of itself, but what type of fight would it be? Maybe with the retirement of Joe Cortez and the absence of a slapper instead of a referee, Guerrero would have a hitter's (not a puncher's) chance.
He's begun to sell himself…the right way.