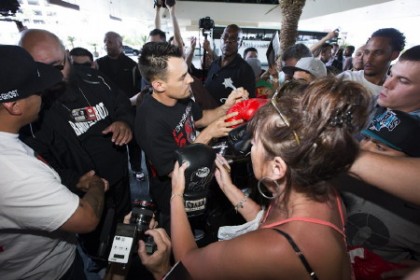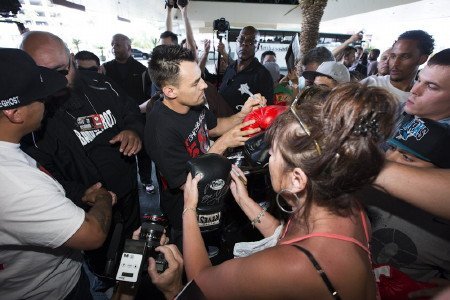 (Photo credit: Esther Lin/Showtime) Robert "The Ghost' Guerrero has reportedly had his best ever camp in getting ready for his fight this Saturday night against Floyd Mayweather Jr. in Las Vegas, Nevada, say his manager/trainer Bob Santos. He's never seen the 29-year-old look so good and feels he's peaking at the perfect time in his career in this important bout.
For Guerrero's sake, you've got to hope he's peaking because if he loses the fight and looks bad, he's going to have to get in the back of a long, long line. He'll obviously never get another chance against Mayweather if he loses the fight and the other big fight that Golden Boy Promotions can offer him is a fight against their huge-weighing junior middleweight Saul "Canelo" Alvarez, who reportedly rehydrated to 172 pounds for his recent win over WBA junior middleweight champion Austin Trout at the Alamodome in San Antonio, Texas.
Santos said to RingTV "we've never had a camp like this, and I've never been this confident for a fight… Floyd's going down on May 4. Robert has never looked this good."
It's very possible that Guerrero can win this fight. Mayweather looks like he's aged and he didn't look great the last time he fought a year ago in a narrow win over Miguel Cotto. Mayweather looked ready to be beaten in that fight, and now he's been off a year. That can't have helped him at all. Cotto had Mayweather if he hadn't run out of gas in the last four rounds of the fight.
Mayweather will probably be good in the first five rounds, but age and time off from boxing will likely catch up to him in the 2nd half of the fight if Guerrero has the stamina to push the fight at that point. That's a big question because Guerrero looked tired in the second half of his fight with Selcuk Aydin last year, and he ended up slapping and taking a lot of punishment.
Guerrero's recent win over Andre Berto didn't really answer any questions about Guerrero's stamina because Berto was resting on the ropes like an old man for 12 rounds, and letting Guerrero get rest breaks. Can Guerrero fight hard for 12 rounds without looking like he did against Aydin? I have my doubts, but if Mayweather can't fight hard for more than five rounds himself, then it could come down to whichever tired fighter has enough left to take the last five or six rounds.