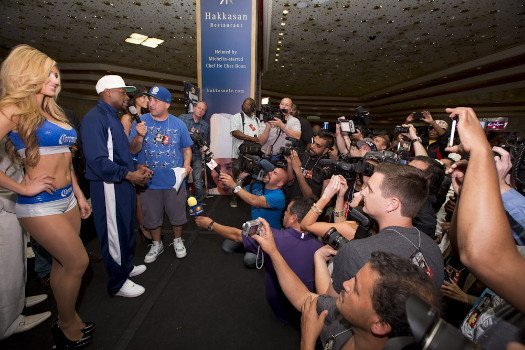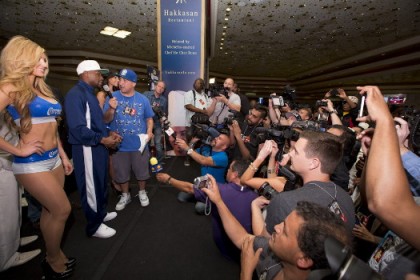 (Photo credit: Esther Line/Showtime) Las Vegas, NV once again captures the boxing spotlight this early May 2013 as Floyd "Money" Mayweather and Robert "The Ghost" Guerrero will square off in one of the year's most anticipated Welterweight boxing events. The fighters from the planned televised fights made their grand arrival to the MGM Grand this Tuesday 04/30/2013.
To say that the audience turnout for the fighters' grand arrival was a "pretty good one" would be a great understatement. In actuality, the MGM Grand main lobby was flooded with devoted boxing fans as well as members of the media. Appearances included Alexander Munoz, tough Light Middleweight Gabriel Rosado, rising star J'Leon Love, hard hitting Mexican Leo Santa Cruz, newly Featherweight Abner Mares, Daniel Ponce De Leon…and of course the two fighters that everyone came to see: Robert Guerrero and Floyd Mayweather, Jr.
Each fighter took the opportunity to address the audience with a few words as well as answer a few questions dealing with their respective assignments as well as making predictions for the Mayweather-Guerrero super fight.
As expected, the crowd went berserk when "Money" Mayweather made his way through the lobby onto the stage. Robert Guerrero showed true class and appreciation as he patiently made his way through the fans by providing autographs, pictures, etc. for the many fans who awaited his arrival.
Unexpectedly, J'Leon Love and Gabriel Rosado almost stole the show with some excellent pre-fight trash talking. After Gabriel Rosado took his spot on the stage, J'Leon Love made his way onto the platform and engaged in a heated exchange of words with Gabriel Rosado. Leonard Ellerbe also partook in the exchange as well.
The crowd could definitely feel the tension. One this was for sure: the crowd loved it and the exchange of words is surely going to make the Rosado-Love matchup even more intriguing.
MAYDAY Fight Week will continue on Wednesday 05/01/2013 with two events: the final press conference for the headline Welterweight showdown as well as undercard fighter open workouts. More MAYDAY coverage to come!