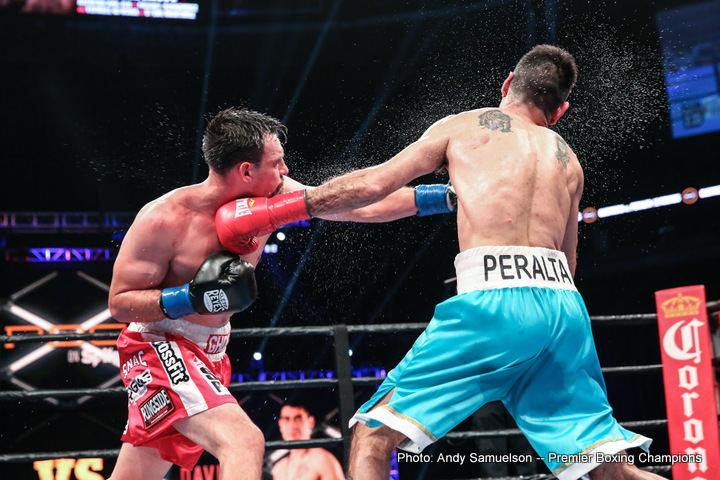 Former two division belt holder Robert "The Ghost" Guerrero (33-5-1, 18 KOs) may have seen his career finished off on Saturday night in losing to welterweight David Peralta (26-2-1, 14 KOs) in losing a 12 round split decision at the Honda Center in Anaheim, California. You can forget the split decision stuff.
It was a definite win by Peralta, who took the fight to faded Guerrero from the 5th round on to get the win. Guerrero looked like he was finished physically after four rounds. Peralta took the energy out of Guerrero in round five in hitting him hard with a powerful combination to the head. Guerrero looked he didn't want to fight after that.
He stopped throwing punches and the [punches he did throw lacked the power that he had on the in the first four rounds. I don't think I've ever seen a fighter go downhill so quickly in a fight before the way that Guerrero did.
The scores were 115-113, 116-112 Peralta, 115-113 Guerrero.
Retirement would be a good option right now for Guerrero. The message that the boxing world learned from watching tonight's fight is that Guerrero doesn't have anything left needs to hang up the gloves.
All I can say is Guerrero is lucky that the scores weren't wider than that in favor of Peralta, because they should have been.
The referee blew a clear knockdown of Guerrero in the 9th round after Peralta hit him with a scorching combination to the head. Guerrero went flying into the ropes, which held him up. The referee should have scored that as a knockdown because Guerrero was held up by the ropes. It was a poor missed call.
The southpaw Guerrero was throwing hard shots in the first four rounds. He either gassed out or suffered an injury after the fourth, because he stopped attacking Peralta and his punches lost them on them.
The loss is obviously a bitter one for the 33-year-old Guerrero, because he was hoping he could beat Peralta and use the win to get a rematch against WBC welterweight champion Danny Garcia, who beat him earlier this year by a 12 round decision.
***
Super middleweight Alfredo Angulo (34-6, 20 KOs) lost to Freddy Hernandez (34-8, 22 KOs) by a 10 round unanimous decision. Angulo would have stood a better chance of winning the fight if he had started fighting hard sooner. He didn't pressure the 37-year-old Hernandez nearly enough to win many of the first four rounds. Angulo looked good in rounds five and six. After those rounds, he was outworked the remainder of the fight.
The judges scored it 98-92, 97-93, and 97-93.
Other boxing results on the card:
Terrell Gausha UD 10 Martinez
Stephan Shaw UD 6 Jonathan Rice
Daniel Gonzalez UD 4 Javier Cepeda
Victor Morales UD 4 Erick Lainez
Neri Romero TKO 2 Luis Silva
Abraham Martinez TKO 2 Phillip Percy