WFC57 World Fighting Championships put on an exciting show for a packed house at The Meadows Casino in Washington PA located near Pittsburgh. This was a well run promotion with tough matched fights featuring some top young talent from Pennsylvania and Ohio.
In a somewhat lackluster Main Event Salka UD Justin Savi (8 rounds, Lightweights)80-70 x3. Salka's original opponent southpaw (15-5) Wilberth Lopez was pulled from the card. In came (28-6) Justin Savi. Savi seemed to be tripping over his own feet early in the fight and suffered a Salka knockdown in the 2nd. Despite having to drop down to 136, Salka was the stronger man through out in the 8 round victory. Scores 80-70×3
In a 147lb six round thriller Harlem's (4-6-4) Curtis Morton battled Pittsburgh's (5-0) Amonte Eberhardt. This was a back and forth war with the veteran Morton controlling the pressure. Both fighters abandoned their jab and went toe to toe slugging it out. A Morton right hand cut Everhardt and both fighters relentlessly continues their assault on one another. In the 6th, with Morton ahead on my score cards, referee Tim Wheeler sent Morton to his corner to get his glove tape fixed. When he returned, Eberhardt threw a beautiful double left right hand that sent Morton to the canvas. The crowd was electric. Rising to his feet fast and steady, the ref saw something he dint like and stopped it at 2:43 of the 6th. Everhardt, trained by Pittsburgh legend Jimmy Cvetic and managed by Victor Olive, is a fighter to watch.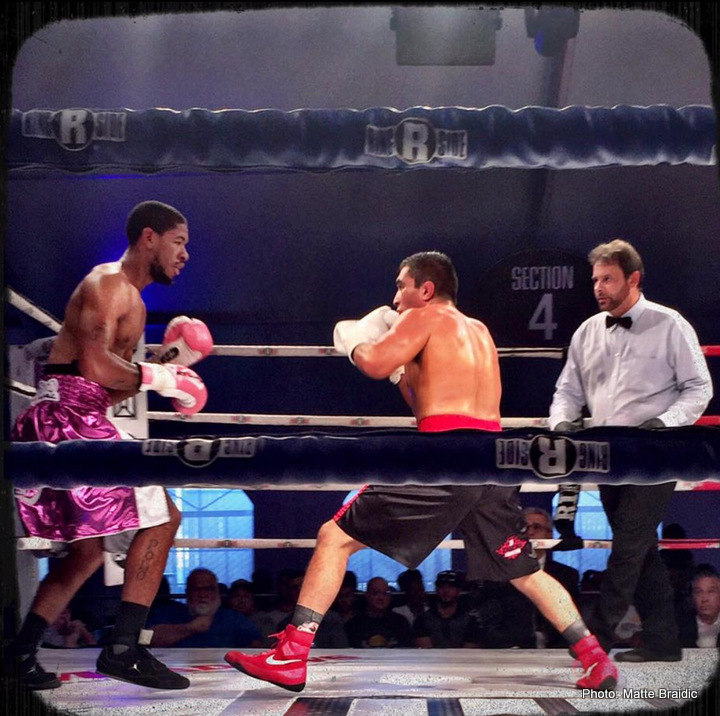 In a clash of undefeated Ohio females, E. Liverpool OH's (1-0) Shianne Gist took on Toledo's rough and tumble (1-0) Jenna Thompson. Thompson clearly won the first 2 rounds with a sneaky short right and left hook. In the 3rd and 4th, Gist battled back and slightly wobbled Thompson in the 4th. DRAW 38-38 | 38-38 | 38-38
In a fast and furious 160lb match up, Adah Pa's Karpency had to get off the canvas himself to TKO Ohio's (2-6) Rick Morais at 1:49 of Round 2.
Highly touted prospect 17 year old baby faced (8-0) 135lb Devin Haney took little chances in out boxing (4-3) California's Carlos Castillo in a UD win. 60-54 x3
Split T Management supermiddleweight Toldedo prospect (6-0) Deandre Ware thunderously KO'd Ohio's (4-2) Josh Fisher at 2:17 of 2nd Round. Ware looked strong and in command before his big right hand ended the show.
In a 165lb 4 round fight, Pittsburgh's (3-0) Gerald "G5" Sherrell dominated (2-3) Hakeem Atkinson from Stone Mountain GA. Integrity Fighter Management's prospect Sherrell wore down the taller Atkinson with pressure and body shots. Scores: 40 | 36
19 year old Philly native Mark Dawson made his 152lb pro debut against Virginia's 1-1-2 Roque Zapata. After a close first round, the cagey Zapata turned up the heat with relentless pressure and high volume attacks. The crowd booed the extremely unjust decision. DRAW 39-37| 39-37 | 38-38