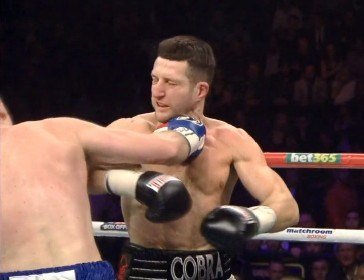 George Groves (19-1, 15 KO's) thinks he was done a huge injustice last Saturday night when the referee stopped the fight in the 9th round and took away his opportunity to try and beat IBF/WBA super middleweight champion Carl Froch (32-2, 23 KO's) in Manchester, UK. Froch and the referee were both both booed loudly by the crowd after the fight.
When Froch was interviewed by Sky, he told his promoter Eddie Hearn that they should set up a rematch with Groves to set things right. But Groves doesn't think Froch was on the level when he said that. He feels that Froch just said it to get the crowd to stop booing him and to start giving him some applause.
Groves said to Sky "I think he said it because he was hoping for some cheers from the crowd, and he probably doesn't believe that he wants a rematch. This is the biggest fight out there for him. There's no reason for him not to have it. The last thing he wants is to get in the ring with me again."
The only way the rematch will take place is if Froch wants it and if his promoter Eddie Hearn wants it as well. At this point it's up in the air whether there will be a rematch. Froch didn't seem excited about fighting Groves again when he spoke to the media at the post fight press conference. Froch said he didn't feel like he should be forced to fight anyone, and that he felt that the referee had saved Groves' career by stopping it when he did. If this is how Froch feels about the fight, then it makes sense for him to feel justified in walking away from the rematch.
Froch wants to fight WBA middleweight champion Gennady Golovkin, Lucian Bute, James DeGale and Mikkel Kessler. of those fighters, DeGale is the easiest fight to make. Golovkin's promoters don't seem to be interested in putting him in with Froch. Bute is a possibility, but he could get beaten in his next fight against Jean Pascal, so he might not be a good option for Froch. DeGale is good fight for Froch, but also a tough one due to DeGale's slick fighting style.