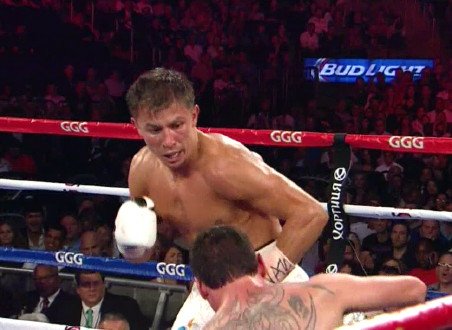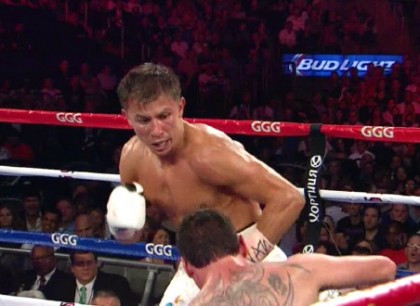 WBA middleweight champion Gennady Golovkin (30-0, 27 KOs) scored his 17th consecutive knockout in halting the game but limited Daniel Geale (30-3, 16 KOs) in the 3rd round tonight at Madison Square Garden in New York. Geale ran for most of the fight, but he couldn't escape the pressure from Golovkin.
In the 3rd round, Golovkin cornered Geale and exchanged right hands with him. Geale's shot got there first, but Golovkin's flattened him on the canvas. Geale was totally out of it when he got back to his feet. When referee Mike Ortega asked him if he was okay, Geale shook his head and said "no." At that point the fight was halted at 2:44 of the round.
Golovkin also knocked Geale down at the start of the 2nd round. Golovkin caught Geale against the ropes and opened up with a flurry of shots that put Geale down. It was a right hand to the back of the head that dropped Geale, but it really didn't matter. Geale did a good job of making most of the punches miss, but finally the one that did get through put him down.
For the remainder of the round, Geale moved constantly in order to keep Golovkin from catching him again. In the last 20 seconds, Geale got a little cocky because he was able to make Golovkin miss so often. Geale stopped and put his hands out to his sides, daring Golovkin to hit him. Unfortunately that was the last real high moment for Geale because in the next round he was knocked out
In an interview with Max Kellerman after the fight, Golovkin was asked who he wants to fight next, and he said "Miguel Cotto. I respect his style. This is big event for boxing."
It would be a good fight but Cotto will likely skip the honor of being knockout victim number 18. Cotto is too small, and you can make an argument that he would get knocked out even quicker than Geale because he would likely walk straight into the teeth of Golovkin's offense.
—
In a heavyweight fight where both guys ended up looking like losers, #2 WBC Bryant Jennings (19-0, 10 KOs) won a controversial 12 round split decision over Mike Perez (20-1-1, 12 KO's) in a fight that really should have been scored a draw if the referee hadn't taken a point away from Perez without warning in the 12th round.
Referee Harvey Dock chose to insert himself into the contest by docking a point from Perez for the use of the head. The thing is he hadn't warned Perez for this during the fight. It's unfortunate because the referee cost Perez the fight.
The final judges' were 114-113, 115-113 for Jennings and 114-113 for Perez.
Jennings got the win but he really didn't impress. He looked skinny, frail and afraid for most of the fight. When he would let his hands go, he looked decent, but those moments were fleeting. When Perez would let his hands go, Jennings would stop punching and just cover up like someone who was waiting out a bombardment.
I had Perez winning the first 6 rounds due to Jennings doing zero. Jennings took over the fight from that point after Perez faded. However, Perez fought well enough to deserve the 9th and the 10th round. He should have gotten the win, but the scoring was ragged by two of the judges and there was that controversial point deduction that gave the victory for Jennings.
I can't see Jennings beating the better heavyweights in the division. Let's face it; the only reason Jennings beat Perez is because the guy got tired. Some of the good heavyweights in the division won't tired and would give Jennings a thrashing. Guys like Carlos Takam, Tyson Fury, Dereck Chisora, Bermane Stiverne, Chris Arreola and Deontay Wilder would be too much for Jennings.
Other boxing action on the card:
Julian Rodriguez KO 1 Yankton Southern
Ola Afolabi TKO 3 Anthony Caputo Smith
Dusty Harrison UD 8 Wilfredo Acuna