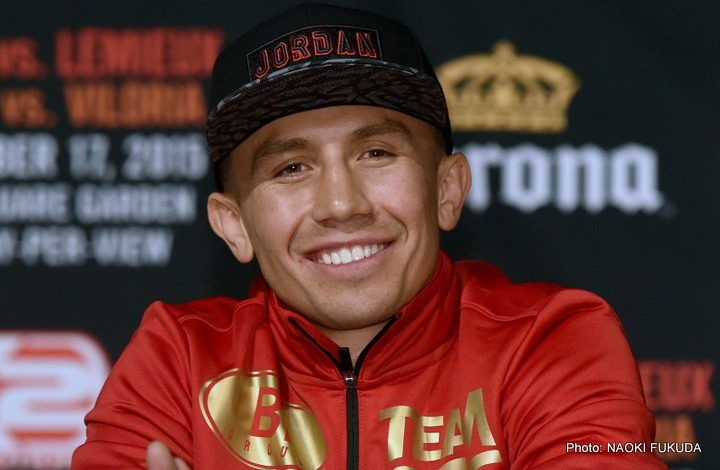 Pound-for-pound ace Gennady Golovkin believes his unification world title clash with fellow hard-hitter David Lemieux will rank alongside some of the middleweight divisions best ever. The Kazakh assassin will put his WBA and IBO world titles on the line in a 160-pound meeting with Canada's IBF champion Lemieux this Saturday night at the iconic Madison Square Garden, live and exclusive on BoxNation.
The showdown pits together two of the world's biggest punchers, who average a near 90% knockout ratio between them, with the electrifying Golovkin saying that the clash will be an all-action affair to follow the great battles of the past.
"This is a true fight, an original fight. It's going to be a present for people. Boxing isn't a game; it's very important who the true number one is. This is my big test and my first step to history and to a new story," said Golovkin.
"This is my first unification fight and my first pay-per-view fight. It's about being a true warrior and not just a business man. I love to fight, it's that simple. I'm looking to knock him out.
"I'm more motivated than ever because it's a unification fight and a pay-per-view. I keep saying it's an 'old school' fight because this will be a classic fight.
"It's like a long time ago when Marvin Hagler, Tommy Hearns and Sugar Ray Leonard all fought; it will be in this same style," he said.
The 33-year-old has waited a while for his big break and now in front of a sold out 15,000 arena at New York's legendary Madison Square Garden he is ready to grab his chance to prove himself against a formidable champion in Lemieux.
"I know I'm 33 years old but I feel like I'm 22 years old. I didn't feel any pressure to get these big fights but I know every step is bigger and I know Lemieux is a strong guy, a dangerous guy. Everyone knows my style and it's a very interesting fight for the fans and for television.
"Madison Square Garden is my second home. It's very important and special that the fight is sold out. People in the United States understand my style and that's amazing for me.
"I really appreciate the support of the fans. Madison Square Garden is a very special place with a great history so it's an honour to fight in front of these fans," Golovkin said.
The middleweight division is brimming with talent, with a host of title fights lined up to prove who the undisputed number one is in the division.
Next month WBC champion Miguel Cotto defends his belt against Mexican icon Canelo Alvarez, with Ireland's Andy Lee putting his WBO strap up for grabs against the undefeated Billy Joe Saunders, plus Peter Quillin faces American Danny Jacobs.
An intriguing time looms over the 160-pound weight class with Golovkin eager to take on all comers.
"It's a very interesting first step for me and Lemieux to see who goes onto the next step to prove who the best in the middleweight division is," said Golovkin.
"There are three or four top pay-per-view fighters – we're all in the same situation. Maybe the next step for me will be the winner of Cotto or Canelo, Andy Lee or Saunders, or Jacobs and Quillin. It's a very interesting situation and this is only the first step," he said.
This weekend's thrilling card will also see another of boxing's most talented fighters in action when Roman 'Chocolatito' Gonzalez will look to make it 44-wins unbeaten when he defends his WBC flyweight title against the tough Brian Viloria.
Golovkin v Lemieux is exclusively live on BoxNation (Sky 437/490HD, Virgin 546, TalkTalk 415, online and app) this Saturday night. Visit boxnation.com to subscribe.
Thrilling middleweight champion Gennady Golovkin has admitted that he faces his toughest test to date this Saturday night. The potential heir to Floyd Mayweather's mythical pound-for-pound throne has taken the boxing world by storm over the last year by blitzing his way to the very top of the 160-pound division.
Now, however, the undefeated 33-year-old big puncher, who has 20 knockouts in a row from a record of 33 wins and 30 stoppages, goes up against an equally formidable foe in IBF champion David Lemieux, exclusively live on BoxNation.
The WBA and IBO world champion is well aware that the clash with Canadian Lemieux will be his hardest fight yet, in a division brimming with talent, including Miguel Cotto and Canelo Alvarez who meet next month and Andy Lee and Billy Joe Saunders later this year, all exclusively live on BoxNation.
"This is the biggest test for me. He's the IBF champ. It's big situation, unification, pay-per-view. Right now it's a very interesting situation to be in in the middleweight division. I think we have three or four fighters and it's very important who is number one," said Golovkin.
"Right now I'm going to focus on David Lemieux because he is a good fighter. He's champion.
"The future, yes, of course [other big fights interest me], but now the middleweight division it's a good situation, very interesting situation, three or four fighters, Alvarez, Miguel Cotto and Andy Lee – I want to unify the belts.
"My goal is always about the middleweight division; my focus is on that weight division," he said.
Though Lemieux himself is no slouch when it comes to letting his fists fly having accumulated 31 knockouts from 34 wins, with just two defeats, the Kazakh assassin thinks it will come down to more than just power.
"I think we both have a great punch. David is strong, too. I know my power, so it's not just power, just a little bit different class, you know, boxing class, timing, speed, discipline, and this is very important for us," Golovkin said.
His respected trainer Abel Sanchez agrees and believes the superior boxing IQ of his charge will be the telling factor in the fight, taking place at the iconic Madison Square Garden in New York.
"They both have power and speed and great knockout records but the IQ, the boxing IQ will be the difference, because Gennady thinks that it's a different class, as far as that part of it goes, and he will be able to get to David, because he will figure him out, but David can punch so it's not like it's going to be an easy fight.
"Both of them have punching power, but Gennady's IQ is higher in the sense of boxing wise," said Sanchez.
The younger man at 26, Lemieux knows that he goes into the fight as the underdog despite a sensational performance in his last fight to claim the IBF belt from the tough and durable Hassan N'Dam, who he knocked down four times.
"It is kind of like David and Goliath. Everyone is impressed by this big GGG, he is impressive and talented but there is also David who is making a lot of noise," said Lemieux.
"I know what I am going up against and I am going in with a nice package to deliver to Golovkin. Power is not something that frightens me. Nothing really frightens me when I'm in the ring, when I know I'm prepared.
"I know I'm going to take on the strongest there is, and I'm very confident in my strength so I have zero worries going into a fight against anybody when I'm perfectly ready, which I am today," he said.
Golovkin v Lemieux is exclusively live on BoxNation (Sky 437/490HD, Virgin 525, TalkTalk 415, online or app) this Saturday night. Visit boxnation.com to subscribe.