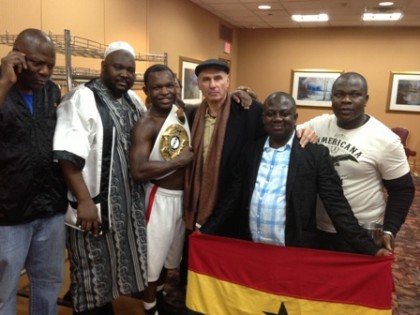 By Prince Dornu-Leiku: After beating Michael "Slick" Anderson in front of Anderson's hometown fans in Newark, New Jersey, USA on Saturday night, January 19, 2013, Ghanaian Emmanuel 'Ice Cold' Lartei Lartey has expressed his willingness to take on the best welterweights in the world following his annexation of the WCB USCB Welterweight belt.
Undefeated Lartey who now resides in The Co-Op City section of the Bronx, New York was so dominant over Anderson at the Robert Treat Hotel, Newark, New Jersey that the three judges had no choice than to dole out the unanimous decision, 97-92, 97-93 and 97-93 which ringside observers hinted wasn't even that close.
"I knew Michael Anderson would be tough, but we watched video of him and knew our best chance was to take him into the later rounds," said Lartei Lartey, who raised the USCB belt and showed his happiness.
He added: "This is what I came for (referring to the belt). When I saw the bout I knew I was going to give my all and win it. You were going to have to kill me in the ring to get me out of there."
His opponent concurred that the Ghanaian was one cut for more success in the ring.
"I just couldn't get comfortable. It was like the difference between fighting a boxer and then fighting a street fight. Even though I have sparred southpaws to prepare for the bout, his punches made him awkward and unorthodox," said a frustrated Anderson.
The 32 year old American, now 12-2-1, 10 KOs, continued: "They were not usually what you might see from a southpaw. Instead of a double jab followed up by combinations, he would throw a wild hook from an odd angle after a jab. I just couldn't get comfortable."
It could also have been the biggest win of career for the 31 year old southpaw but Lartey is not looking back and has declared the readiness to fight for world championships. Now 14-0-1, 7 KOs, Lartey is hoping to appear next on the Golden Boy Promotions card in March, 2013 at the Barclays Center in Brooklyn, New York.
"I'm ready for whoever Golden Boy wants to match me with. I know no promoter is going to put me in an easy fight but that's okay with me. I'm excited because my dream is starting to become a reality," he said.
Backing the boxer with all the belief and support to realise his world title ambition is his manager, Attorney Eric Okyere Darko who also heads the Darko Fitness and Boxing Gym in New York.
"Lartey is on a mission and that mission is to become the welterweight champion of the world. He's worked long and hard to get to the top and his perseverance is starting to pay off," Mr. Darko said full of confidence.