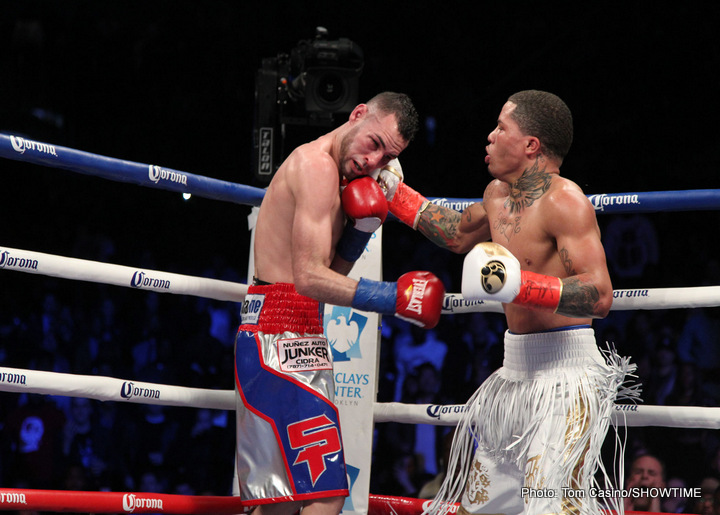 Undefeated 130-pound Floyd Mayweather protégé Gervonta Davis (17-0, 16 KOs) dethroned defending IBF Junior Lightweight World Champion Jose Pedraza (22-1, 12 KOs) with an impressive seventh round TKO (2:36) in the opening bout of SHOWTIME CHAMPIONSHIP BOXING.
Davis was supremely accurate from the opening bell, landing an astounding 48 percent of his power punches and 40 percent of his total shots. Davis won his first title at just 22 years of age, similar to his mentor Mayweather, who picked up his first belt in the same weight class when he was 21.
Pedraza was making the third defense of his belt, but didn't come out with his traditional "Sniper" game plan of fighting at range and picking apart his opponent. Davis gained confidence as he connected on the inside, landing at an impressive clip and preventing his Puerto Rican opponent from landing with effective lateral and head movement.
The Baltimore native hurt Pedraza with a huge left hook to the body in the opening moments of the sixth round, forcing Pedraza to guard his right side while eating repeated combinations with no answer for the onslaught. Davis landed more than 50 percent of his power shots in the sixth and Pedraza never really recovered. He was floored in the seventh round by a big right hook, falling to the canvas for the first time in his career. Pedraza got up, but referee Ricky Gonzalez sensed Pedraza was defeated and immediately halted the contest.
"I've had experience, I was telling you all that and you didn't believe it," said Davis, who became the youngest reigning world titlist. "I did the hard work, and us coming out on top, it means a lot. Having a great boxer and promoter backing me feels great.
"In this camp, I studied 'Pretty Boy' Floyd, not 'Money.' I learned to stay composed. He caught me with some good shots. I took it and I came back out. That's how you show you're a real dude.
"I felt that he was laying down. I caught him one time in the body and he backed up. My team told me to go back to the body. My team told me to stay under control and go back to the body."
Said Mayweather: "For this training camp, I didn't want to be around him. I didn't want to talk to him. I wanted him to focus so he could go out and be right. Is this the future of boxing? Abso-f***-lutely."
Pedraza admitted he made a fundamental error in fighting Davis' game.
"The strategy was to fight him from a distance, but it didn't work out that way," Pedraza said. "In spurts I did do it, but in the end I was trying to give too much pressure and that didn't work.
"There was a moment there when I adjusted to the game plan that I wanted, but I kept trying to fight with him and it didn't work.
"It's no excuse, but I was at 135 pounds and coming down to accept this fight maybe wasn't the right move."