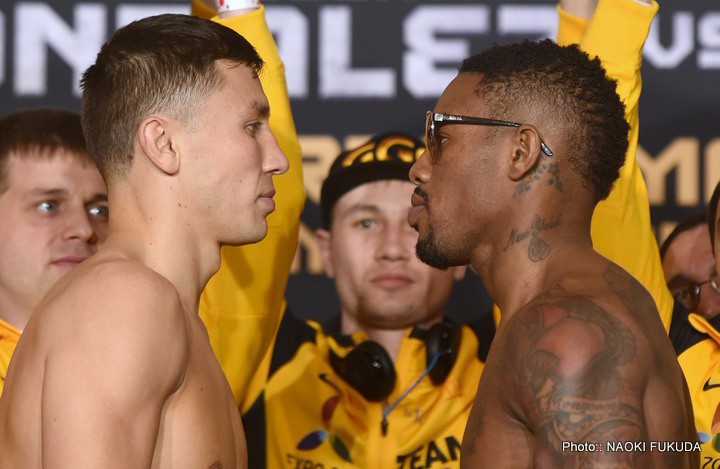 Gennady Golovkin returns to HBO and Southern California this time at The Forum in a showcase matchup against middleweight contender Willie Monroe Jr. The only unknowns heading into this bout is how long before Golovkin take's out his man as he attempts to keep the streak of 19 KO's in a row alive.
We last saw Gennady Golovkin in late February finishing off a pesky Martin Murray in the 11th round bringing him one step closer to a breakout fight he so rightfully deserves. At the moment Triple G is caught between a rock and a hard place when it comes to boxing politics. Lucky for him his profile is on the rise as he knocks out all comers in front of a growing TV and live event audience.
Can Willie Monroe Jr. last longer than expected or at least do better that the oversized 80-1 odds say he should? Monroe has improved as a fighter since his split-decision loss to veteran warrior Darnell Boone. Andre Ward, Sergey Kovalev, and Adonis Stevenson can all tell you a thing or two about Darnell Boone and the difficulties he presents. By no means is it a death sentence to struggle with or even lose to Boone.
Willie managed to earn some of the respect back he had as an unbeaten prospect with wins over Brain Vera and Friday Night Fights Boxcino's contestant Brandon Adams. Monroe Jr. is a southpaw with decent skills and the ability to use movement which will the only saving grace if he wants to bring this fight into the later stages. A big minus is lack of punching power for Monroe. Also, Willie has shown a habit of being trapped on the ropes at times allowing Boone and to a lesser extent Vera, to wail on him without out much of an answer in return. Which this scribes assumes will be the reason for his undoing after scoring early on activity mixed with movement by Monroe.
Normally, once a killer like Gennady Golovkin is able to contain his opponent it signals lights out and on to the next one. I would spend more time breaking down the X's and O's of this bout but realistically speaking, once we get past all the excitement and buzz that surely will be in abundance of at the Forum, it doesn't change the fact that this is nothing more than ho-hum affair. Usually a stay busy main event on premium cable would get destroyed by the press and fans alike. For now, Golovkin will get a pass but one can only wonder how long it will take for the lack of middleweight talent to catch up to his active fight schedule.
My official prediction is Gennady Golovkin by mid-rounds knockout.
Let me start the second part to this article by saying I think K2 promotions CEO Tom Loeffler and HBO have done great job with triple G's career up to this point. After all, Gennady can't help that the middleweight division is weak or the friction between HBO and the PBC prevents him from collecting all the belts. It's not like he hasn't tried to score a fight with a few more well known boxers.
I'm currently on board with their plans to stay at middleweight while they wait out a possible Miguel Cotto PPV fight with lineage at stake. The problem is Miguel Cotto has Canelo Alvarez and Floyd Mayweather lingering as bigger names with relatively less risk for way more money.
Many assume if Cotto gets by Daniel Geale on June 6 it will lead to yet another installment in the ongoing Puerto Rican vs. Mexico rivalry. But what if they decide to prolong that scrap past September in favor of building steam for a Cinco De Mayo PPV in 2016? What if Cotto does fight Canelo but losses? With a Canelo fight not yet visible on the horizon, Golovkin could be stuck in neutral for the rest of 2015 and 2016. If that's the case than were looking at 5 to 6 fights on HBO at 160 while waiting for the redheaded Mexican Star with freckles to enter the 160 pound division.
If Cotto losses on June 6 or to Canelo, you wonder how long Gennady would have to hang around. A move to 154 would at least force Canelo's hand and silence Oscar's two-year plan for Canelo at junior middleweight. The other option is to move up a weight class to super middleweight where there's plenty of names and obviously Andre Ward, the man who sits atop the 168 pound division.
For the time being HBO will bank on the impressive ratings and a series of highlight-reel knockouts in hopes that a Miguel Cotto fight presents itself. Maybe this scribe is wrong but I just don't see Cotto fighting Golovkin with a possible rematch with Floyd on the table and Canelo depending how a first meeting would play out.
GGG looks the part as a power punching, cut off the ring specialist who can take a good punch to deliver his knockout blow. Ultimately he may go down in boxing history as a hall of fame fighter but unless he faces the likes of an Andre Ward or proves himself against an elite fighter the way Sergey Kovalev has, until further notice at this moment I can't rank him as high as many other fans and media members have him. It's not the first time an elite fighter will have been delayed the spoils and bragging rights of becoming the best pound for pound on the planet.
Side Note: The Co-Feature matches Roman Gonzalez (42-0) against Edgar Sosa in a much more evenly matched bout. If all goes well this Saturday night we should be seeing a lot more of the Colombian on HBO's airwaves possible in a rematch with Juan Francisco Estrada. My Prediction is Roman Gonzalez by late stoppage.
Written by Chris Carlson Owner & Host of Rope A Dope Radio blogtalkradio.com/ropeadoperadio
Follow on Twitter @RopeADopeRadio