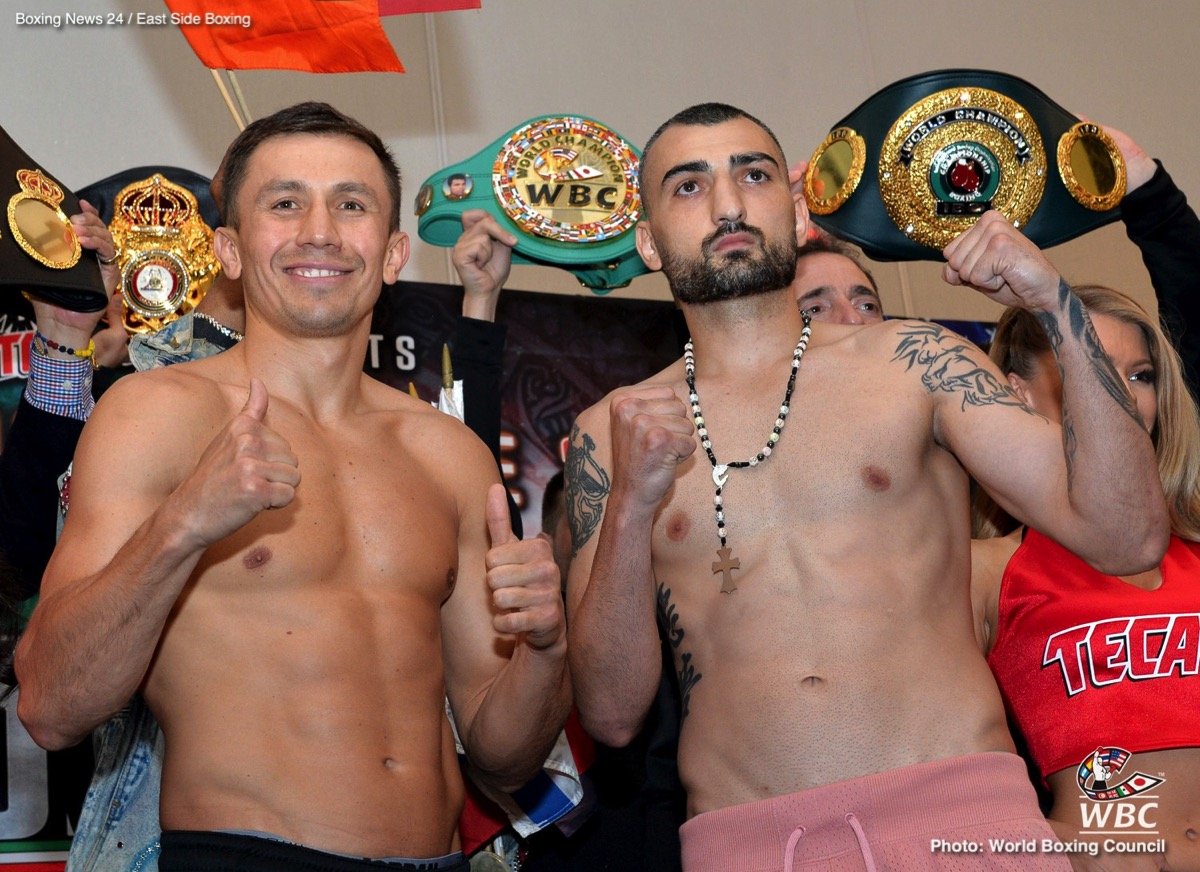 Middleweight king Gennady Golovkin is fighting Vanes Martirosyan tomorrow night in Carson, California – but almost everyone is still asking GGG about another fight. Those people fortunate enough to be able to talk with the undefeated pound-for-pound entrant have one name on their minds: Canelo Alvarez.
Should Triple-G do as the experts and the odds-makers expect, and hand Martirosyan his fourth pro defeat, what then? Will the big return (it's even bigger now) with the Mexican star go ahead in September, when Canelo will be permitted to fight again, his suspension for testing positive for clenbuterol (twice) served? Most people seem to feel this will prove to be the case, but curiously, in speaking with Kevin Iole of Yahoo! Sports, GGG said that in his opinion there is just a "ten per cent chance" of the rematch taking place then.
"I would say it's about a ten per cent probability at this point that it happens," GGG said yesterday. "I would say only about ten per cent that it happens ……I think ten per cent is high; it's bigger than it should be. I made 99 percent of the concessions for the fight with Canelo on May 5. 99 per cent of them were by me, and now he's the one not here."
But if the rematch doesn't happen in September, will it ever happen? Canelo's ring return promises to be a big event – whoever he fights. But in terms of proving who is the superior fighter, GGG or Canelo, does a second fight need to take place? Most fans felt/feel Golovkin won and won quite clearly last September, therefore maybe a sequel is not an absolute must. The draw pleased nobody and a rematch was immediately called for, but now, with all that has happened, has GGG the right to move on and fight other guys instead?
Golovkin-Canelo II is of course the big-money fight, but if GGG feels it won't happen, or doesn't have much of a chance of happening – and if he has, in his mind, moved on – then perhaps this is his prerogative. Why should the world champion make so many concessions this time around? Of course there will be those people who say GGG is "scared" if he doesn't fight Canelo a second time, but almost all of us know this is pure nonsense.
For now though, let's not make the mistake of counting out Vanes Martirosyan. GGG has a fight on his hands to attend to before he can look forward.