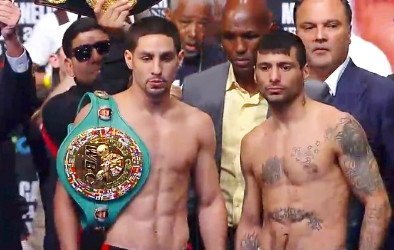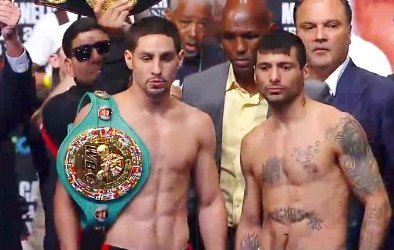 In what should be one of the more explosive bouts fight fans have seen in a while, Lucas Matthysse will attempt to take Danny Garcia's universally recognized title as the best 140 pound fighter on the planet.
It's a real shame that this match-up has gone under the radar of the mainstream consciousness. But both fighters will get their chance to make a lasting impression on the casual fans of boxing as they tangle in the co-main event of tonight's fantastic PPV event.
While most ringside observers have dubbed Matthysse to be the overwhelming favorite in the highly anticipated Junior Welterweight war, Danny's outspoken father and head trainer has clearly taken exception to the media's lofty praise of the hard hitting Argentine.
In the immortal words of the incomparable Angel Garcia, "Vegas don't know nothing…the world don't know nothing…only I know everything!!"
We'll find out tonight if he truly is boxing's soothsayer!!
Let's take a look at the "Tale of the Tape"!!
"Tale of the Tape"
Danny "Swift" Garcia (26-0, 16 KOs) – The underrated Junior Welterweight Champion stands 5'8 ½" tall and possesses a reach of 68 ½". The 25 year old Philly native fights out of an orthodox stance but has great power in his left hook…his primary weapon of choice.
Although the undefeated champion has been criticized by most boxing scribes for not possessing a single facet that truly stands out among his peers in the deepest division in boxing, the hard punching champion continues to win…and win in impressive fashion.
Danny is a home run hitter who is capable of putting anyone's lights out with a single left hook. It's the variable that makes him a dangerous assignment for anyone in boxing, including Lucas Matthyssse.
Garcia is a counterpuncher by trade, whose sturdy chin allows him to sit in the pocket and absorb his opponent's best offensive attack in order to land an effective left hand counter.
The confident young fighter is a mid-range banger who depends on squaring up on his opposition to land his explosive counters. He doesn't use the ring particularly well, but understands distance and timing better than most recognize.
His lack of footwork and inability to fight on the inside could prove costly in this dangerous but scintillating match-up against Matthysse, but his ability to time and counter any opponent could get him the impressive knock-out victory in the early to mid-rounds of this contest as well.
Along with his power, Danny's best assets are his championship swagger and overall confidence in the ring. His defensive deficiencies are often overlooked because of his iron will to win and his potent offensive prowess.
Can the universally recognized Junior Welterweight Champion successfully time and counter the Argentine sharp-shooter and gain recognition as one of the best young fighters in boxing by defeating one of the hardest punchers in the sport?
Lucas Matthysse (34-2, 32 KOs) – The hard punching Argentine stands 5'6 ½" tall and possesses a 69" reach. "The Machine" fights out of an orthodox stance and is one of the most devastating punchers in the entire sport.
After experiencing two disappointing and controversial losses to Zab Judah and Devon Alexander, the 30 year old Argentine has been on a rampage, knocking out his last six opponents. His power and underrated technical ability makes him one of the more avoided fighters in boxing.
Aside from possessing elite level power, the iron chinned fighter cuts off the ring extremely well and throws in combination from different angles at mid to short range proficiently. Lucas only has decent to good footwork and hand speed, but has the ability to throw short, compact and accurate punches to offset his lack of speed and fluidity.
He has been a traditionally slow starter in the past, but has amped up his aggression and work rate over the last two years. His "Achilles heel" is his tendency to try and move inside without the use of a jab, which could spell disaster against an exceptional counterpuncher like Garcia.
But once he finds range on the inside, it usually spells doom for every single one of his opponents…including a fighter like Danny "Swift" who has huge defensive and offensive deficiencies on the inside. Like Garcia, Matthysse's unflappable will and iron chin gives him the confidence he needs to take his opponent's best shots and land his potent brand of offense.
But can Matthysse work his way effectively on the inside without catching a hard left hook from the current Junior Welterweight Champion?
Let's take a look at the "Keys to Victory" for both fighters!!
"Keys to Victory"
Danny Garcia – For the universally recognized 140 pound champion to be successful against a strong and confident fighter like Lucas Matthysse, Danny has to make his presence felt early in this fight.
Lucas has a very bad habit of lunging in with a straight right hand to the body or head from long range in the early rounds. If Danny has viewed fight tape and has conducted his due diligence before the biggest fight of his career, expect Garcia to try and counter Matthysse with his patented left hook as he's lunging in from the outside.
If Danny can land a hard left hook in the outset of this contest, he could turn the usually offensive minded machine into an unusually tentative and reluctant fighter.
This fight will prove to be a battle of distance.
If Lucas is able to work his way inside of Danny's most effective punches, the young champ has no other option but to tie up his aggressive minded opponent. He cannot let his physical and mental toughness get the better of him in this bout. He must elect to tie up his opponent and allow the third man in the ring to separate the two fighters, creating the much needed distance that Garcia will depend on to get the big victory.
Danny must establish his jab from mid to long range to keep Lucas on the outside. While Matthysse is trying to move inside, Garcia must step to the side and counter Lucas with a hard left hand or overhand right and continue pumping a forceful jab. If he moves back in a straight line without giving Lucas anything more to think about, Danny will get knocked out in this fight.
If Danny Garcia can successfully make Lucas taste his power in the outset of this fight, turning the Argentine fighter into a more tentative and reluctant fighter, he will get the impressive and career defining victory against one of the more respected fighters in boxing.
Lucas Matthysse – For "The Machine" to be successful against one of the hardest punchers in the Junior Welterweight division, he has to close the distance by using a forceful jab while moving forward and using good upper body and head movement.
He's not going to be able to merely walk through Danny's wheelhouse without getting hit unless he uncharacteristically adopts the use of a jab in this fight. His opponent's understanding of timing and range will make things difficult in the outset, but persistence will wear down resistance in this explosive battle.
Matthysse absolutely must not become impatient and lunge in with the straight right hand from mid to long range or he could be looking up at the lights early.
Once Lucas is able to close the distance by using his jab and upper body movement and successfully work on the inside, his short, compact punches will find their mark and dominate the fight. His opponent does not have the footwork or ability to defend himself on the inside to be effective once the fight becomes a short range shootout.
If Lucas Matthyssse is able to get inside and make it a short range nightmare for the incumbent champion, the hard punching Argentine will pick up the biggest victory of his career and become the universally recognized Junior Welterweight Champion.
Prediction
I can see this fight going either way.
If Lucas doesn't work his way inside by using intelligent pressure, he could get stopped early in this contest by getting caught with a left hook at mid-range. But if Matthysse is able to get past Danny's mid-range prowess, he will knock-out Mr. Garcia by landing the shorter, more compact punches on the inside.
While most pundits and ringside experts believe Garcia to be the more technically advanced fighter in this contest, Matthysse will prove his dominance against a usually durable opponent.
His short, compact shots will expose the holes in Danny Garcia's inside fight game and end the bout within five rounds.
With the lack of footwork needed to win this fight, Garcia will get hit early and often in this bout. Expect Matthysse to look sharp and potent from start to finish.
Matthysse TKO 5 over Garcia