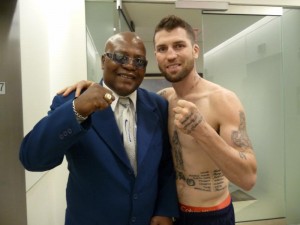 The 2008 Olympic Team Alternate, Danny "Bhoy" O` Connor put in a workman like performance against Raul Tover as he controlled all eight rounds of their welterweight bout enroute to an unanimous decision with two scorecards of 79-73 and one scorecard of 80-73. O` Connor improved to 23-1, 7KOs while Tover from Mission, Texas, dropped to 11-8-1, 4KOs.
"I felt good out there and did what I had to to beat a tough fighter in Tover," said O` Connor. "In fighting for the third time in the last four months, I`m trying to be the most active fighter out there who continues to fight as often as I can until I get a significant bout that leads me to a world title."
O` Connor out punched and out landed Tover, displayed a great jab, worked the body well and had him in trouble in the second, seventh and eighth round, however, he was unable to finish him off as Tover hung in there and tried to make it a fight until the end.
The 12th annual "The Fight to Educate" charity event took place at the Verizon Wireless Arena in downtown Manchester, New Hampshire.
"It`s always nice to fight here in Manchester because this is where I made my professional debut, I`m 5-0 fighting at this venue and I hope to continue to fight here in the near future and maybe defend my world title at this arena," said O` Connor.
The 28 year old popular orthodox Irish American pugilist from Framingham, Massachusetts got revenge in beating Tover who beat O` Connor in the amateurs at the 2005 National PAL Tournament. He won for the fourth time this year as he previously beat Ruben Galvan, Hector Munoz and Derek Silveira. O` Connor has won nine consecutive fights since his lone loss to Gabriel Bracero and wants to fight three more times before the year is out.
Chris Gilbert from Windsor, New Hampshire upped his record to 10-0, 8KOs as he destroyed Anthony "The Candyman" Chase from Providence, Rhode Island who fell to 11-2, 4KOs. Gilbert recorded three knockdowns in the second round and another in the third. After the fourth knockdown, Chase`s corner stopped the fight at 1:23 of the third round of this light middleweight bout. All of the knockdowns were curtsey of the right hook by Gilbert. He is 3-0 on the "Fight to Educate" bouts. The 43 year old Chase was fighting for the first time since March 2, 2001.
Brandon Berry prevailed over Jesus Javier Cintron after the referee stopped the fight with 47 seconds in the third round as he disqualified Cintron for repeatedly throwing low blows after being warned not to. Barry from West Forks, Maine improved to 2-0, 1KOs while Cintron from Springfield, Massachusetts fell to 1-4-2, in this light welterweight matchup.
photo by Jerry Freeman