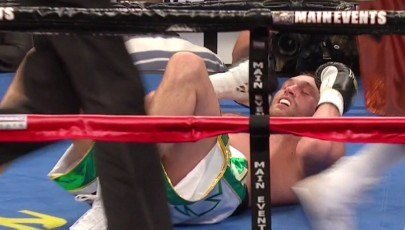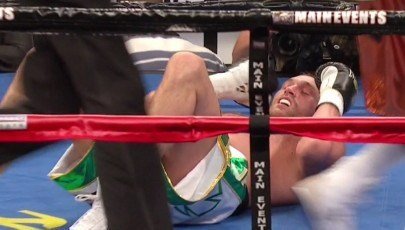 Before the fight with Steve Cunningham, Tyson Fury showed all of the tact and rhetorical artistry usually found in the boys locker room of a local high school when he told the world of his greatness. During the fight he pounded his chest in the ring like a baboon and shoved Cunningham after the round to give us further evidence of his greatness. And after the fight, Fury took the microphone hostage and treated us to a ballad by Ricky Van Shelton (it being well known the popularity of country music in New York City) so that we would have no doubt that we were witnessing greatness.
The unfortunate thing is that Fury is not great. The reflection Fury sees of himself is not the same one that the boxing public sees. While his accomplishments have been good they have not been great, and while his style has been crudely effective it has obvious flaws. There is as much wrong with the 6'9 former amateur champion as there is right. This heavyweight Narcissus is blind to the fact that he has not proven anything great in the ring.
Certainly, he is not alone in this disease of the mind. Adrian Broner can make the ears of the audience bleed with his self promotion. Which conjures up images of Aaron Pryor and Marvin Hagler and not a carefully managed fighter at the start of his career who has feasted on the smaller, older, and less powerful fighters and whose best win is over a former Super Bantamweight champion fighting two weight classes above his best weight.
Or David Haye whose mouth never tires but his fists have slowed to a stop over the course of his heavyweight career. Haye never ceases to tell any who will listen of his desire to fight the champion Klitschko brothers. Though he shows signs of amnesia in recalling the match he did have with Wladimir Klitschko in which the bravest thing he did was make it into the ring.
Fury and Haye could do us all a favor by just shutting up and getting in the ring together. In many ways they both need each other. Haye is fast approaching another year without a fight and Fury needs to step up to the next level of heavyweight competition. If Haye chooses to fight and not run, then he could teach us a lot about Fury. For all his shortcomings Haye is a power puncher with a devastating overhand right like the one that Cunningham used to drop Fury with in the second round of their fight.
Taking flush shots way too often is the biggest defect in Fury's game right now. It is doubtful that Fury would have survived the second round against a fighter with Haye's power. This defect if not corrected will be one that he will not recover. It makes it virtually impossible to see him beating either Klitschko brother. The big Brit must raise his game by learning to stick his jab effectively and not give away his height advantage if he ever wants to seriously challenge.
Fury is not a finished product yet and it is an open question whether he ever will. Fury was able to use his girth and height to plod, push, and slug his way to a less than aesthetically pleasing win over the former crusierweight champion Cunningham. But to hear him tell it, he is already the heavyweight savior. Without doubt self confidence is a necessary component for any fighter, but self awareness is even more essential. Thinking you are skilled, flashy, and accomplished is one thing being them is another.
Just as no one in Madison Square Garden cared about country music or bad karaoke, no one in the boxing public really cares what opinion any fighter has of themselves. If you want to sell tickets keep knocking out credible challengers like Tyson Fury did. If you want us to take you seriously then show marked improvement in your next fight. And if you want us to believe a word that comes out of your mouth then give us an honest appraisal of what you have accomplished.