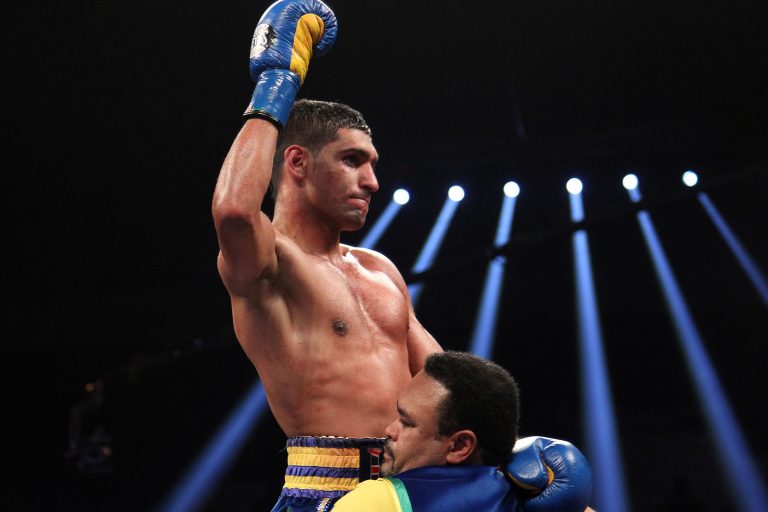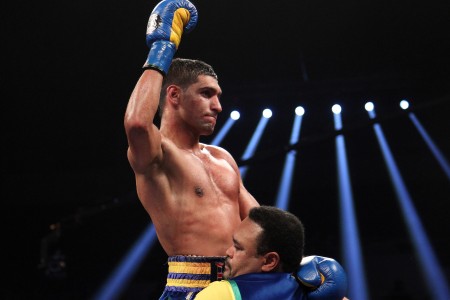 by Paul Strauss, photo by Tom Casino / Showtime: Yes, Khan looked impressive on Showtime against Carlos Molina last night at the Los Angeles Sports Arena. His hand and foot speed were there. But, they've always been there. Initially last night, there did seem to be one thing that was different. Khan seemed calmer and less herky-jerky. He walked and shuffled when out of range instead of hopping and running. But, Molina's smaller stature, short arms and less than knockout power provided the opportunity for Khan to show off a bit.
The fact is Khan is still very hittable. The shorter Molina tagged him plenty of times, but unfortunately for Molina, he just doesn't have true junior welterweight power. Khan's people knew that when the match was made. As a result of that power deficiency, Khan was able to take risks, to stay in the pocket more often than he should have, and to show off with shoe-shine like displays without real risk of penalty.
The fact is Khan still drops his hands when attempting to rip off combinations. For example, when throwing his left, whether a jab or hook, his right glove is still too low, which allowed Molina to land several counter left hooks. Khan doesn't get under the shot either. He also throws too many showy light punches without the zinger. He shoe-shines with some light combinations, which allows his opponent to punch with him and land bigger, harder shots.
As far as settling down, he continues to forget the importance of that strategy as the fight moves into the later rounds. Once again Khan was hopping and jumping around, wasting energy and preventing himself from keeping the good balance necessary to punch with maximum power.
He also fails to properly manage distance to his advantage. Molina is a tough little son of a gun, but he shouldn't have been able to get anywhere near Khan. But, Khan's mismanagement of distance allowed the smaller man to land too many shots. In addition, Khan still gets overly excited when trying to land his own big shots. He over-extends, leaving himself off balance, and open for counters.
Khan has unbelievable physical gifts, and he is a true fighter. He has proven that over the course of his career, demonstrating he is willing to take on anyone. Even though he was kayo'd by Danny Garcia, he honestly desires a rematch, feeling he can reverse things and kayo Danny next time around. Also, everyone knows he was scheduled for a rematch with Lamont Peterson. He was willing to fight Timothy Bradley as well, and so forth and so on. Hence, there's not much doubt about his courage, or for that matter his natural gifts.
But, it's also true he hasn't' changed much, at least not yet. After getting kayo'd by Garcia, it was obvious there were areas in which he needed improvement, such as fighting smarter, employing a better defense and learning all of the little things necessary that go along with those aspects of being a great fighter.
Maybe new trainer Virgil Hunter can turn him around and make him a better, smarter fighter, but last night's effort against a hand-picked opponent wasn't convincing. Virgil hasn't magically made him into a Andre Ward type fighter yet. It would have been a shocker if he had. Let's give him some time. In fairness to Khan and Hunter, there was improvement, but there's definitely is room for more.
If Khan had been fighting Danny Garcia again last night, the scenario would have been much the same as their first fight. Initially Khan would look impressive, dazzling everyone with his speed, maybe busting up Garcia's face a bit. But, as evident by his performance last night, Khan would undoubtedly revert back to making the same costly mistakes. He got away with mistakes, because he was able to take several of Molina's shots. He wouldn't be so lucky with the hard punching Garcia. The fact is if his mistakes aren't corrected, and his strategy isn't improved and made to be more consistent, Garcia will probably kayo him again should the two meet.