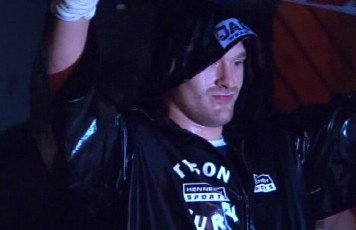 By Michael Collins: IBF/IBO/WBA/WBO heavyweight champion Wladimir Klitschko needs an opponent for his April 6th fight date in Germany, and thus far there isn't anyone that his management team has picked out for him. Odlanier Solis was reportedly ruled out for Wladimir, according to Dan Rafael of ESPN.
Unbeaten British heavyweight #4 WBC Tyson Fury (20-0, 14 KO's) is hoping he'll get the fight with the 6'6" Ukrainian. In fact, Fury seems almost desperate to get the fight because WBC heavyweight champion Vitali Klitschko likely won't be fighting Fury anytime soon if ever.
Fury said on his twitter page "Klitschko, if you fight Solis you're a p***y! Fight me!. Solis is a fat s**t! He got KO'd by Vitali in 2."
Well, technically Solis got knocked out by Vitali, but it was an injury knockout after Solis' knee collapsed out from under him in the 2nd round. He really didn't get knocked out in the traditional sense because the shot that Vitali hit Solis with before his knee gave out on him was a glancing blow to the head. It looked like more of the case of Solis being a little too heavy for his fragile right knee to carry the weight.
A Fury vs. Wladimir fight would be an interesting one. Fury's got good size, he throws a lot of punches, and he can move well. Fury's also good at selling fights with his over the top behavior during press conferences and interviews. However, it's still too early for the fight to be made in my estimation because Fury hasn't fought anyone good before, and he's still an unknown on the world stage.
A fight between Fury and Wladimir would be better in 2014 if Fury does the right things this year by taking on better opposition. You can't learn anything about Fury with him fighting guys like Martin Rogan, Vinny Maddalone and an out of shape Kevin Johnson. The only thing you can learn from those fights is that Fury's promoter isn't taking any chances with him by putting him in with someone that could possibly beat him. If Fury continues to be matched up with weak 2nd tier opposition, then I think Wladimir should put him on permanent ignore because it's not worth it to fight guys that aren't stepping it up against quality opposition.