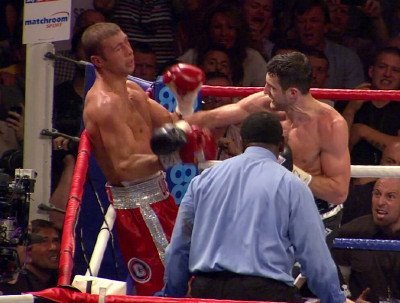 By Michael Collins: IBF super middleweight champion Carl Froch (30-2, 22 KO's) will learn this week which guy he'll be facing next – Mikkel Kessler or Adonis Stevenson. Froch, 36, has made it no secret that he wants the rematch with Kessler next, as he lost to the Dane by a 12 round unanimous decision in April 2010 and he's been bugged about the loss ever since.
Froch thinks he should have won the fight but boxing fans as a whole disagree and saw Kessler as the rightful winner. The Kessler rematch, if it can be made, will give Froch and Kessler a $2 million payday. That's good money for super middleweight. It's obviously not even close to the kind of cash that superstars like Manny Pacquiao and Floyd Mayweather Jr. rake in each time they fight, but then again Kessler and Froch aren't on the radar screen in terms of worldwide popularity like those two talented fighters.
Froch told the Nottingham Post "We should know something in the next few days. If the Kessler fight is finalized we can apply for an exemption from the IBF. If we have to give up the belt to fight Kessler, so be it."
It's not surprising that Froch is ready to give up the IBF strap because Stevenson is a very, very dangerous opponent for someone like Froch. Stevenson is arguably a bigger puncher, he's a better jab and he's light years ahead of Froch in terms of hand speed. It would be a fight where anything could happen in the first six rounds, anything. Stevenson hits so hard with so much speed that Froch might not even know what hit him, and Stevenson is a great finisher once he gets his man hurt.
Frankly, I'm not surprised that Froch is ready to give up the IBF strap rather than to fight Stevenson. I don't think Froch will fight Stevenson even if he does fight Kessler next. I see Froch vacating the IBF strap if he beats Kessler and then keeping Kessler's WBA title and moving on to a rematch with former IBF super middleweight champion Lucian Bute.