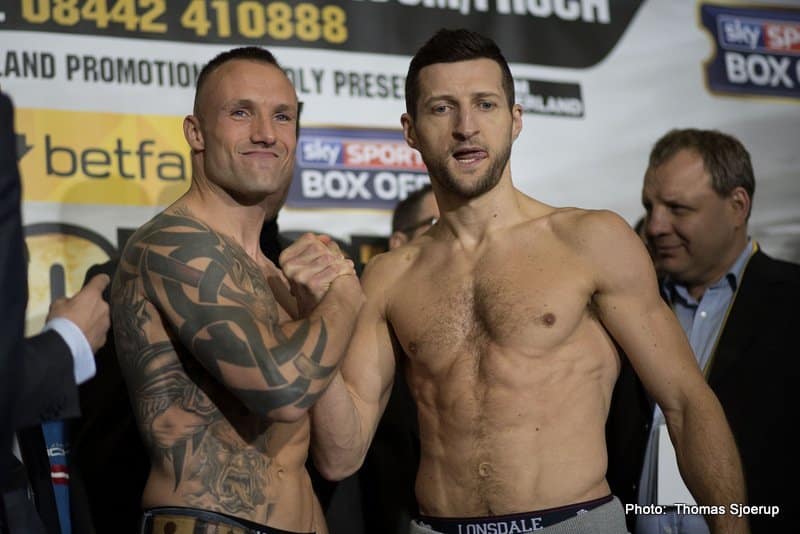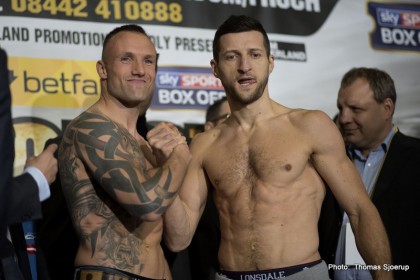 Conventional boxing wisdom seems to dictate that Carl Froch will tonight avenge his 2010 defeat to Mikkel Kessler in their much-anticipated rematch in London.
Froch, who still disputes his loss on Danish soil, insists if their first bout had been on home territory, he too may have been seen to have eked out a narrow victory akin to Kessler's in Copenhagen. I respectfully disagree.
What is undeniable however is that the first clash between Froch and Kessler was a certifiable classic, boasting one of the most fervid and frantic 12th rounds in recent boxing memory. While there are those who evidently doubt Kessler's ability to win a second bout, there are few who doubt the rematch will pick up right from where the first fight left off, in impassioned fashion.
However, unlike the first evenly contested fight, where critics were seemingly unconvinced of the favourite, the rematch has boxing critics pitting Froch as the firm favourite, with many predicting he will stop the Viking Warrior inside 12 rounds.
When they first met Froch was coming off an unconvincing victory against Andre Dirrell and Kessler had been stopped for the first time in his career on a technical decision against Ward. This time around Kessler is coming into the fight still unbeaten since his loss to Ward in 2009. While an eye injury kept him out of action throughout most of 2010 and 2011, none of his 3 post-Froch fights have lasted longer than 6 rounds, with the Dane stopping journeyman Mehdi Bouadia and fringe contenders Allan Green and Brian Magee on route to the rematch with Froch.
It is Kessler's lack of rank opposition and questionable doubts over his ability to go to the distance in a 12 round war with the battle tested Froch, which have undoubtedly caused most to plump for Froch.
Froch's post-Kessler career has been markedly contrasting as he continued to burnish his reputation of facing only the toughest opponents in his weight class. Seven months post-Kessler, Froch handed former World champion Arthur Abraham only his second defeat on route to regaining the vacant WBC Super-Middleweight title taken from him by Kessler (who had forfeited though injury). Following a majority decision over Glen Johnson, a confident Froch aimed to do what Kessler couldn't and upset the Super-Six established best 168lb fighter on the planet, Andre Ward.
Froch, like Kessler before him was unable to overcome the sheer technical skill of Ward, who is at a distance, the sports finest prizefighter not named Mayweather. The loss to Ward for a fighter with fearless assurance in his own will and ability will have no doubt come as a shock to Froch. When he sought out the undefeated 30-0 Canadian IBF World champion Lucian Bute, the doubters questioned if the Cobra, coming off a convincing and unanimous decision loss to Ward, had what it took to knock off the slick Bute who had registered 24 knockouts from his 30 victories.
Perhaps no one except Froch himself would have predicated the 5 round systematic destruction of Bute's once lustrous reputation. Froch not only scored what was predicted as an unlikely victory but physically dominated the highly touted Bute from the opening bell. Critics and boxing fans rightly hailed Froch's unbridled confidence in coming back from defeat once again in such impassioned style, scoring his first knock out in 3 years.
However if we're to be rational about Froch's conquering of Bute and the Canadian's subsequent refusal to accept his contractually negotiated rematch with Froch, we must acknowledge that their fight and Bute's loss told us considerably more about Bute than it did Carl Froch.
Froch is not a new fighter post-Ward. Carl Froch is a prizefighter with a purpose. A throwback to the old school not only in style but also in ambition, Froch fights not for the purse but for pride and legacy. Two defeats are two too many for a man with such aggrandized self-belief as Carl Froch. His destruction of Bute came in the knowledge that a third defeat and a second in a row would have been a significant and lasting blow to his legacy. Lucian Bute was but a 168lb roadblock on the Cobra's road to redemption, and one Froch obliterated in contemptuous fashion.
Immediately following his victory over Bute, Froch expectedly called for a Kessler. Both subsequently scored 3 round stoppages late in 2012, Kessler over Magee and Froch over Yusef Mack before the rematch was signed, this time in England. Both fighters come into tonight's fight off dominant performances in their last fight, but its Froch's destruction of Bute which positions him as the critics choice. The reality however is that Bute is evidently not the fighter he was espoused to be, certainly not a fighter the calibre of a Carl Froch or Mikkel Kessler.
Both Froch and Kessler however are the same animals they are when they faced off in 2010. Both have 2 losses on their record, both have lost to the dominant champion in their division and both know that a victory tonight will undoubtedly grant them a second chance against Ward. A loss for either is unthinkable, distancing them irrevocably from the fighter who will undoubtedly replace Mayweather as the sports recognised kingpin.
Isn't just a rematch but a second, perhaps final chance for the two best 168lbers outside of Ward. Froch is more reputed, but having fought 44 rounds since their last battle in comparison to Kessler's 13, the Cobra undoubtedly enters the fight the more battle worn of the two. Kessler is a year younger and the more experienced fighter, having turned professional 4 years before Froch and fought 13 more fights but Froch has unquestionably fought the bigger names over the past 4 years.
Would Kessler have similarly scored victories over Johnson and Abraham and stopped Bute in similarly destructive fashion? Personally I believe he would have beaten all 3, stopping Bute and more than likely finishing Abraham inside 12 rounds.
While Froch enters tonight's encounter the critics and bookies favourites, and fans expectant of a an English victory, Mikkel Kessler walks in to tonight's fight as a rank underdog, unfairly distanced from his once glowing reputation – a fighter with everything to prove.
I believe the fight will follow the same blueprint as the first, an all out war waged between two prize-fighting gladiators – with Kessler again emerging as the victor by decision.