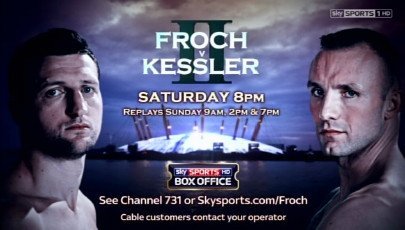 ESPN analyst Teddy Atlas is picking IBF super middleweight champion Carl Froch (30-2, 22 KO's) to defeat WBA super middleweight champion Mikkel Kessler (46-2, 35 KO's) in their fight tonight at the O2 Arena in London, UK.
Atlas' reasons for going with Froch echo a lot of the same reasons others are picking Froch. He feels that Froch has improved considerably in the three years since he last fought Kessler in 2010, and sees him as a more confident fighter at this stage in his career despite being a year older than Kessler.
Atlas said to ESPN: "I expect to see a better, more consistent, better performance from Carl Froch…improvement from Froch. I think that Froch from three years ago when he fought Kessler, he wasn't as certain of his ID. Am I a physical guy, am I an awkward guy on the outside, which he tends to be sometime. I think now he understands what he is and that's going to serve him. I like him to win this fight because Kessler hasn't gotten better, but Froch has got better, better physically, technically and better mentally and better emotionally. He's more certain about who he is, and who he's going to be…he will win the rematch. I think it's going to go the distance."
I'm not so sure that Froch is a better fighter. I just think his opposition has been perfect for his fighting style. He does have that loss to Andre Ward, and Atlas didn't mention that fight and he should have.
In facing a very good Ward, Froch looked like the same fighter that lost to Kessler. There was no difference. However, in facing Lucian Bute and Yusaf Mack, Froch has suddenly looked like a world beater. It's easy to say that Froch has improved when he's facing guys that he's beating, but it would be a much different story if his last two fights were against Ward.
In that case, we'd likely be hearing how poor Froch is looking by Atlas. What makes the difference here is the guys that Froch has been fighting. I don't think he's improved. I just think his promoter has put him in with beatable fighters since his loss to Ward, and after his loss to Kessler, excluding the Ward fight.