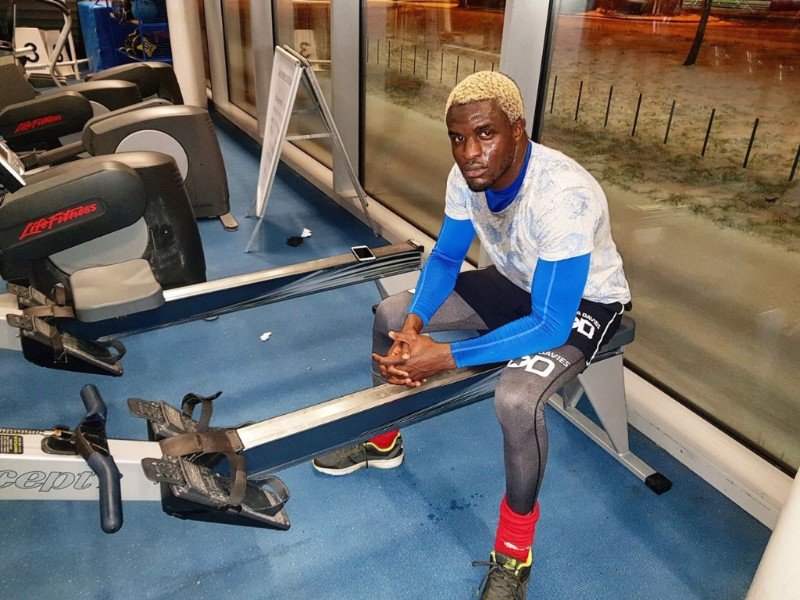 With new management, promoter and coaches in place, world-ranked super-lightweight Ohara Davies is quickly shedding his 'bad boy' public persona.
'Two Tanks' (16-1-KO13) has signed with MTK Global, Frank Warren Promotions and recruited a promising young training team as he bids to secure a world title fight in the next 12 months.
Having caused controversy throughout his early career, Davies' latest blonde hairdo belies the shift in his mentality. Ahead of his BT Sport debut on April 14 on the Billy Joe Saunders v Martin Murray undercard, he seems at ease with himself and keen to let his improvements in the ring speak for themselves.
Davies said: "From now on, I won't play any roles. I'll never put a mask on my face again. I'm going to be me. I'm quite a friendly person.
"The only people that think I'm arrogant are people who don't know me. It was a role I was told to play. MTK and Frank Warren have told me to just be myself now.
"My new manager and promoter don't tell me what to put on social media or how to act. They just say that I should be myself and I hope that wins the public over.
"I've got a whole new energy at MTK. Even though they manage over 100 fighters, they make each one feel special and looked after properly.
"With the promotional change, with Frank Warren there is a clear plan and a clear direction we're going to go in. I feel a lot more comfortable when there's a plan in place.
"In terms of the training team and those in my inner circle, having been thrown under the bus before I wanted people around me who are going to stick through bad times and good.
"The people in my team now are people I've known since I was a kid and they have clean hearts. Some people only have your back when things are going well and they show their true colours when things go bad. I know these guys will never let me down.
"Even though my training team are people I've known so long, they're actually more harsh on me than previous trainers.
"This new team want absolute perfection. I sparred a couple of days ago and made one small mistake during a really good spar and that mistake was straight under the microscope afterwards."
###
Ohara Davies has signed an exclusive promotional deal with Hall of Fame Promoter Frank Warren and will make his BT Sport and BoxNation debut at The 02 on Saturday 14th April.
Davies, 25, has won 16 of his 17 professional contest and will be aiming to fight his way into World Title contention after a frustrating few months. The talented Londoner has been out of the ring since his explosive sixth-round stoppage victory over Tom Farell in September.
A former English Lightweight Champion, Davies has also claimed WBC Silver and WBA International Super-Lightweight titles, and is determined to get his promising career back on track after teaming up with Warren.
"I'm so glad to be on-board with Frank and the team at BT Sport and BoxNation," said Davies. "I'd like to thank Frank for giving me this opportunity and believing in me. Frank has been in the game for years and knows the sport inside out, I know I'm in safe hands with him.
"I've had a hard few months and I needed a fresh start, I'm in the best place for that now. It's been a while since I last fought and I'm looking forward to getting back to doing what I do best.
"I wasn't fully focused last year. My mind was in a bad place and I was focusing on things that weren't important. This year is all about keeping my head down, focusing on my boxing and getting to where I want to be in this game.
"I want to win a World Title as soon as I can and with Frank and MTK Global behind me I can achieve my dream. I believe that I have the potential in me to do big things in this sport. As long as I keep my head down and stay focused, there's no limit to what I can achieve in this game.
"BT Sport and BoxNation viewers can expect excitement, entertainment, knockouts and good fights. The real Ohara Davies is back and I can't wait to show the World what I can do."
Promoter Frank Warren is excited to welcome Davies to his growing stable that includes Super-Lightweight talents such as Terry Flanagan and Jack Catterall.
"Ohara is a quality fighter and one of the best out there," said Warren. "I'm delighted to welcome him to the team and we're looking forward to him making his debut with us at The 02 on April 14th."
"The Super-Lightweight division is one of the most exciting weight classes in British boxing, there's no doubt about that. In our stable alone we have the likes of Terry Flanagan, Jack Catterall, Josh Leather and Jeff Saunders. There's a lot of good fights to be made in the next year or so and it's great for the fans because we are going to make sure these fights happen."
Tickets for Davies' next fight at The 02 on Saturday 14th April ranging from £40 (Tier) to £300 (Hospitalitly) are available to purchase now via www.axs.com.