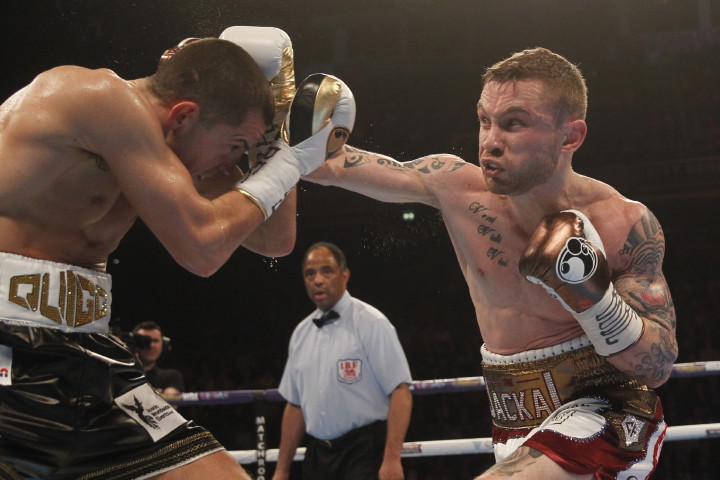 (Photo credit: Matchroom Boxing) Go back a few years, and nobody in the boxing world, or any other part of the world, had any idea what Twitter, or a Tweet, was. Yet today, Twitter seems to be one of the most commonly used methods when a fighter either has big news to tell or wishes to call out an opponent. Within hours of the big but ultimately less than thrilling Carl Frampton-Scott Quigg super-bantamweight unification fight, Guillermo Rigondeaux, the universally accepted best 122-pounder on the planet, took to Twitter to both ridicule and call out Frampton.
Rigondeaux is rightfully demanding a fight with new IBF/WBA champion, yet he has gone one, well, actually two better, and has called out Frampton, Quigg and Leo Santa Cruz. Rigo Tweeted how he will, after he's fought Jazza Dickens on March 12th, fight Frampton in April, Quigg in May and then featherweight champ Leo Santa Cruz in June! And as hungry (read starving) as the masterful Cuban is for the big fights he so clearly deserves, he probably would see out this hectic schedule if he was permitted to do so!
"@JazzaDickens10 on March. @RealCFrampton on April, @scottquigg on May and Al Haymon favourite little baby @leosantacruz2 on June. BRING IT!" Rigondeaux Tweeted.
No disrespect to Jazza Dickens, a more than capable fighter who is really going up in class, but Rigondeaux should win the March 12th fight in Liverpool with relative ease (unless we are in store for a massive upset) but will this get Rigo any closer to the fights he craves? Frampton did say at the Quigg post-fight press conference that he would fight Rigondeaux and that he feels he is the only super-bantamweight capable of beating the southpaw. But today, in a Tweet of his own, Frampton called out Santa Cruz for a summer showdown:
"Well done to Leo Santa Cruz and commiserations to my friend Kiko Martinez. Fancy a summer showdown @leosantacruz2? I'm ready," Frampton wrote in congratulating Santa Cruz on his stoppage win over Martinez.
So will Rigondeaux be left in the cold once again? Santa Cruz has expressed interest in fighting Frampton, and if a weight can be agreed on – 122, 126 or maybe even a catch-weight – it seems there is every chance this fight will get made. Of his wish-list, that would leave just Quigg for Rigondeaux. I think Quigg, a warrior who now has even more to prove, would agree to a fight with Rigondeaux once his jaw has mended. Quigg would, in my opinion, look at making the ultimate, "I'm back!" statement by taking this fight. Whether he would win it or not, that's another story.
Some day soon, you would think, one of the big names at super-bantamweight will actually take the risk and fight Rigondeaux.