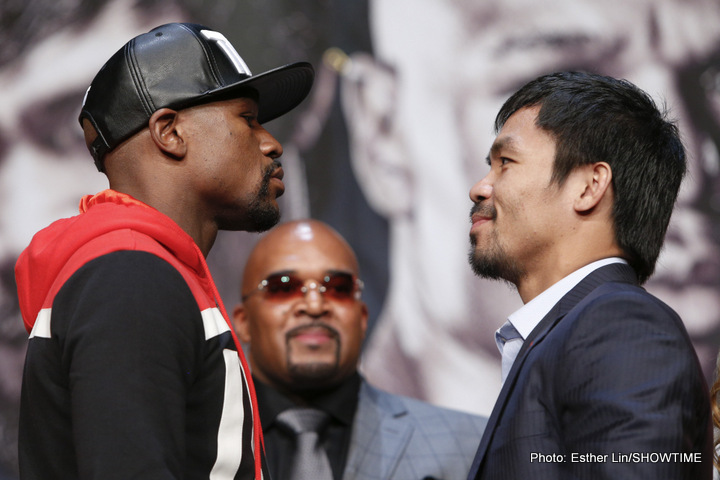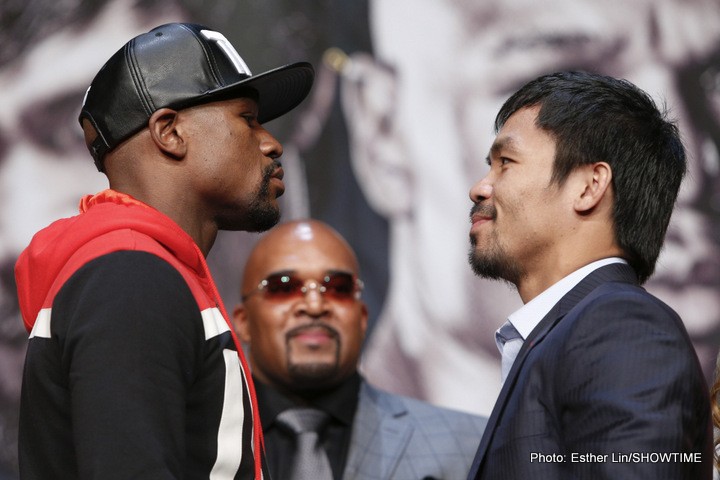 Back when they met in the so-called "Fight Of The Century" in May of 2015, superstars Floyd Mayweather and Manny Pacquiao gave us one big dud; a fight that was bereft of action, of drama. Mayweather boxed his usual safety-first fight, while Pac-Man, hindered by an injured shoulder, was unusually passive.
Mayweather, currently out in the Philippines for a visit, says he wants to meet Pacquiao again – for lunch or dinner. Floyd, who spoke with a group of reporters today (local time) spoke about sitting down with Manny and his team:
"Hopefully we can sit down and meet, probably have lunch or dinner and just see how's everything been going for Manny and his team," Mayweather said as per GMA News.
But could there be more to it than just a cordial social meeting? Pacquiao, who will face WBA welterweight belt-holder Lucas Matthysse in July, aims to fight on for at least a couple more fights after that (providing he wins of course) while Mayweather has been back in the gym (supposedly for an MMA fight to take place later this year). Imagine if the two ageing yet still instantly recognisable stars got to talking about, yes, a rematch!
The first fight was a dud, yes, but we'd still watch if the two did box again. Mayweather insists he will only fight again inside the cage and not the ring, but money – Floyd's favourite subject – talks. What if some of the big money men surrounding Pacquiao offered Floyd a monster payday the kind of which he just cannot turn down? Two huge stars, the two biggest and best pound-for-pound fighters of their era, should meet more than once anyway, shouldn't they?
It's all conjecture and nothing more but it is interesting that Mayweather has opted to visit Manny's home country just before Pacquiao's own return to the ring takes place. As for Matthysse Vs. Pacquiao, Mayweather, as polite as can be, says he is looking forward to an exciting fight.
"Manny Pacquiao and Lucas Matthysse are great fighters. It's a great match-up – two former world champions, so it's going to be a very good fight," Mayweather said.
Good enough for him to fight the winner!?