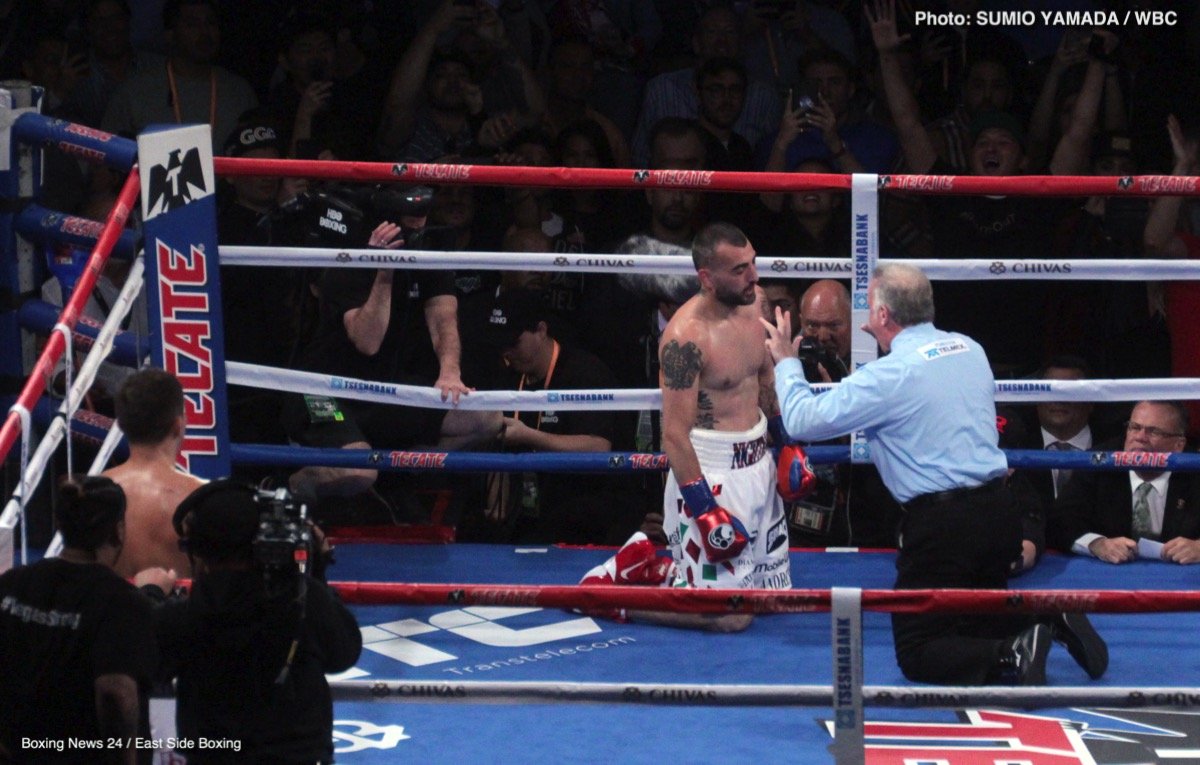 Middleweight king Gennady Golovkin ended his KO drought – such as it was, just two fights without scoring a stoppage victory – with his crushing two-round win over a game but outgunned Vanes Martirosyan, and the vanquished super-welterweight does not buy into any suggestions that GGG is at all slipping. Some critics suggested, after Triple-G was taken the full 12-rounds by Danny Jacobs and then by Canelo Alvarez, that he was declining at age 34/35. Not so says Martirosyan.
At age 36, Golovkin, now 38-0-1(34) is as good as ever says the man who felt the full brunt of his power on Saturday night in Carson, California. Martirosyan, like GGG trainer Abel Sanchez, insists that any fighter who fights GGG, who stands in front of him and dukes it out, will get knocked out.
"Danny [Jacobs] and Canelo came into the fight [with GGG] to go 12 rounds, they didn't come to really win the fight they just wanted to go the 12 rounds to show the world they can," Martirosyan told the gathered media after Saturday's losing challenge of Triple-G. "Danny did a good job. Canelo ran from Gennady. If he had stayed in front of him, he would have been knocked out cold. The guy hits like a train. You can't stop the guy. He is a machine."
Martirosyan went on to say how "styles make fights," while fans are eager to see who GGG faces next and what approach his next challenger adopts. Can any middleweight, no matter who they are, win a punching battle with Golovkin? Would any fighter willing to try and find out be foolish? Canelo, while not exactly running, did change his game, adding plenty of movement last September. Sanchez insists that if the Mexican star fights a "real" fight, and stands and "gives the fans what they want," GGG will get the KO he wants and with it the exciting fight the fans want to see.
But will it even be Canelo next, and if so, will he go mano-a-mano with GGG and duke it out? We'd all love to see it, for sure. There is a strong possibility, though, that if the huge rematch cannot be made for September, GGG may travel to Japan for an "intriguing" (to GGG's promoter and to Murata's promoter) fight with WBA belt-holder Ryota Murata. While most fans would likely prefer to see GGG face WBO champ billy Joe Saunders next if it's not Canelo, a GGG-Murata fight would not be too bad.
And now that Golovkin has got his next KO streak going, fans want to see more carnage. How long can Golovkin keep his string of consecutive KO wins going for this time?