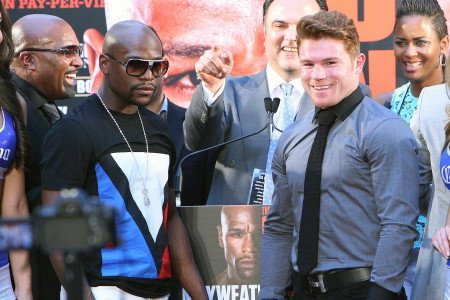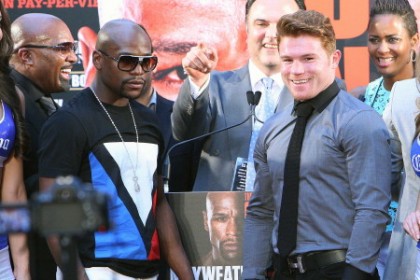 (Photo credit: Tom Casino/Showtime) When it comes to hype talking and entertaining the public with words, there aren't too many virtuosos out there. One boxer who never ceases to impress with this knowledge of boxing and the ability to out-talk and outwit any other, is Bernard Hopkins. Every knows that a press conference involving Hopkins is worth tuning in to.
But aside from Bernard, there is another boxing superstar who has the natural ability to successfully argue and discuss: Floyd Mayweather Jr. He displays charisma and enthusiasm whenever he is either interviewed or is standing at a podium, and is most certainly a very clever and quick thinker.
During a recent interview, Mayweather stated the following: "In 30 months my career is over. I want to rack up my six victories and hopefully do commentating and keep the sport of boxing alive. That's what I'm focused on."
Did he just say that he would like to commentate for boxing? If this is truly the case and Mayweather Jr. would indeed want to invest his time into sitting ringside and discussing various boxing events, than I doubt there would be much objection to that.
His technical knowledge of the sport of boxing inside and outside of the ring is absolutely phenomenal, and I would definitely love to hear what advice Floyd would give to the other fighters.
Would he provide the viewers with a new, more exciting and even controversial calling of the fights? Undoubtedly so. It's always refreshing to hear professional seasoned champions discussing the ongoing fight, rather than regular commentators and boxing coaches.
Of course I find it highly unlikely that either HBO nor SHO will be able to afford Floyd, as he would probably demand more money than any other commentator has been paid in boxing history.
What do you think? Would Mayweather Jr. make a decent commentator?
More @ http://cgboxing.blogspot.com/
https://www.facebook.com/VitaliFightPress