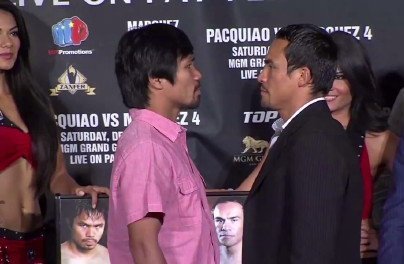 By Rob Smith: While the hardcore boxing fans might be incredibly sick of seeing Manny Pacquiao and Juan Manuel Marquez fight endlessly, the casual boxing fans are clearly not bored as they've purchased nearly all of the 16,800 tickets for the Pacquiao-Marquez scheduled for December 8th at the MGM Grand in Las Vegas, Nevada. As of Monday morning there were only 3000 tickets left with 13,00 having been sold over the weekend. By now the 3000 remaining tickets are probably reduced to even lower numbers.
Pacquiao's promoter Bob Arum is pretty excited about this, saying to ESPN "We are ecstatic with the response."
I bet Arum is. The last Pacquiao fight was against Tim Bradley and it reportedly didn't do well on pay per view. This is one of the reasons why Bradley didn't get a second chance to beat Pacquiao again.
For boxing fans, however, they don't get anything out of Pacquiao and Marquez doing well at the box office and on PPV. It actually may work against fans because Arum has a product that the casual fans seem to like, and what this means is that fans will probably see Pacquiao and Marquez fight against next year if this fight does good numbers on PPV. All it'll take is for Arum to match Pacquiao against someone less than popular like Bradley and the knee-jerk reaction after the low PPV numbers for that rematch will likely cause Marquez to be brought again.
Arum's problem is that there are only three popular fighters that Pacquiao can be matched against – Floyd Mayweather Jr, Juan Manuel Marquez and Miguel Cotto. Arum can't put Pacquiao in with Mayweather, not unless he's willing to take less than a 50-50 deal. Yes, we've heard how Pacquiao says he's willing to take a 45-55 purse split, but then we've also heard his personal adviser quickly step in and state that the deal is 55% to the winner and 45% to the loser.
So that's a fight that won't happen. Pacquiao won't get a rematch with Cotto unless Pacquiao is willing to fight him at the full weight for the 154 pound division. That's not happening either. As such, we're probably going to see Pacquiao-Marquez next year, and very likely the year after that if they're both still fighting. There's no one else for Pacquiao to fight to make the money that he and his promoter Bob Arum wants. I guess it's not enough to make huge money fighting almost anyone. It's got to be over 1 million buys. It's too bad for hardcore boxing fans because it's getting so old seeing Pacquiao fight Marquez over and over with Marquez getting jobbed every time.