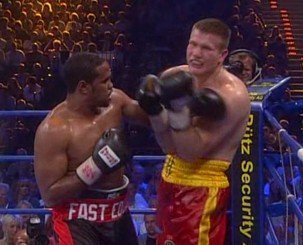 By Joseph Herron – On December 17th, at the Crocus City Hall in Myakinino, Russia, WBA Cruiserweight Champion Denis Lebedev (25-1, 19 KOs) impressively dispatched Santander Silgado in just four rounds, giving the fight fans in attendance a devastating knock-out of the year candidate to remember.
After the successful title defense, the hard punching Russian fighter precariously issued a post-fight challenge to perennial Heavyweight contender turned Cruiserweight pugilist, "Fast" Eddie Chambers (36-3, 18 KOs).
The versatile Philly based fighter recently appeared on this week's edition of "The Pugilist KOrner's: Weekend Wrap" to graciously accept Mr. Lebedev's proposal.
"The idea of competing for the WBA Cruiserweight Championship in my first bout within this talented division sounds awesome," admits Eddie Chambers. "I didn't think most Cruisers would want to give me the opportunity right away, but I guess my body of work in the Heavyweight division precedes me."
Although the 30 year old fight veteran is a little surprised about being targeted by a current title holder, "Fast" Eddie can see why a hungry and driven fighter like Denis Lebedev would pursue a former Heavyweight title challenger.
"It's a little surprising in a sense that he would be willing to place his title on the line against someone who has the kind of fight experience I have. But I think I can understand his angle."
"Lebedev probably thinks he's catching me at a very vulnerable time right now. He's probably rationalizing that I've been inactive due to various injuries and was forced to undergo "Tommy John" surgery this year. But I feel good. I'm not going to say I would be super strong if we fought because I really want him to take this fight, but he definitely won't be facing a damaged fighter."
If respective promoters, Kathy Duva and Vladimir Hryunov, can mutually agree to terms, Denis Lebedev could be making his American television debut against "Fast" Eddie Chambers at the Mecca of boxing, Madison Square Garden, as early as March of 2013.
Although the slick Philly technician understands how dangerous Denis Lebedev can be, Chambers genuinely wants this fight to happen.
"This is a great opportunity for me," admits the 12 year professional. "Yes, it's a very risky and dangerous move for me to fight one of the strongest fighters in the Cruiserweight division. Lebedev will be faster and probably more technically proficient than most Heavyweights I've ever faced. But I think this is why most within the industry have developed a respect for me as a fighter, because I've never avoided any challenges."
Lebedev is indeed a much improved fighter since dropping a controversial split decision to WBO Champion Marco Huck two years ago.
Since that time, the hard Russian Champion acquired the services of Hall of Fame Junior Welterweight Kostya Tszyu, who has greatly enhanced Lebedev's fight game mentally and technically. Denis has won all four outings since his lone defeat and has looked impressive in his victories over future Hall of Famers Roy Jones Jr. and James Toney.
Eddie Chambers truly believes, "to the victor, go the spoils".
"Calculated risks are a part of boxing. No one would tune in if there wasn't any intrigue or danger in a proposed match-up. With a low risk fight, the rewards are also low. A fight with Denis Lebedev is a very high risk match-up for me. But a victory would yield the highest and most elusive reward imaginable; a world title around my waist."
"I've really had to work hard throughout my tenure in the Heavyweight division and have come up just short up to this juncture in my career. I'm ready to finally reap the big rewards at this point in my fight career. I've more than paid my dues and I am answering Denis Lebedev's post-fight challenge with a resounding 'Yes'."
"Let's make the fight happen!"