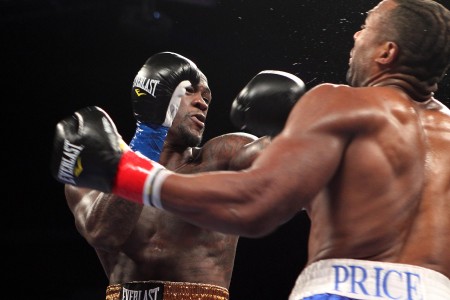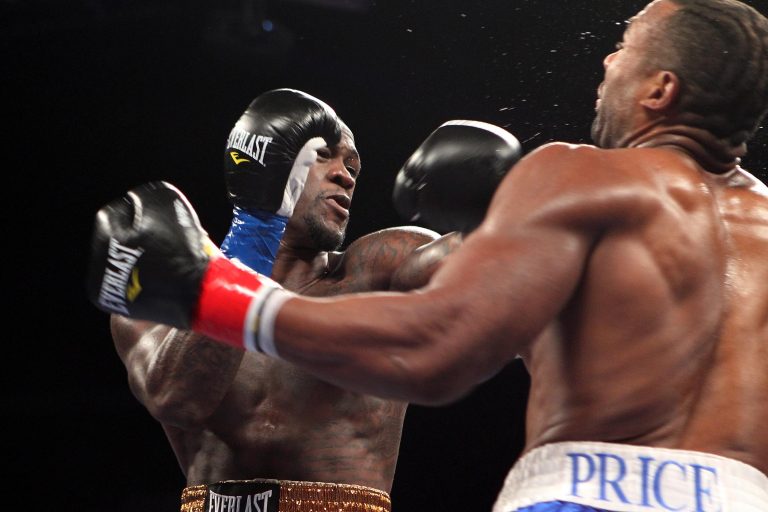 By James Slater, pohoto by Tom Casino/Showtime – Astonishingly, America has not been able to lay claim to even a portion of the heavyweight championship of the world for over half a decade. For not since Shannon Briggs lost his WBO title to Sultan Ibragimov in early 2007 has America – once the superpower of heavyweight boxing – held a major crown in the sport's one-time glamour weight class.
Today, at the end of what has been an eventful 2012 for the young guns that might, just might be able to regain the prestigious championship, there are a handful of talented, hard working big men who, both individually and as a group of contenders, aim to bring the titles back home. At one point, for a good year or so, former linebacker turned heavyweight contender Seth Mitchell was looked at as the top dog, yet this young heavyweight was recently blasted out inside a couple of wild rounds by experienced Klitschko sparring partner and former cruiserweight title challenger Johnathon Banks.
Mitchell and Banks will meet again in February, but most good judges feel former Emanuel Steward-coached Banks, no slouch of a fighter, will repeat the win. But as dangerous and as durable as Banks is (unbeaten as a heavy, beaten just once as a cruiser), the former Kronk pupil will not be the man to end the reign of the mighty Klitschkos. Banks has more or less said he will not even try to land a fight with either sibling; so close to them is he (even adopting the role of head trainer for Wladimir, since the sad passing of Steward). Banks prefers a shot at "regular" WBA boss Alexander Povetkin. If he can topple the unbeaten Russian, Banks will no doubt get a hero's welcome in the U.S, even if he will only have won a dubious at best version of the world title (everyone knows Wladimir is the REAL WBA champ).
So which of the other young (or youngish) and unbeaten (or close to it) U.S heavies are worth investing hope on when it comes to achieving world domination?
For a few years now, Mexican/American Chris Arreola has attracted fan attention. A capable puncher who has recently rededicated himself to arduous training, "The Nightmare," can certainly fight. The two losses on his record, to Vitali Klitschko and Tomasz Adamek, convince some that he is not the man for the job, but Arreola is always dangerous. What about Bryant Jennings? Currently unbeaten and coming off a most active year (five fights in 2012, all wins), "By-By" is catching attention.
A tough and talented Philly warrior, Jennings could be the best of the current crop of young and hungry U.S big men. A fight between Jennings and Banks (should Banks repeat his win over Mitchell) would be very interesting. Then there's Deontay Wilder; the last U.S fighter to have won an Olympic medal (Bronze at the 2008 games). Fresh off his 3rd-round TKO over Kelvin Price (then 13-0 and holding a points win over another young talent in Tor Hamer), "The Bronze Bomber" is talking about going for a title shot in the very near future. Wilder can definitely crack (all his 26 wins coming inside four-rounds or less!), yet he has yet to face anything approaching world class opposition.
The aforementioned Hamer might be quietly bubbling under (and Tor did win the U.K's "Prizefighter" tournament recently), yet he could be the man to keep an eye on. The same could also be said of dark horse Skipp Scott. The big, athletic Texan steps up to the ten-rounders in January, and the giant (at 6'8″ the same height as Wilder – these two being the tallest and, it could be argued most equipped of the current crop of U.S heavyweights when it comes to being able to tackle the 6'7″ Klitschkos) has been perfecting his craft in the gym, and the man known as "Strictly Business" aims for a "splash" in 2013.
Finally, there's Joe Hanks and Malik Scott . Both are unbeaten and also looking at making their move in 2013. "The Future," as Hanks is known, is also flying somewhat under the radar at present yet he will fight yet another unbeaten American, in the 12-0 Richard Carmack, next February, for the vacant NABA belt. Scott, meanwhile, has seemingly been around for the longest time (turning pro in 2000 and currently holding an impressive-looking 35-0(12) ledger), yet there has thus far been no real urgency in Malik's work. With his slick skills, Scott could be the best pure boxer of the bunch, though.
So we have at least half a dozen good, talented, interesting and hard working up-and-coming American heavyweights to keep tuning in for. As for which guy is the best bet as far as bagging world glory, that's up to you!
In no particular order, today's young guns:
Deontay Wilder. Age: 27. From: Alabama. Record: 26-0(26)
Joe Hanks. Age: 29. From: New Jersey. Record: 21-0(14)
Malik Scott. Age: 32. From: Philadelphia. Record: 35-0(12)
Bryant Jennings. Age: 28. From: Philadelphia. Record: 16-0(8)
Johnathon Banks. Age: 30. From: Detroit. Record: 29-1-1(19)
Skipp Scott. Age: 34. From: Houston. Record: 15-1(10)
Tor Hamer. Age: 29. From: New York. Record: 19-1(12)
Chris Arreola. Age: 31. From: Los Angeles. Record: 35-2(30)
Seth Mitchell. Age: 30. From: Maryland. Record: 25-1-1(19)