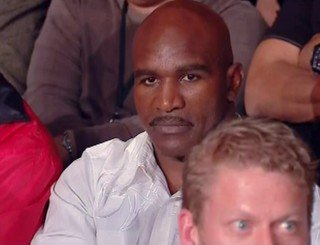 The great Muhammad Ali's quote of how the third war he had with the also great Joe Frazier was "close to death," is well known, and it is of course undeniably true that the two legends gave their all in the unforgettable 1975 super-fight. But yet another great, in Evander Holyfield, at the beginning of his storied career, also experienced something akin to the sheer hell Ali (and Frazier) went through – in the summer of 1986, when he was a cruiserweight contender challenging for his first world title.
Holyfield is best known for his incredible, odds-defying heavyweight glories, but the fight that was both his toughest and means the most to "The Real Deal" himself is his 15-round classic with Dwight Muhammad Qawi. Holyfield, inexperienced at the time of his challenge of the 33-year-old Qawi (Evander being the younger man by a full decade) pushed his mind and his body so severely he later admitted he felt like quitting the sport after the 15 rounds were over. Ali had his Thrilla in Manila with Frazier, while Holyfield and Qawi gave us the cruiserweight equivalent in Atlanta – only this battle went down to the wire, whereas Ali and Frazier were spared a final three minutes of torture thanks to the brave and caring act of Joe's trainer and corner-man, Eddie Futch.
Ali and Frazier were never the same again after their final, bruising enounter, yet Holyfield, who passed the gut-check of gut-checks when barely into double figures in terms of pro bouts, was young enough, fresh enough and just plain great enough to come back and achieve even more glory. Still, Holyfield was forced to think long and hard about his future after the pain and suffering he went through against "The Camden Buzzsaw."
Very kindly speaking with this writer, the former undisputed cruiserweight king and all-time great said he lists his first fight with Qawi (the two met again, in a very different rematch, in late 1987) as his finest night in the ring.
"I feel my greatest night in the ring was my [first] fight against Dwight Muhammad Qawi," Holyfield said.
"That was 15 rounds, and at the time I had not gone past eight rounds. And, geez, that fight was like a marathon! To be tired in the fourth round like I was, when there were still 11 rounds to go (laughs) – it was a stressful time. And that guy was just so cagey. He had a great defence and he threw lots of punches as well. That made it a really difficult fight."
Q: Yet in the rematch, you had a far easier time, when you knocked Qawi out in the fourth round?
"In the rematch, I wasn't intimidated. I had been there before. I had gone the 15 rounds and I knew I could do it if I had to do it. He was the same fighter, and some fighters just are not able to make adjustments. Also, I was stronger, older and a lot more mature. That all made a lot of difference."
Q: Is it true you lost something like 12 pounds of weight through fluid loss in that great fight with Qawi? And did you even consider retirement because that fight was so gruelling and tough?
"I lost 15 pounds. It did cross my mind [to quit], yes. But what stopped me from quitting was, I said to myself, I'd rather die than quit. He [Qawi] told me, 'you'll never make it.' I wanted to make it to the end [of the 15 rounds] and prove him wrong. And later, I reconsidered what I'd said. I didn't want to die! But my manager at that time, Kevin Sanders, he told me I'd never be in as tough a fight ever again. And he was right, I was never in that tough a fight again."
Neither was Qawi. Nor has any other cruiserweight fighter, before or since.