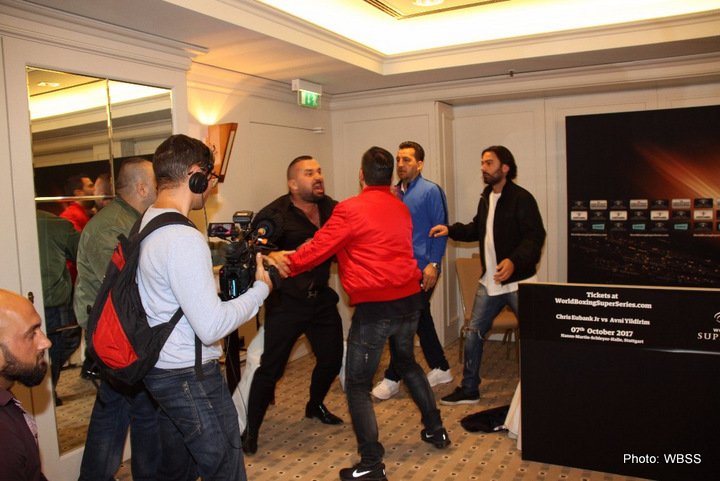 British IBO Champion Chris Eubank Jr. (25-1-0,19 KOs) and Turkish Avni Yildirim (16-0, 10 KOs) and their respective teams fought with words at an overheated press conference before Saturday's Ali Trophy quarter-final clash at the Hanns-Martin-Schleyer Halle.
At the end of the press conference, things escalated when Yildirim's manager Ahmet Öner was close to engaging himself in a fight with a member of Team Eubank Jr.
Chris Eubank Jr. set the tone for the press conference in his opening statement:
"The warship has landed fully equipped, fully loaded and all the artillery is pointing at Yildirim," said the 28-year-old third seed in the Ali Trophy super-middleweight tournament.
"So you are coming with all your weapons," said 26-year-old Avni Yildirim.
"Don't forget the first world war when everybody was after the Turks and couldn't do it. We are still here and everyone knows what Turkish soldiers are capable of. Turks are soldiers, war is in our DNA."
Ahmet Öner, Yildirim's manager and coach:
"Eubank Jr. is right – this will be war. I hope he has enough weapons to stay 12 rounds. If you win I will be the first guy to respect you and shake your hand, but I do not see that happen."
Eubank Jr. added:
"One thing I do want to say. I have a lot of respect for the Turkish community, I have Turkish friends and I like Turkish food. This is a fight between two men. I advise Avni to take his focus of off stirring up a drama between two countries."
Comosa's Chief Boxing Officer, Kalle Sauerland:
"We are delighted to be in Stuttgart, a great fight town."
"Eubank Jr. and Yildirim are both stars in their own rights in their countries. We will see a war between two gladiators, two outstanding athletes."
Tickets for the hotly anticipated fight October 7 at the Hanns-Martin-Schleyer Halle are available at StubHub.de, eventim.de and easyticket.de.
Chris Eubank Jr. vs. Avni Yildirim WBSS super middleweight quarterfinals AIRING LIVE IN CANADA THIS SATURDAY EXCLUSIVELY ON SUPER CHANNEL
The spotlight shifts back to the super division for this Saturday's World Boxing Super Series (WBSS) tournament when International Boxing Organization (IBO) Super Middleweight World Champion Chris "Next Gen" Eubank Jr. defends his title against undefeated challenger Avni "Mr. Robot" Yildirim in quarterfinals action, airing live in Canada exclusively on Super Channel from Hanns-Martin-Schleyer in Stuttgart, Germany.
The "Eubank Jr. vs. Yildirm" card, starting at 2 p.m. ET / 11 a.m. PT,keeps Canadian boxing fans at ringside during the entire $50-million WBSS tournament, live this weekend from Germany and exclusively on Super Channel, which acquired the rights in Canada to broadcast the World Boxing Super Series from MP & Silva, a leading international media company that provides media rights, digital, technology and sponsorship services.
The 28-year-old Eubank Jr. (25-1, 19 KOs), fighting out of the United Kingdom, is managed by his father, Chris "Simply The Best" Eubank (45-5-2, 23 KOs), who is a former World Boxing Organization (WBO super middleweight champion.
In 2015, Eubank Jr. stopped Tony Jeter (20-4-1) in the second round to capture the Interim World Boxing Association (WBA) middleweight crown. Eubank Jr. captured his IBO title this past February, knocking out Renold Quinlan (11-0) in the 10th round. In his most recent action, the skilled Brit won a 12-round unanimous decision over multiple world champion Arthur Abraham (46-5) in his first and only world title defense to date.
"This is the first fight for me in this tournament and I am here to make a statement," Eubank Jr. said. "I am the man; I'm the man to beat. There will be no mercy for Yildirim. I am here to win, I am not here to make friends. I am not here to look pretty and be a celebrity, I am here in this tournament to become the champion.
I am very much looking forward to this fight. I think it is a great match-up. Styles make fights and the reason I picked this man at the Draft Gala is that he is a fighter. He comes forward. He is very active, he is very open, he takes risks, which he will pay for this fight. I can't wait!
"I have a goal. I have a challenge that I have to complete and that is to win the Muhammad Ali Trophy and prove that I am the best in the world."
Upset-minded Yildirim (16-0, 10 KOs). 26, is the reigning World Boxing Council (WBC) International Silver super middleweight champion, which he originally captured two years ago, taking a 10-round decision from former world champion Glen Johnson (54-20-2). Yidirim has successfully defended his title five times against Janne Forsman (KO1), Walter Sequeira (17-2), Jackson Junior (KO2), Schiller Hyppolite (TKO3), Aliaksandr Sushchyts (KO12) and Marco Antonio Periban (DEC12).
"This tournament is a chance for me to fight the best in the world," Yildirim commented. "It is an honor for me. I am here to destroy everyone in the tournament. I am not an Instagram or Facebook fighter like Eubank Jr. I am Avni Yildirim and I am here to destroy. I will do anything to win this fight and win this tournament. I feel good. I am very prepared. Let's fight!"
Five exciting bouts on the "Eubank Jr. vs. Yildirim" card, promoted by Sauerland Event, will air in Canada exclusively on Super Channel. The Eubank Jr. vs. Yildirim main event is scheduled to start at 5 p.m. ET / 2 p.m. PT.
In the 10-round co-featured event, Germany's undefeated prospect Stefan Haertel (14-0, 1 KOs) faces Ukrainian challenger Viktor Polyakov (13-1-1, 6 KOs) in a WBSS super middleweight substitute fight.
Other televised fights on Super Channel includes International Boxing Federation (IBF) Youth super middleweight champion Leon Bauer (12-0, 8 KOs) vs. Atin Karabet (3-1, 2 KOs), of Germany, in the six-round televised opener, German super middleweight Denis Radovan (6-0) vs. German Tiran Metz (14-2-4, 6 KOs) in an eight-round bout, and undefeated British super middleweight Zach Parker (13-0, 10 KOs) vs. Matingu "Zulu King" Kindele (9-6, 3 KOs) in an eight-round match
All fights and fighters are subject to change.