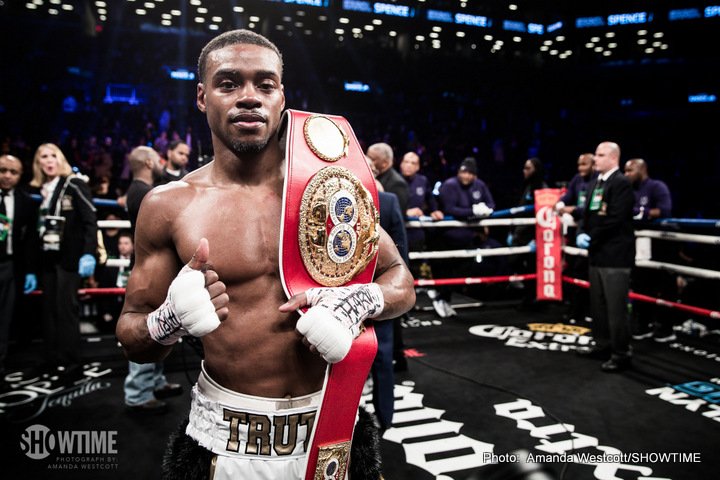 Errol Spence looked superb in beating down a tough and game Lamont Peterson last night, scoring an ultra-dominant victory that came at the start of round-eight. The IBF welterweight king retained his belt for the first time since ripping it from Kell Brook and many people are fully expecting "The Truth," as the hugely talented southpaw is known, to enjoy a long, long reign.
Is Spence, 23-0(20) the best welterweight in the world today? It's still up for debate in the minds of some fans but 27 year old Spence certainly believes he is the best, and it's hard to disagree from this ringside seat. The only man who seems capable of proving Spence wrong right now is Keith Thurman, the unbeaten star of the division who has unfortunately been far too inactive (through injuries, not chosen idleness) as far as his fans are concerned.
Does Spence beat Thurman should they fight this year? It would take a brave fan to bet against it. But does Thurman, the WBA/WBC ruler, really, truthfully want this fight? Spence says "Sometimes" Thurman "keeps making excuses."
"Everybody knows I've been waiting on Sometimes Thurman," a victorious Spence said. "Since I was 15-0 I've been calling this guy out and he keeps making excuses. I want Keith Thurman. It's an easy fight to make and I want it."
Thurman, 28-0(22) has not fought since March of 2017, when he won a split decision over Danny Garcia. Thurman is expected to return to action against TBA later on this year. But Thurman needs a tune-up in his return from injury and the showdown with Spence will have to wait, it is though, a fight that seems inevitable. Once he has returned and resharpened his tools, Thurman will hear Spence's name at each and every turn.
In the meantime, Spence may fight again in June, possibly against the aforementioned Garcia should "Swift" come through okay against another former champ in Brandon Rios next month. According to a news bit via RingTV.com, Stephen Espinoza of Showtime says The Barclays Centre will have a June date reserved for Spence's next fight and that ideally it will be one with Garcia.
This would be a big fight, possibly a great fight, but can Garcia do anything with the sublime skills of Spence? If Spence were to manhandle Garcia in a similar fashion to the way he beat up Brook and Peterson, the man from Texas' claim to being the best 147 pounder on the scene would be given another massive boost.