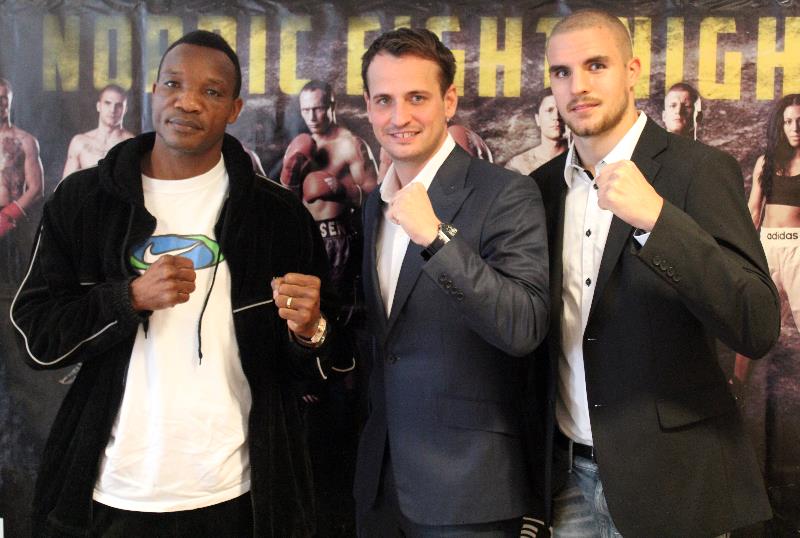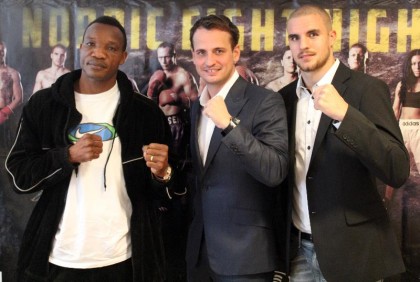 Erik Skoglund (17-0, 9 KOs) is a man on a mission. At the age of 12, he wrote down a masterplan to become world champion one day. Ten years later, he is still undefeated on his way to glory. On Saturday night, the 22-year-old Swedish sensation faces Danish veteran Lolenga Mock (31-13-1, 12 KOs) for the European Union Light Heavyweight Title at the TRE-FOR Arena in Kolding, Denmark. In this interview, he speaks about his incredible journey, the showdown with the man who once knocked down former WBA Heavyweight Champion David Haye and his ever-growing Swedish fan army that will be supporting him in Denmark.
Q: Erik, apparently there will be a Swedish fan invasion in Kolding on Saturday…
ES: "Yes, there will be almost 100 supporters coming down from Sweden. That really means a lot to me. It´s the biggest fight of my career by far, and it´s great to have so much support. It´s not an easy trip for them, it takes quite a while to come to Kolding, so I really appreciate it. They will create a fantastic atmosphere. And with their help I will put on a great fight."
Q: How has the preparation been going?
ES: "Everything went really well. I have prepared hard for a long time. I knew since the middle of the summer that this fight would be coming. I had Mock on my mind every time I went to practice. I am in the shape of my life. The sparring was very good, too, we had the last session on Thursday. I am ready."
Q: Did you spar with fellow Nordic Fight Night colleague Oscar Ahlin?
ES: "Yes, we did some sparring, but not a lot. Enrico Koelling, one of the up-and-coming German fighters, suited me better style-wise. So I did most of my sparring with him. But it was great to have Oscar over here in Berlin. It´s exciting to have so many Swedes on the team. Oscar, Anthony Yigit, Otto Wallin and now Klara Svensson – we have a very talented team. There are great times ahead for Swedish boxing."
Q: What are you doing in your spare time?
ES: "I just try to relax, watch some movies or play some video games. I spend a lot of time watching boxing, like other fights or my opponents. I also watch my old fights to analyse my mistakes. I tape every sparring session and analyse them as well. So I have a lot of boxing to watch in my spare time. It really helps me to get better."
Q: You are a true professional, inside and outside the ring. Have you always been that focused?
ES: "Yes. It´s all part of our big plan. I started boxing when I was 11 and when I was 12 years old I knew I wanted to be a world champion. I have always been very focused. So I sat down with my father and we wrote down a plan to become the best boxer in the world. It has been a long and difficult, yet very exciting path, and here I am, ten years later, fighting for the European Union Title. That is a big step for me. It will put me up the rankings and closer to achieving my ultimate goal. I am really excited about it."
Q: As with every journey, there must have been some obstacles?
ES: "There have been a few obstacles, inside and outside the ring. Inside the ring, I once had to fight with a broken jaw (in May 2011). It was a tough experience but I hung in there and got the win. Outside the ring, there are some challenges, too. I always have to put my training in the first place, I always have to be focused, so there is not much time to enjoy life like other 20-year-olds might do. But when the referee raises my arm after a win, I know it´s well worth it."
Q: What do you think about Mock?
ES: "Mock is a tough man, he certainly has a lot of routine. He made his pro debut two weeks before I was born. He knows what he is doing but I believe I have the skills to beat him. I don´t think he is as fast as he used to be. He is still a good fighter, though, with a lot of power. He knocked down David Haye with a big shot. I have to be on alert from the first bell to make sure he doesn´t catch me. I am not afraid of his power, but I don´t like to get hit. I don´t think he has the precision to get through my defense, though."
Tickets for the Nordic Fight Night on October 19 are available at www.billetten.dk. They can also be purchased directly at TRE-FOR Arena by phone (76 32 60 00) and email (info@koldinghallerne.dk). The TV10 broadcast will start at 21:00.