WBO featherweight champion Emanuel Navarrete will be defending his title against #6 WBO Christopher Diaz in the main event on ESPN, with super middleweight Edgar Berlanga facing Demond Nicholson in the co-feature bout in Kissimmee, FL. Mike Coppinger and Salvador Rodriguez reported the news.
'Vaquero' Navarrete (32-1, 27 KOs) will be making his first defense of his World Boxing Organization 126-pound title that he won last October with a tough 12 round decision over Ruben Villa. The skill level between Villa and Navarrete was substantial. Villa had a lot more going for him in the skills.
Navarrete, 26, should have an easier time against the slugger Diaz, as his boxing ability isn't anywhere near Villa's level. This is the type of opponent that Navarrete tends to do well against. He does well against fighters that stand and trade and fights his fight.
Diaz (26-2, 16 KOs) has won his last two fights against Adeilson Dos Santos and Jason Sanchez. Before that, Diaz was beaten soundly by Shakur Stevenson in losing a one-sided 10 round unanimous decision in April 2019. Diaz never stood a chance against Shakur, and he lost badly.
In 2018, Diaz lost a lopsided 12 round unanimous decision to Masayuki Ito in a failed bid to capture the vacant WBO super featherweight title.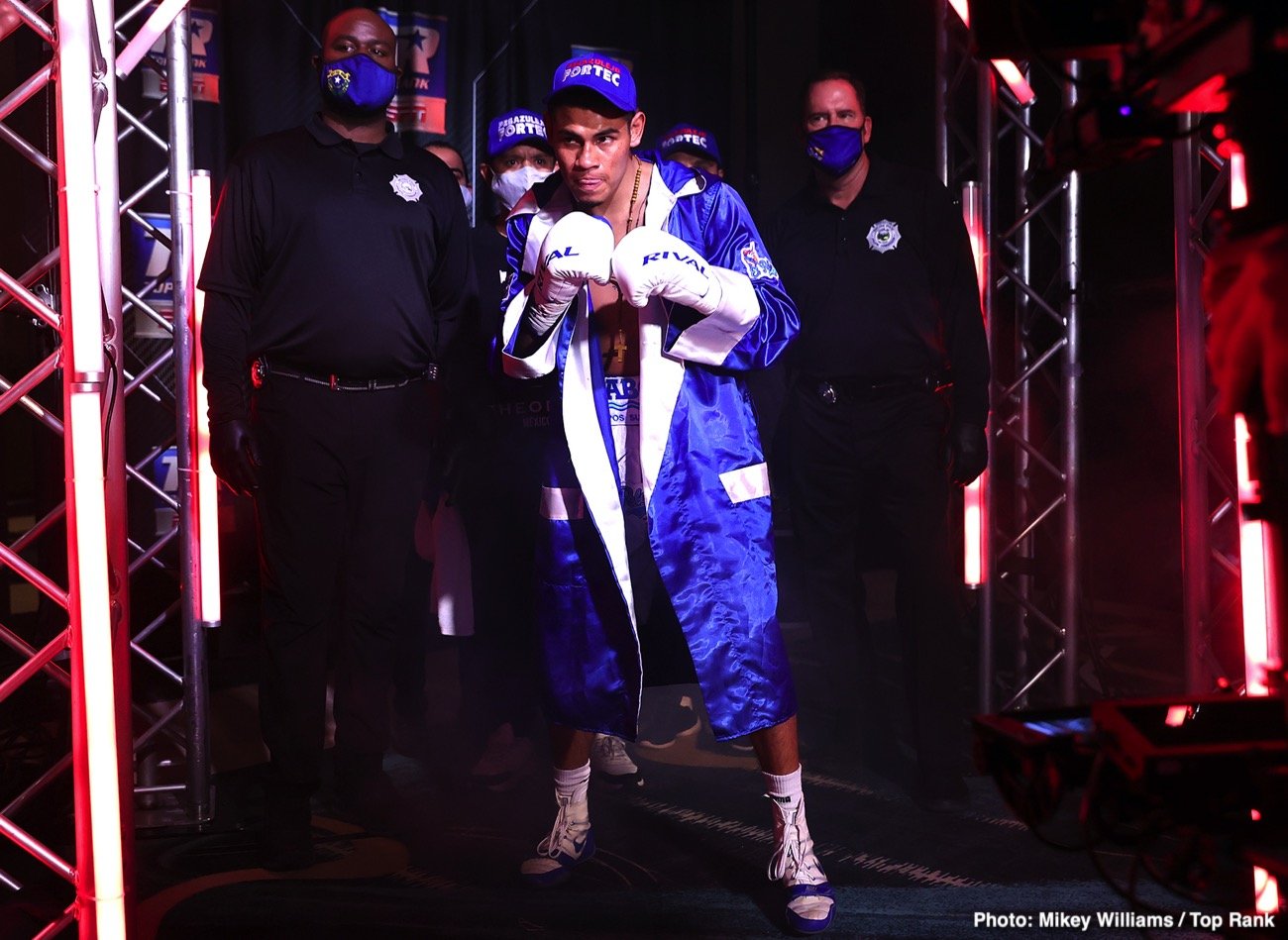 If Diaz, 26, hadn't lost so many times in a short period, it would be a lot more interesting to see him challenge Navarrete for the WBO title.
But all the defeats make it seem like he's being rewarded for failure, and that's not interesting. It would be nice if Navarrete defended against one of these guys instead of Diaz:
Rey Vargas
Eduardo Ramirez
Jesus M. Rojas
Kid Galahad
Tugstsogt Nyambayar
It's unclear where Michael Conlan disappeared to because he was the guy that Navarrete was supposed to fight for the vacant WBO 126 lb title instead of Ruben Villa.
The co-feature bout between super middleweight contender Edgar Berlanga (16-0, 16 KOs) and Demond Nicholson (23-3-1, 20 KOs) is an OK one, but not a great fight. It's almost a lateral move for the 23-year-old Berlanga from the weak opposition he's feasting on.
Nicholson was knocked out in seven rounds by Jesse Hart in 2018. Hard would be a good opponent for Berlanga. I wonder why Top Rank isn't trying to get him for Edgar's next fight?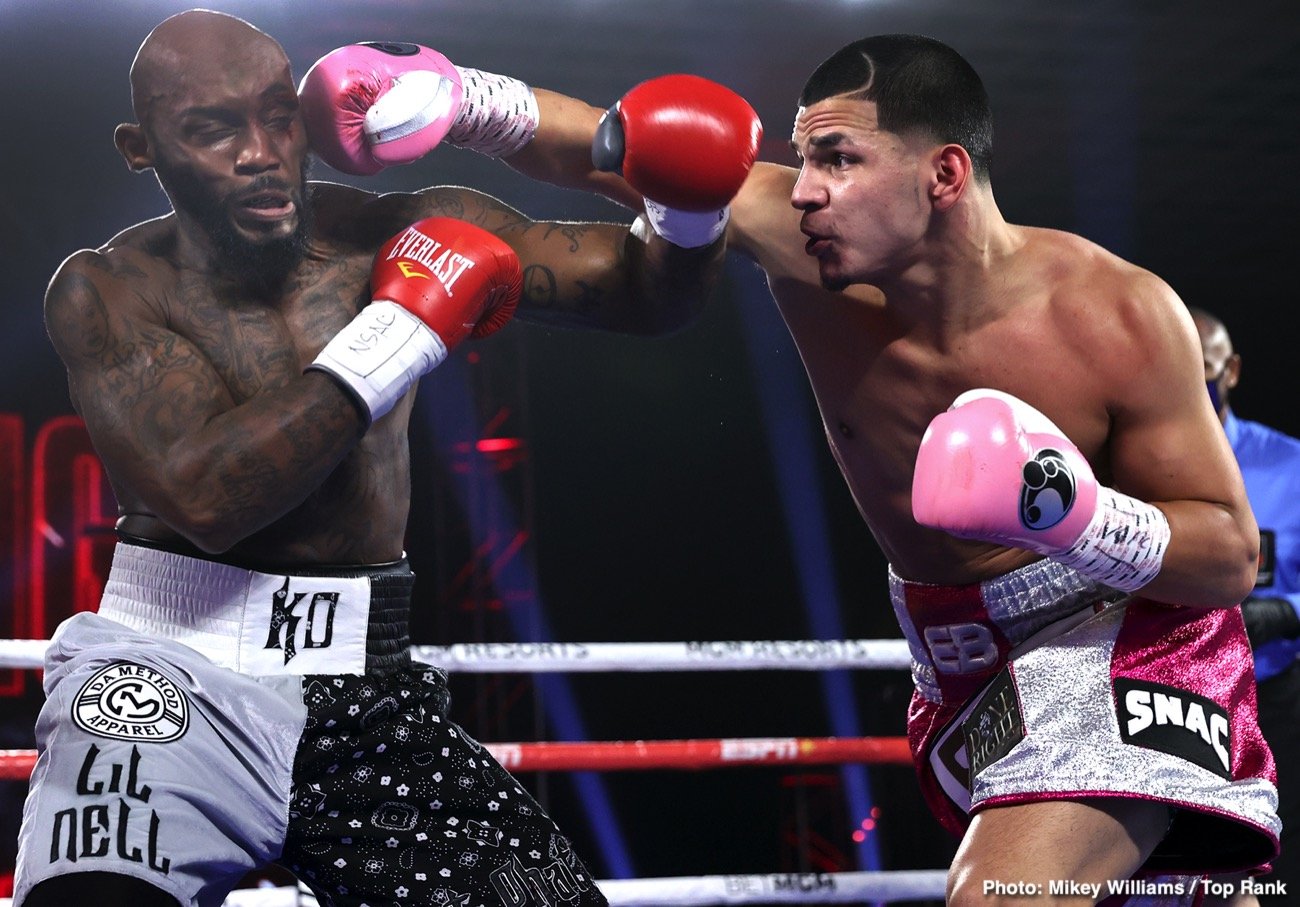 Top Rank isn't showing interest in upgrading Berlanga's opposition could indicate that they have concerns about him. Berlanga is a good fighter, but come on.
The guy has 16 straight first-round knockouts, and that's not just because he's so great. Berlanga's opposition has been horribly bad, and there's been no move by Top Rank to begin putting him in with better fighters.
I mean, you would think after the first five 1st round knockout wins that Berlanga would be moved up against higher-quality fighters, but that hasn't happened.
"Sources: Emanuel Navarrete is slated to defend his 126-pound title against Christopher Diaz in the main event on ESPN on April 24.
"Edgar Berlanga vs. Demond Nicholson in the chief-support bout. Per @ChavaESPN, the card is tentatively scheduled to be staged in [Kissimmee, FL]," said @MikeCoppinger.