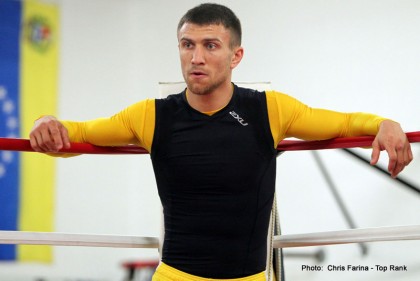 Well, that didn't last long. Yesterday a "news" story that claimed Manny Pacquiao and his team were " in negotiations" for a fight with reigning pound for pound king Vasyl Lomachenko caused something of a stir. The story began to gather some steam, with a number of prominent boxing websites picking up the story.
We needn't have bothered.
As many fight fans felt was the case all along, there is zero substance to any Lomachenko-Pacquiao fight ever taking place. Not only that, but Egis Klimas, manager of Lomachenko, says there have been no talks on the subject.
to ESPN.com, Klimas had the following things to say:
"No, we are not fighting Pacquiao. Manny Pacquiao is calling out Lomachenko, who is three weight classes down the scale from him. Manny Pacquiao is 147 and he's calling out Lomachenko, who is 130. That's insane.
"The next thing you know, you'll have Gennady Golovkin calling Lomachenko out. It would be like Sergey Kovalev calling out Manny Pacquiao. It's ridiculous."
So that puts a definitive end to any and all talk of this modern day "Dream Fight." Klimas added how there is absolutely no interest from himself or from his star fighter when it comes to a fight with Pac Man; that Pacquiao is too old now and that Lomachenko would gain nothing from such a match-up.
There is still no word on just who Lomachenko will actually fight next, or on if the current WBO 130 pound champion will move up to 135 for his next fight. There is no confirmation of what superstar Pacquiao will do next in the ring either. There is some talk that the 39 year old great may box on the Jeff Horn-Terence Crawford card due to take place in April, but again, this could be talk and nothing more.
Why Pacquiao either made up a story regarding his negotiating to try and make a fight with Lomachenko, or was misled into thinking this was the case, really is a mystery.
Anyway, we can now file this big fight talk under fake news. Lomachenko will continue to show his great skills at either 130 or 135 pounds for the time being. Pacquiao? Who knows, maybe the former multi-weight world champion should become a full time politician.
As to who we'd LOVE to see Lomachenko fight next, here are some names that really could climb into the ring with him – if they dare, that is!
Mikey Garcia, maybe, after his now-postponed 140 pound title fight with Sergey Lipinets is done, Garcia will indeed drop back down to 135 and get it on with Loma.
Or maybe another superb lightweight in Jorge Linares will agree to fight Lomachenko, if he cannot get that big fight with Garcia (or if Linares is unwilling to wait on Mikey).
Gervonta Davis against Lomachenko would be huge, huge, huge. Floyd Mayweather says he will not let his fighter rush things, but this is one hot fight fas would be in a mad ruish to go see if it happened.