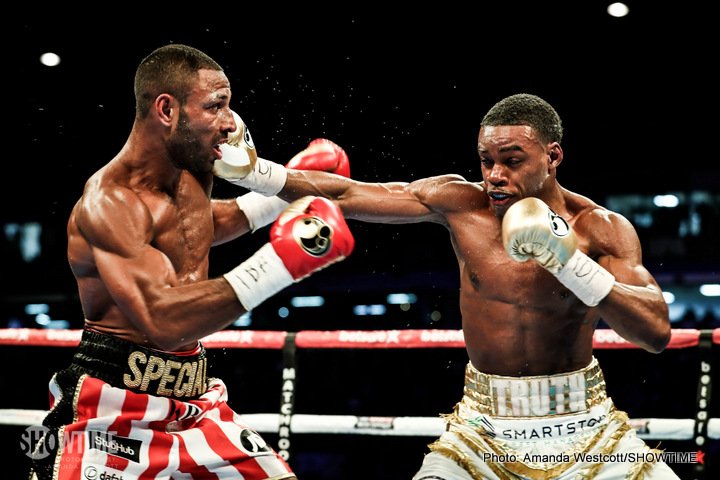 As fans know, former IBF welterweight champ Kell Brook returned to winning ways last night in his hometown of Sheffield, and "The Special One" looked good in doing so. In his 154 pound debut, Brook wiped out the experienced and capable Sergey Rabchenko inside just two rounds, coming through a return fight that, on paper at least, could have been a tough one.
For some time Brook has said 154 is his natural weight and that he can win a world title there. Eddie Hearn has also said this, in fact Hearn wanted Brook to leave behind the torture of making 147 some time ago, with Brook instead refusing to vacate the IBF welterweight belt he had worked so hard to win. The man who took that belt was of course the gifted Errol Spence, and Spence put out a message saying that, if Brook can win a world title at '54, he would be interested in fighting him a second time.
Hearn, in speaking with iFLTV, said he would "love" to see that rematch take place at 154, that Brook "was winning the first fight," and lost, largely due to the fact that "the weight killed him." Spence-Brook, last May, was a good fight, a closely fought battle that was both entertaining and hugely competitive until Brook suffered facial damage, around his eye (needing a second operation, the first coming after Brook's brave but brutal loss to middleweight king Gennady Golovkin).
So can Brook improve on the effort he gave back in May of last year? Will the new weight allow Brook to have a real shot at avenging the loss to Spence? First, Brook will have to win a major belt at 154, and Jermell Charlo, the WBC ruler, has expressed some interest in defending against him. Hearn says he will now wait and see if Charlo makes him an offer, maybe for a fight in June.
Brook does have a good deal of options again now, at least potentially. Charlo-Brook would be a very interesting match-up, and as Hearn said, Brook is punching so much harder now as a super-welterweight. The Amir Khan fight of course refuses to go away, and Hearn said that it can happen later this year, maybe in November time. But at what weight?
Khan would, on the evidence of Brook's powerful performance over Rabchenko, be foolish to agree to face his countryman up above 147. While Brook would be foolish to "kill himself" in making welterweight once again. It seems Brook's future lies firmly at 154, where he has arrived as a serious contender.