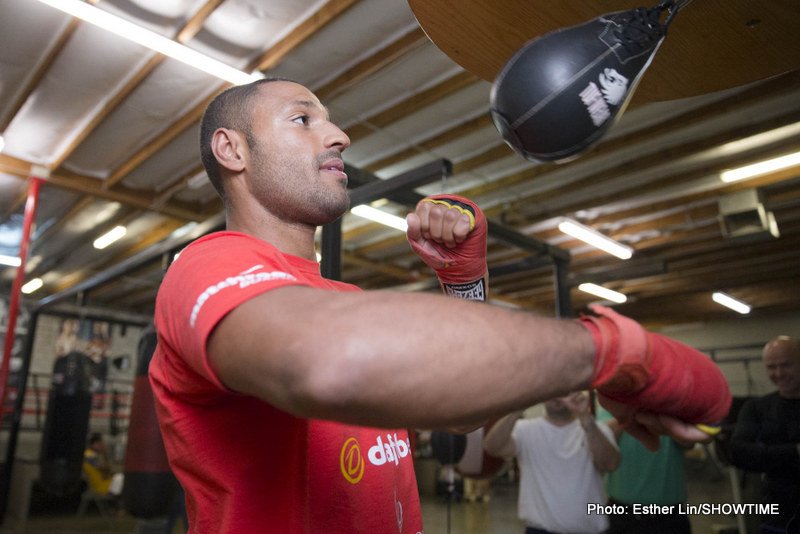 Share the post "Eddie Hearn: "After the Kell Brook-Jessie Vargas fight we'll look to make a fight with Thurman or Garcia""
Promoter Eddie Hearn has admitted to frustrations in getting all the I's dotted and all the T's crossed with the upcoming IBF/WBO welterweight unification clash between Kell Brook and Jessie Vargas. The fight has still not been officially announced, even though Vargas has signed the contract. Speaking with the Daily Mail, Hearn said the fight "will happen," and that when it does, unbeaten Brook "will underline that he is the best welterweight in the world."
"There has been some understandable frustration in the delays in announcing Kell Brook's unification fight with WBO champion Jessie Vargas," Hearn told the newspaper. "The issues right now are very small. We are trying to get the right date in relation to the Eubank-Golovkin fight and we are also still discussing the US TV rights. This fight will happen."
Brook-Vargas is expected to go ahead in either August or September but as Hearn said, it all depends on the Gennady Golovkin-Chris Eunabk Junior fight. If that is made for August, the Brook-Vargas fight will likely take place the following month, for Sky Sports do not want two Box-Office shows in the same calendar month; Brook-Vargas and GGG-Eubank will both be pay-per-view events in the UK. Personally, I'd pay for Golovkin-Eubank, but unless it had a stellar under-card, I would probably pass on Brook-Vargas. In any case, British boxing can look forward to some big fights at the end of the summer.
But Hearn sees even bigger fights for Brook. Continuing his interview with the Daily Mail, the Matchroom boss said that after the Vargas fight – a bout he obviously feels Brook will win – he will try and get either WBA welterweight champ Keith Thurman for Brook, or WBC ruler Danny Garcia.
"I watched the Keith Thurman-Shawn Porter fight the other night and I know Kell is better," Hearn stated. "He beat Porter in his backyard and after the Vargas fight we will look to make a fight with Thurman or Danny Garcia. He will have all the belts before long."
Brook is unquestionably a major talent, but would he beat Thurman and/or Garcia? Brook scraped past Porter – for his biggest career win almost two years ago – in a fight that could have gone either way (it was a 12-round majority decision win for "The Special One"). Thurman of course went to war with Porter and won a close decision himself, so going by that alone, Thurman and Brook look to be evenly matched. Indeed, it would be a great fight – can you say pick 'em? Garcia hasn't looked the force he was at 140 in his welterweight fights, but he too would be a massive test for Brook.
Will Hearn be able to make these potentially great fights and if so, where? Will Brook head back to America in late 2016 or early 2017? Come to that, will Brook beat Vargas? It really would be great to have just one, undisputed welterweight king. Will this fighter be Brook, Thurman, Garcia or someone else – Errol Spence Junior, maybe?