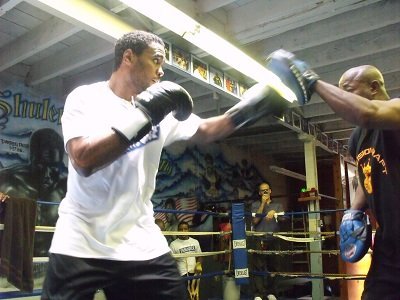 PHILADELPHIA – Inside the James Shuler Memorial Boxing Gym the temperature climbed steadily towards 100 degrees today as Philadelphian cruiserweight, "Fast" Eddie Chambers welcomed the media to his boxing workout.
Chambers, 36-3, 18 KO's, is preparing for his upcoming NBC Sports Network Fight Night battle against South Africa's Thabiso Mchunu, 12-1,9 KO's. The bout will be part of a telecast that will begin at 10:30 PM EDT on Saturday, August 3rd and also features Curtis Stevens vs. Saul Roman in a 10-round NABF middleweight title main event.
Chambers' Trainer, James Bashir worked the pads with Chambers and then oversaw the heavy-bag workout. Fellow Philadelphia favorite, Jesse Hart stepped into the ring to spar several rounds with Chambers, as Steve "USS" Cunningham offered encouragement from ringside.
Here's what Chambers had to say:
Regarding his first official fight at cruiserweight. "It's not so difficult to make 200. I can eat what I want. I'm not saying I'm gonna eat cheese steaks and all the stuff like that because I am staying away from the fatty foods. I'm trying to stay slim and trying to look the part as well as fight the part."
Regarding fighting southpaw, Mchunu: "Anytime you fight a southpaw, when most of your career has been against orthodox fighters, it could become a little bit tricky. I've been indoctrinated into this (southpaw) game. I had a guy when I was 14 or 15 who was a southpaw, and I basically sparred with him almost every single day, at least 5-6 times a week and at that time I was doing it twice a day. And he was a very tricky southpaw, tall, about 6'4″ and fast. It was such a tough thing for me to figure out, but working with him taught me how to fight southpaws. I was basically doing that for years, maybe 4 or 5 years, I was sparring with him nearly every single day. It showed me the way."
Mchunu is highly ranked but very unknown, what are your thoughts on him: "He's a bit shorter, he's a bit difficult, in some of the tapes I've seen in some of the tapes I've seen of him, but it's not something that's too tough for me to handle."
How does your arm feel after the injury in the Adamek fight: "It feels great now. I've been able to do the same thing with my left arm as I've been able to do with my right. I'm pretty much ready to go right now."
Chambers spars with Jesse Hart
Regarding sparring with Jesse Hart: "Yeah, we've got that shining star prospect, Jesse Hart coming in here, former Olympian. I always want to get the young studs, the ones that got something to prove and the ones are trying to make it to the next level because when you bring those kind of guys in they make you raise your level. I always think, 'look at this little young guy, this little youngster, he thinks he's going to just beat me down.' That's just not going to happen, you know what I mean? So that makes you work harder and you prepare better.
"THREE TO SEE" FIGHT INFO:
August 3rd "Three To See" card at Mohegan Sun, Uncasville, CT. In the main event Curtis Stevens and Saul Roman will clash for 10-rounds in a middleweight war. Also co-featured will be a 10-round cruiserweight battle between Eddie Chambers and Thabiso Mchunu. Heavyweight, Tomasz "Goral" Adamek will take on Tony Grano, Hartford, CT, 20-3-1, 16 KO's, for 10-rounds. Vyacheslav "Czar" Glazkov will be featured on the undercard in an 8 round heavyweight fight, opponent TBA.
NBC Sports Network Fight Night will telecast the August 3rd show beginning 10:30PM EDT.
To find the location of the NBC Sports Network on your local cable, satellite or IPTV provider, click here:
http://www.nbcsports.msnbc.com/id/30092015/ns/sports/
Tweet the link to NBC Sports Network Fight Night channel finder: bit.ly/175UuU
Tickets are priced at $125 and $40 (price includes facility fees) and can be purchased by calling Mohegan Sun Box office 860-862-8499 or through Ticketmaster. For ADA accessible sales, call Mohegan Sun Box Office at 860-862-8499.
# # #