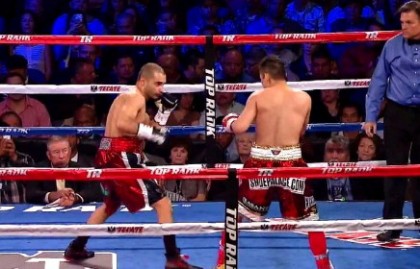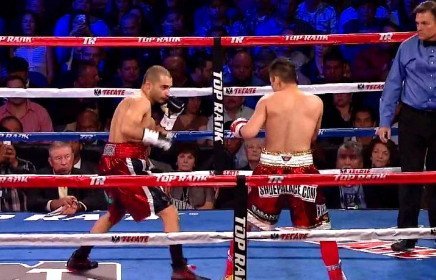 As expected, Mikey Garcia (33-0, 28 KO's) stopped WBO super featherweight champion Roman "Rocky" Martinez (27-2-2, 16 KO's) in the 8th round on Saturday night at the American Bank Center, in Corpus Christi, Texas, USA. Garcia knocked Martinez down with a big left hook to the body in the 8th round. Martinez wanted to get up but he was too hurt to rise to his feet. The fight was then halted by referee Lawrence Cole 0:56 of the round.
—
Nonito Donaire (32-2, 21 KO's) looked like a shell of himself in having to go life and death to stop a way past his best Vic Darchinyan (39-6-1, 28 KO's). Donaire caught Darchinyan with a left hand in the 9th to put him down. Donaire then loaded up with a series of single shots agaisnt a badly hurt Darchinhyan until referee Lawrence Cole stepped in and stopped the bout with Darchinyan still on his feet. The official time of the stoppage was 2:06.
Donaire was really hammered tonight and appeared to be trailing the fight by at least 4-5 rounds going into the 9th round. Although Donaire was able to pull out the win by nailing Darchinyan with a big shot, he didn't look good in the fight. Donaire took some vicious shots against a guy that really belongs in the bantamweight or super flyweight division. Donaire looked like he was going to lose to Darchinyan until catching him with a big left hook.
Donaire's face was swollen up and his nose bleeding as he entered the 9th round. He looked like a beaten fighter. However, he was able to catch Darchinyan with a big left hand just like he did in their first fight six years ago to hurt him badly enough to put him down.
It's difficult to say what Donaire should do now with his win. I think it's pretty clear that his future at featherweight will be a bad one. He wants to fight WBO featherweight champion Orlando Salido, but that's a bad idea. Salido is a lot more solid than Donaire and bigger puncher with every shot. Salido will destroy Donaire when or if that fight happens. The same with Vasyl Lomachenko. Donaire doesn't belong in this division, and he needs to do whatever he can to get back down to the super bantamweight division before he gets hurt.
—
Demetrius Andrade (20-0, 13 KO's) looked very beatable and mostly poor in winning a 12 round split decision over Vanes Martirosyan (33-1-1, 21 KO's) to win the vacant WBO junior middleweight title. The fight was Martirosyan's to win, especially after knocking Andrade to the canvas with a left to the head in the 1st. But Martirosyan failed to jump on Andrade and stay on top of him. Martirosyan would jump in and land a shot or two and then immediately pull away for some reason to the outside. It was a really stupid fight plan given that he was fighting a much taller fighter with a long reach advantage. Andrade had no inside fighting skills whatsoever and had Martirosyan stayed in close for 12 rounds, he would have easily won the fight. The blueprint is there how to beat Andrade, but Martirosyan clever enough or skilled enough to fight the right strategy.
The judges scores were 114-113, 117-111 for Andrade, and 115-112 for Martirosyan.
—
Other results:
Alex Saucedo KO 3 Steve Hall
Nicholas Walters TKO 4 Alberto Garza
Erick De Leon UD 4 Jesus Aguinaga
Oscar Valdez TKO 5 Jesus Lule Raya
Oscar Cantu UD 6 Roberto Ceron