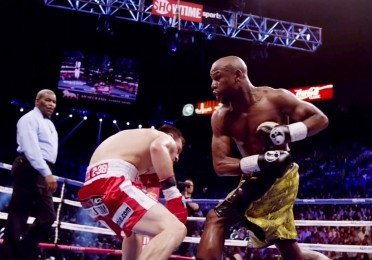 Dan Rafael of ESPN pointed out recently that Floyd Mayweather Jr. (45-0, 26 KO's) with his fame and fortune will never be able to have a legacy because he's failed to fight Manny Pacquiao (55-5-2, 38 KO's). I'm not sure that a fight against Pacquiao is really needed for Mayweather to cement his legacy.
The only thing good that could come out of a Pacquiao-Mayweather fight now is that it would attract a lot of fan interest, but it wouldn't mean much for Mayweather's legacy to beat Pacquiao now. Pacquiao has lost 2 out of his last 3 fights, and his promoter Bob Arum had to back him off of good opposition and put him in against one of his struggling Top Rank stable fighters Brandon Rios for Pacquiao to stop losing.
Floyd is rich but one thing he can never buy is a legacy that includes beating a prime Manny Pacquiao. He can never buy that. Ever. #truth

— Dan Rafael (@danrafaelespn) December 24, 2013
Rios had been beaten in his last fight by Mike Alvarado, and dominated by Richard Abril last year in a sad robbery where Rios was given the win.
Pacquiao has already been beaten by Juan Manuel Marquez, Tim Bradley and Erik Morales. Pacquiao's biggest wins in the last four years have been catch-weight fights against Miguel Cotto and Antonio Margarito. As far as Pacquiao's other wins, he doesn't have a lot to show to his record. His two wins over Marquez were controversial as well his draw with him, and Pacquiao's other victories over Ricky Hatton, Shane Mosley, Oscar De La Hoya, Joshua Clottey and Brandon Rios were nothing special given the opponent and/or the time in their careers when he fought them.
Mayweather beat a prime Juan Manuel Marquez with ease. That fight there is something that Pacquiao could never do. Mayweather also has wins over Ricky Hatton [long before Pacquiao beat him], Cotto, Victor Ortiz, Robert Guerrero, Zab Judah [in his prime], Arturo Gatti, Jose Luis Castillo, Diego Corrales, and Saul "Canelo" Alvarez.
I really don't think a win over Pacquiao would make that much difference in Mayweather's legacy, to be honest. I don't think Pacquiao would have beaten De La Hoya in 2007, and I definitely don't think Pacquiao could beat Canelo without a strength-draining catch-weight handicap. To me, Canelo would beat Pacquiao and knock him out at 154.
It's really too late for a Pacquiao-Mayweather fight doing anything for either of their legacies. The fight is too far along in their careers and the winner would be seen as little more than the guy that had a little bit left in the tank rather than the fighter who would have won it in their prime.
I have no doubts in my mind that Mayweather would dominate Pacquiao in his prime. Mayweather would be too skilled for Pacquiao with his sloppy defense.