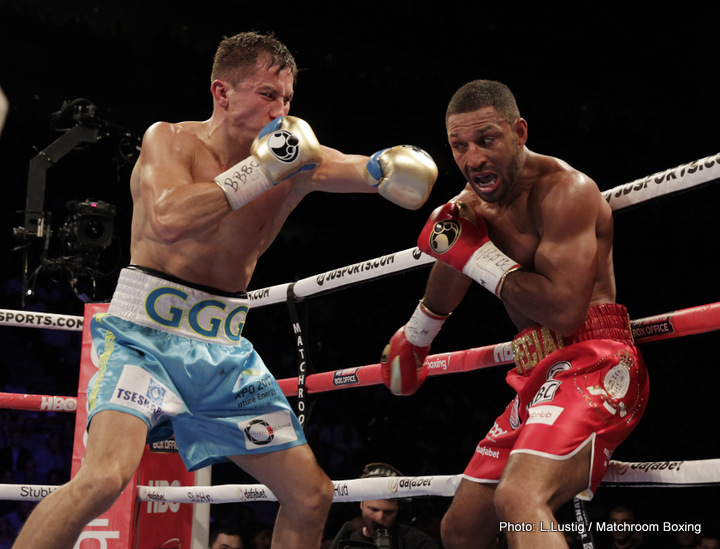 Does a fighter, especially these days, have to go up through the weight classes, winning world titles in each one as he goes, to become a true great? It seems, with the vast number of weight classes there are in the sport today (certainly vast in comparison to the traditional 8 weight classes of yesteryear), fans have an urge to see a talented champion move up to try and conquer another weight class almost as soon as he has collected belt-one.
Case in point: middleweight king Gennady Golovkin. GGG has pretty much cleaned up the 160-pound division (save getting and winning the fight he, and we, want so much, in Canelo Alvarez) and there are cries for him to move up, not only to 168-pounds but also to 175-pounds. Is this asking too much of a fighter who is not that big for a middleweight in the first place? Golovkin has spoken of going up to super-middleweight himself, once he has collected all the middleweight titles (just the WBO strap to go) but does he need to do so to become a great, a legend?
One man who says that all the legendary champions of the past did move up through the weights is Floyd Mayweather Junior, who won belts at 130, 135, 140, 147 and 154. Speaking with FightHype, "Money" said GGG should give the fans what they want and move up.
"When you look at every legendary champion, as far as Sugar Ray Leonard, he went up in weight, Manny Pacquiao, he went up in weight, Floyd Mayweather, he went up in weight, and the list goes on and on," Mayweather said. "We are still waiting to see Triple-G go up in weight. Badou Jack would be a good fight for him."
Again, does a fighter have to conquer, say, two or three weight classes to be considered a great these days? Didn't Marvelous Marvin Hagler, a fighter GGG has been compared to by some, stay at 160 his entire career? Yes. And isn't Hagler recognised by everyone as both an all-time great and a legend? Yes again. In fact, it is a special discipline in itself, staying at one weight for such a long time, never getting out of shape or lazy and needing to move up.
If GGG stayed at middleweight and continued dominating the way he has been, and if he broke the record for most middleweight title defences (currently held by Bernard Hopkins) wouldn't that be greatness right there? Golovkin doesn't have to go anywhere weight-wise. If he chooses to go up, fine, but his legendary status will be secure if he is able to maintain his middleweight dominance. Imagine GGG retiring, unbeaten, at something like 46, 47, 48, 49 or 50-0? No further weights required.