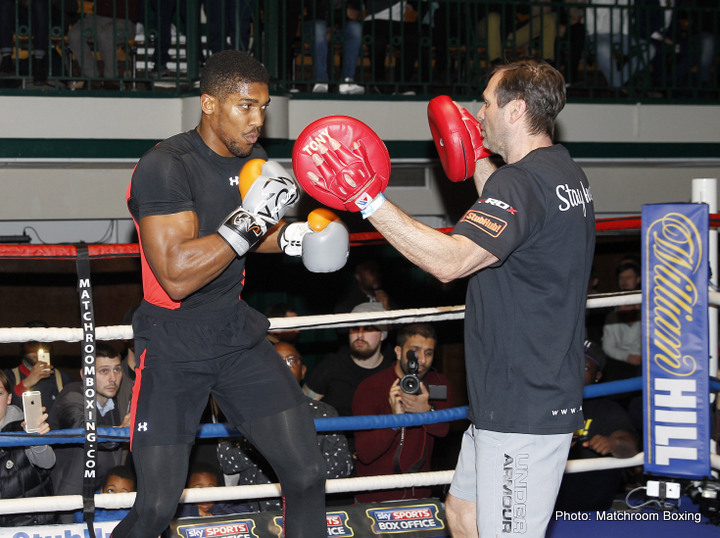 Though Dillian Whyte has his own fight to concentrate on – against the dangerous and determined Robert Helenius – Whyte also has major interest in Saturday night's headline fight between Anthony Joshua and late replacement foe Carlos Takam.
Whyte (who, interestingly, AJ told Eddie Hearn was the man he would most liked to have fought after Kubrat Pulev was forced to pull out due to a shoulder injury) told Sky Sports how he sees this Saturday's fight as "an easy fight" for WBA/IBF ruler Joshua.
"I think it's an easy fight [for Joshua] because even though Carlos Takam is strong he won't cause Joshua any problems," Whyte, who has only been beaten by AJ as a pro, said. "Carlos Takam is just a little bit too small. Takam will spend the whole night running from the right hand and uppercut and it will be done in about four or five rounds."
If Whyte is proven correct, Joshua's large fan base will almost certainly go home happy, but will the hardcore fight fans be as satisfied? It's a late replacement fight so nothing can really be said in the negative if the fight does turn out to be a veritable walkover for AJ, but couldn't the promoters and the folks at Sky Sports reduce the price tag, even just a little bit, by way of compensation?
Of course this won't happen (and to be fair, the under-card on Saturday is pretty solid), but fans were looking forward to seeing Joshua battling with the bigger, stronger (than Takam) Pulev, and this is why they bought their tickets. Instead, these same fans get Joshua against "small" heavyweight Takam. Will the Box-Office receipts suffer a little as a result or is AJ simply a big enough star in the UK to be able to fight just about anybody and pull in monstrous crowds (both live and watching on TV) as he does so?
Look for Takam to give it a go, and who knows, maybe catch AJ with a shot or two, before he falls, as Whyte says, in four or five.