Dillian Whyte insists he WON'T be gunshy this Saturday night for his rematch with his former conqueror Alexander Povetkin at Gibraltar on March 27th.
There's certainly no shame in Whyte, 32, playing it safe, going into a defensive shell for 12 rounds, hoping he won't get bombed out again by the powerful Russian fighter.
(Photo credit: Mark Robinson/Matchroom Boxing)
In light of Whyte's brutal fifth-round knockout loss against Povetkin (36-2-1, 25 KOs) on August 22nd last year, boxing fans believe that he will be fighting defensively from the outside in the rematch.
Fans are expecting Whyte (27-2, 18 KOs) to be staying clear of Povetkin, 41, at all costs, throwing only jabs and not putting himself in the firing line of the Russian's powerful uppercuts.
Although Whyte vehemently denies that he'll be walking on eggshells in the rematch with the former WBA heavyweight champion Alexander Povetkin, it's hard to believe him. There's too much to lose for Whyte in this fight, particularly in the money department.
If Whyte loses the rematch, he'll miss out on millions upon millions of dollars/pounds that he'll be able to scoop up in challenging the winner of the Anthony Joshua vs. Tyson Fury fight as the WBC mandatory.
Is Whyte in denial?
"I'm not gunshy," said Whyte to Fighthub. "Where I grew up, if you're gunshy, you get killed. It doesn't really have to be different.
"You just have to change a few things and be a bit more consistent in a few areas, but it's a business, you know me. I just try and do as much damage as I can. I just need to be more switched on and more intent to cause harm."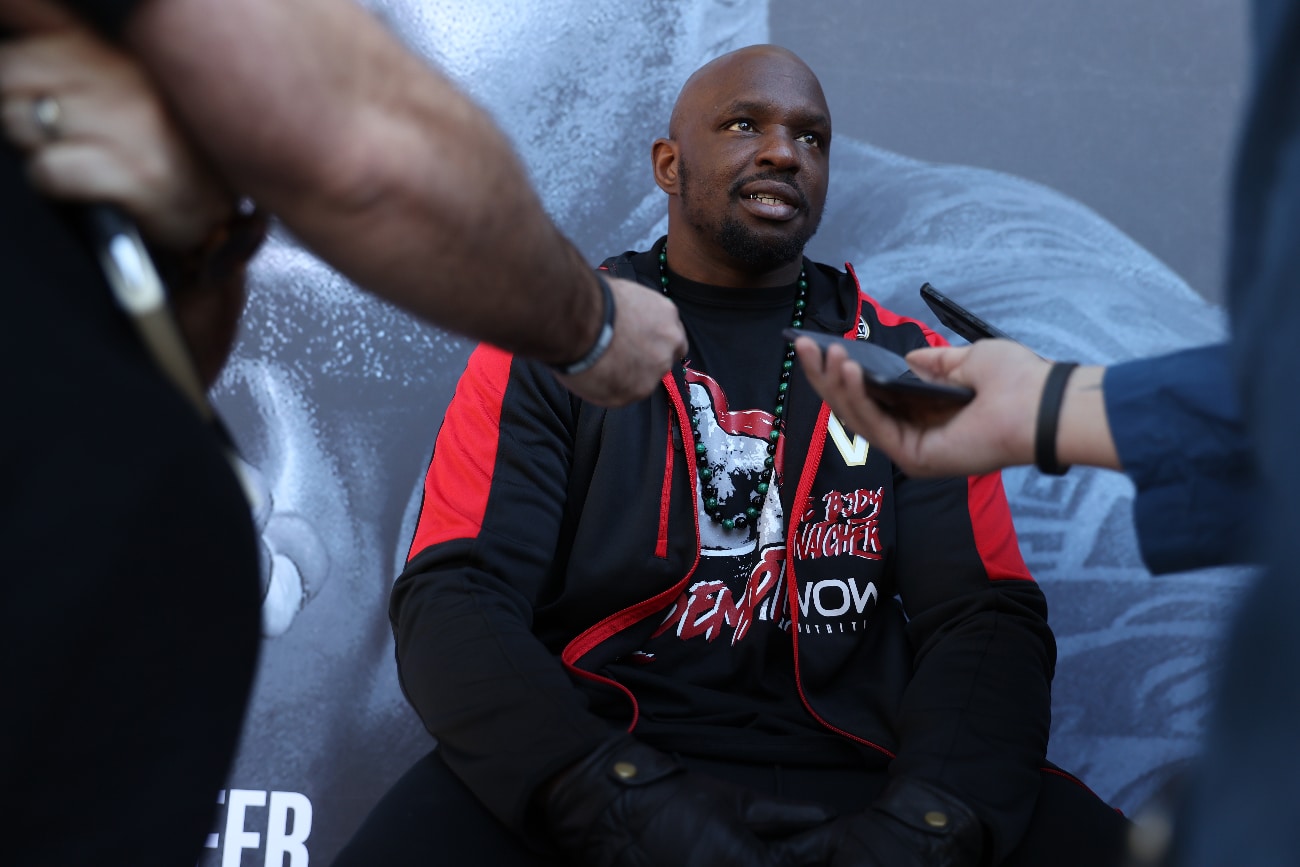 "So we're told, where's the evidence," said Whyte about Povetkin having battled COVID 19 in late last year. "The key words are 'so we're told.' I don't know.
"This is boxing, and people play games and try and do all this mind mess and all of this. Who knows? If he was sick, I'm glad he's alright, and he's OK. If not, f*** him.
"This is a big fight, it's a major fight, and it's one that we'll win. That's why I'm looking forward to winning it," said Dillian in his fight this weekend against Povetkin.
Hopefully, Whyte isn't too hung up on Povetkin's COVID 19 excuse for him postponing their rematch because it actually helps him.
It would have been foolish if Whyte had fought Povetkin last November, as he may have had lingering issues from his knockout loss.
The smart thing for Whyte to have done is to extend the rematch out a year to ensure that he was 100% recovered rather than jumping straight back in there, hoping things will turn out okay.
Povetkin says it wasn't a "lucky punch" last time
"The only thing I can say about the people that say it was a lucky punch, they can stay on their opinion, but this is a combination we work on from the left and from the right, and it works," said Povetkin to iFL TV in commenting about Whyte's fans saying he got "lucky" when he knocked him out last August.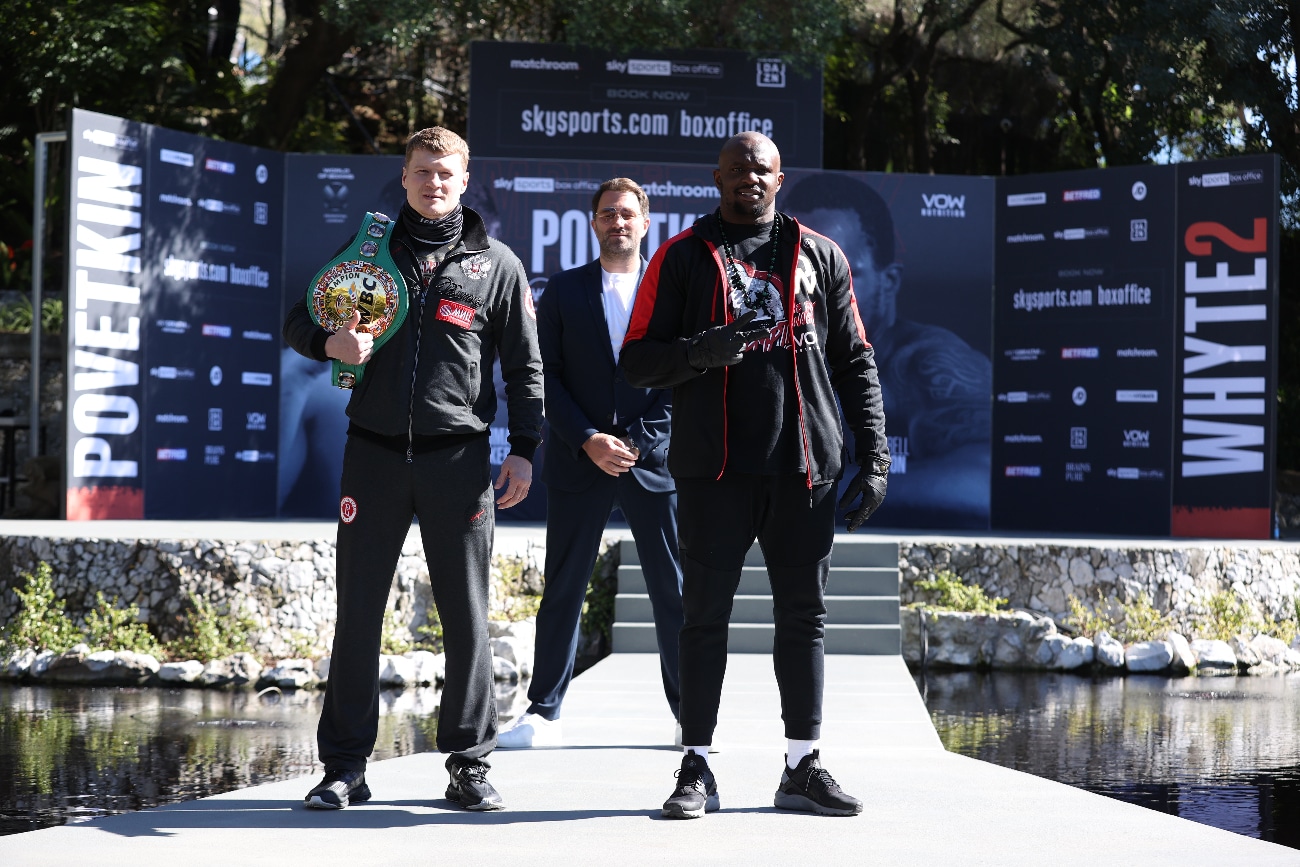 "I don't know if the style of the fight will be the same because I've been trying to fix my mistakes so as to avoid problems I had in the first fight. I can't say that it will be such drama.
"I think it would have been better if the fight had taken place on the 21st of November as the fight was previously scheduled, but those things happen.
I don't know who will win from the postponement of the fight. I don't know his conditions. For me, it's a normal situation.
"We have to pass this fight, and then we'll discuss what we'll do next," said Povetkin when asked if he'll try and fight the Anthony Joshua vs. Tyson Fury fight next.
It was definitely not a lucky punch from Povetkin that knocked Whyte out last August. He's used that same shot to hurt his opponents in some of his other fights, and no one called it a lucky punch.