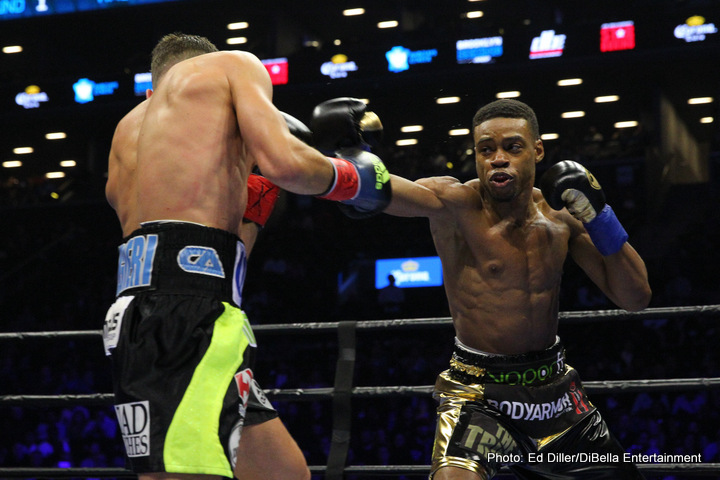 Promoter Lou DiBella, who has been involved in boxing for many years – working with the likes of Bernard Hopkins, Paulie Malignaggi and many other world champions during his tenure in the sport – is hugely excited about his newest star, Errol Spence Junior. Speaking at the post-fight press conference for Spence Junior's very impressive 5th-round stoppage of the durable and experienced Chris Algieri, DiBella said the southpaw welterweight "has the potential to beat anyone in the world today."
"What this guy just did is scary," DiBella said as quoted by RingTV.com. "The talent that he has, this guy's ceiling is higher than anyone I've seen in a long, long time."
When it comes to who Spence Junior, 20-0(17) might fight next, DiBella made it abundantly clear he fears no welterweight when it comes to matching his dazzling star. DiBella went as far as to challenge all-time great Floyd Mayweather Junior to come out of retirement to face his fighter. That one has absolutely no chance of happening, but when it comes to Spence Junior challenging one of the current 147-pound champions, there are big fights that can be made. However, when it comes to Spence Junior fighting Kell Brook, for whom he is the IBF mandatory challenger, DiBella said he is not so sure Brook will take the risky fight.
"Personally, I don't think Kell Brook would want any piece of him," the promoter said. "Is there anyone who thinks [another welterweight fighter] would be a prohibitive favorite over him? Anyone? I don't think there's anyone. That's pretty amazing."
Kell Brook now has to decide what he wants to do. The Sheffield fighter has long been complaining how none of the big guns will agree to fight him. Spence Junior is not a huge name yet, but he looks to many people – DiBella included of course – like a definite star of the not too distant future. Will Brook take the fight or might he avoid Spence and vacate the title; this after taking two less than appealing mandatory fights he had to take so as to hold onto his treasured IBF belt? Spence Junior clearly wants the fight – he said at the press conference how he is "not scared" of traveling to the UK to fight Brook – but will the fight be made?
DiBella also spoke of how Spence Junior will be in the audience at the June 25th Keith Thurman-Shawn Porter fight and that the winner will "have to look down into the crowd and see him." DiBella, who said he thinks Spence Junior should, in his opinion, be ranked in the top-10 pound-for-pound charts even at this still relatively early stage in his career, also insisted his fighter would defeat Manny Pacquiao.
If Spence Junior is as good as DiBella thinks he is – and so far there is every reason to believe he might be – the hardest obstacle he may encounter is getting the big fights his considerable talents deserve.