WBC lightweight champion Devin Haney wants the undisputed 135-lb champion, Teofimo Lopez, to bypass his IBF mandatory George Kambosos Jr and go straight into a marketable clash in early 2021.
Haney (25-0, 15 KOs) doesn't see any point in having to wait until Teofimo takes care of his commitment to Kambosos Jr (19-0, 10 KOs), who reportedly has no interest in stepping aside.
Obviously, Teofimo and his promoter at Top Rank could have asked the International Boxing Federation to allow him an exception to take on Haney, 22, next due it being a huge fight.
It's unclear whether the promotional company even considered this move. If you look at it from Top Rank's perspective, there's much less risk for Teofimo fighting Kamboos Jr than there is in matching him against the talented Haney.
The IBF is strict about their mandatory, and it may have been a waste of time for Top Rank and Teofimo to ask them to temporarily bypass Kambosos Jr to take the more significant match against Haney.
It's still not a certainty that Teofimo will take on the 27-year-old Australian Kambosos next, as they have a purse bid scheduled for February 18th next week.
If the winning bid is below what Teofimo and his father Teofimo Sr feel is acceptable, they could jettison the IBF strap and take the better-paying match against Haney.
Haney wants Teofimo next
"Waiting around isn't in my plans, and it's not something I want to do. I'm not looking to wait around and fight somebody else.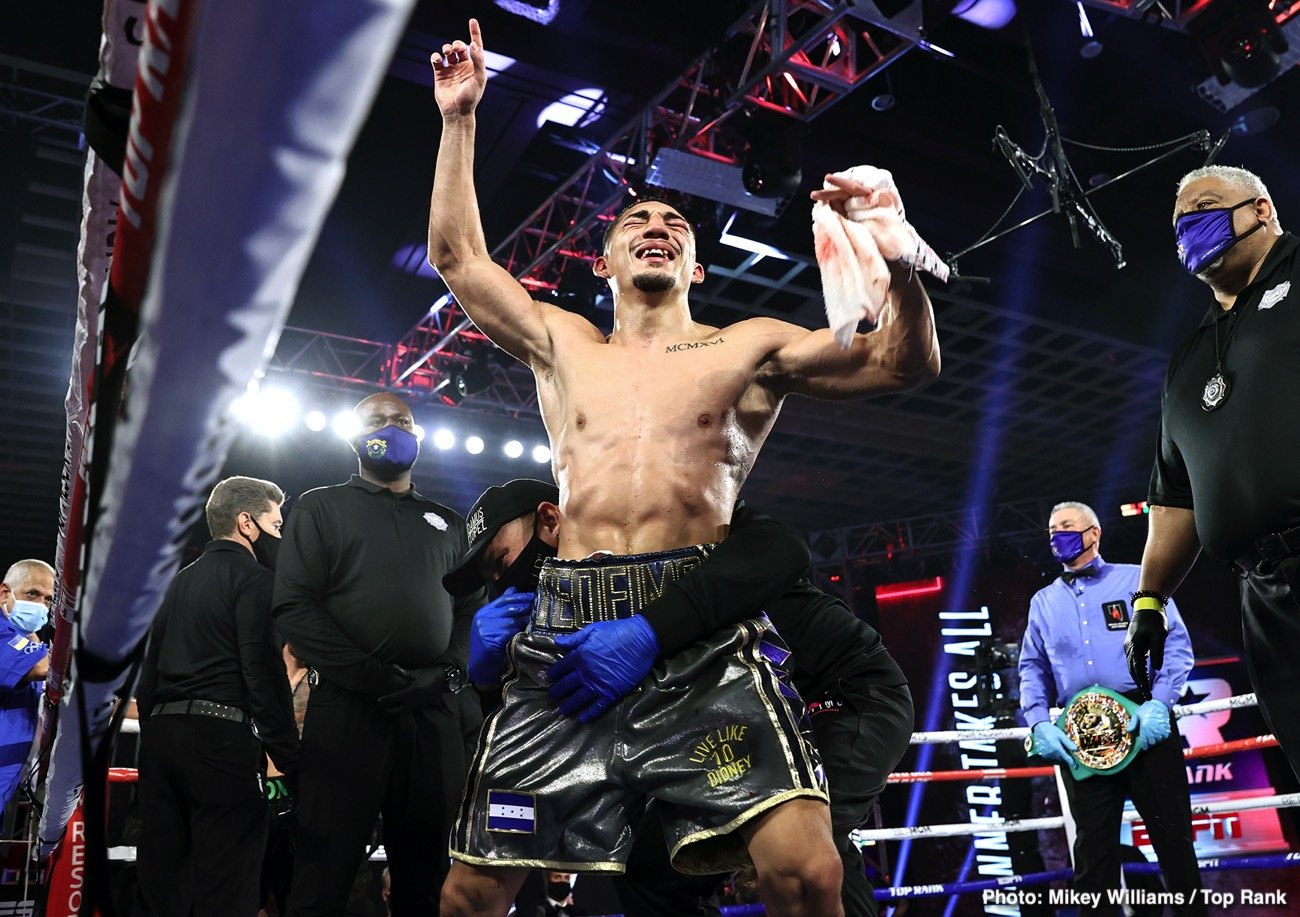 "That is the fight that I want," said Haney to AK & Barak Show about him wanting to take on Teofimo next.
"That's a fight [Teofimo vs. Haney] that we need to make happen and that the fans want to make the fight get made.
"That's the fight that should get made. It shouldn't be 'I got to take care of business' and 'I got to go do something different' because, in reality, this is the fight that makes sense.
"That fight can wait. The winner can fight that fight because me and him [Teofimo] is the fight that should get made.
"My main focus is not to wait and not to think about making other plans because that's the fight I want, and that's the fight that should be made.
"The sanctioning bodies understand when it's a bigger fight and a bigger magnitude for the undisputed," Haney said about his belief that a fight between him and Teofimo is bigger than the Kambosos fight.
"They understand that. So I think that if we went to them [IBF] with that plan and letting them know, this is the fight that we want to make happen and it makes sense, and everything aligns, then we can make the fight happen," said Haney.
The boxing public agrees with Haney 100% that they would prefer to see him and IBF/WBA/WBC/WBO lightweight champion Teofimo Lopez square off than see Teo take on his IBF mandatory Kambosos Jr.
Unfortunately, Teofimo and his promoters at Top Rank really want the Kambosos Jr fight to happen. There's a little bit of money in it for them, and it's an easy one for Lopez.
Kambosos Jr has limited talent, and he's not going Teofimo any trouble if this fight gets made.
Ryan Garcia shouldn't fight Pacquiao
"That fight doesn't make sense because it's not a very winnable fight for Ryan [Garcia]," said Haney about Ryan not having much chance of beating Manny Pacquiao.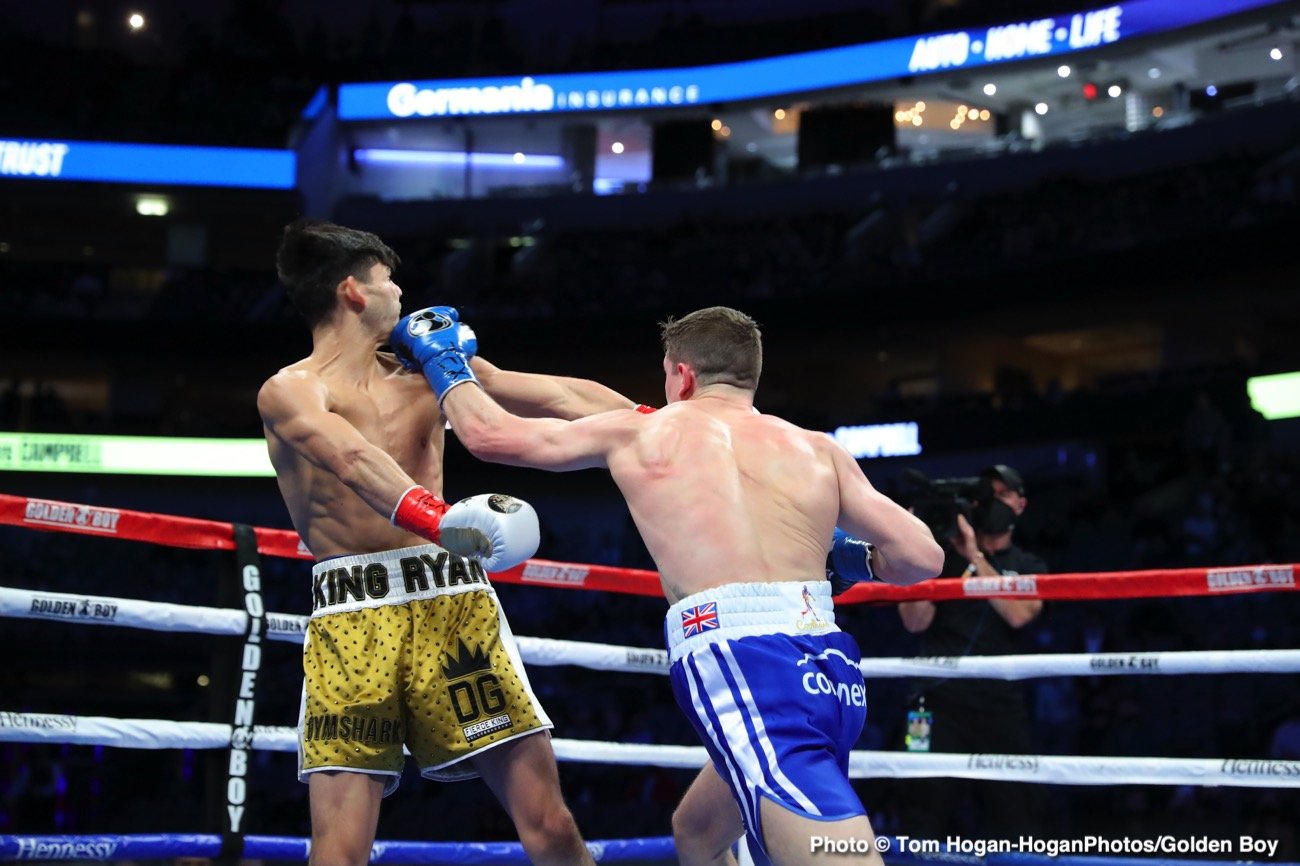 "Ryan is a 135-pounder. In his last fight, he got hurt by Luke Campbell.
"He's not a huge puncher and not a guy that is known for knocking guys out or hurting them like that.
"So you're talking about going up two weight classes to take on Manny Pacquiao, thinking that you win the fight, you're going to come back down to 135 to fight me and Tank.
"It just doesn't make sense. It doesn't seem realistic. I feel like right now, Manny has his career, he had his time, and he did what he did.
"Right now, I feel like it's time to focus on the young guns and the guys now," said Haney in making it clear that he would turn down a fight against Pacquiao if it were offered to him.
"Like I said, that's not a winnable fight for Ryan. That's not an easy fight. I'm not saying he can't win but saying he can win.
"Let's say he loses to Manny Pacquiao, then what? Pacquiao had his era, and that era came and went.
"Now it's our turn. Let's focus on these fights with Tank, with me, and with Teofimo Lopez. This is our era to take over the sport of boxing," said Haney.
If the Pacquiao vs. Ryan Garcia fight does happen, and it doesn't look like it will, the battle would just be about money.
Even if it's a "real fight," as Ryan says, it'll likely be a glorified sparring session. Pacquiao, 42, will probably carry the young 22-year-old King Ryan to avoid hurting him because he's clearly too small, too inexperienced, and too limited in the talent area for him to be competitive with Pacquiao.
Ryan getting dropped hard by non-puncher Luke Campbell in the second round of their fight last January shows clearly that he doesn't have the defensive capability or the chin to stay in there with Pacquiao for more than one round if he fights him an all-out manner.
Haney doesn't like Jake Paul's recent comments
"I like Jake, I like Logan, I'm friends with both guys," said Haney when asked about Jake's poem that he made about Floyd Mayweather Jr.
"But I feel like them coming into boxing and being YouTubers and the sport, I feel like they should respect the legends and paid their dues.
"Guys that are legends in the sport of boxing. Don't just come into the sport disrespecting because they are the reason why we young fighters are doing what we're doing and motivated and here.
"So I think they should respect the guys that came before us and respect the greats.
"It's all about trolling and the new things about trolling and having fun on the Internet.
"But I think they should show Floyd respect. I would watch it," said Haney about the tentatively planned exhibition match between Mayweather and 50-Cent," said Haney.
YouTuber Jake Paul is getting off to an early start in promoting his fight against Floyd Mayweather Jr, so he's going to be following the Conor McGregor blueprint of getting under the skin of the 43-year-old Floyd.
Of the three proposed exhibition matches that Mayweather wants for 2021, Jake has the best potential to attract fans in large numbers.
Mayweather's other two exhibition fights against 50 Cent and Logan Paul will likely do fewer numbers because those guys aren't expected to do a good job getting fans interested.
Jake's trash-talking ability, coupled with the fact that he actually has some talent as a boxer, makes him a believable threat to Mayweather.
Yeah, Jake Paul is a YouTuber, but the guy has formidable punching power, and he's a lot bigger than Mayweather.
As a legitimate cruiserweight, Jake can hurt Mayweather if he lands one of his punches solid on the chin of the aging boxing great.
Additionally, the 24-year-old Jake is a lot younger than Mayweather, and with his youth, power, and size advantage, things could be interesting.
Jake wants it to be a real fight with Mayweather and not an exhibition, so we'll have to see what happens there.
If it's going to be a real fight, one of the state boxing commissions would have to be sanctioned.
One reason why Mayweather may insist on the Jake Paul fight being an exhibition match is he can ensure that the gloves are larger ones instead of 10 oz gloves. If Jake is forced to wear 16 oz gloves, that'll help Mayweather take his shots a lot better.