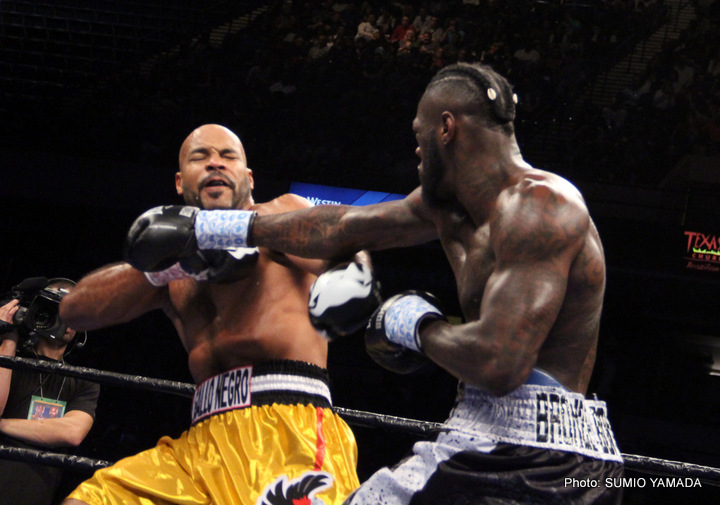 While congratulations have to go out to reigning WBC heavyweight champion Deontay Wilder, who is going to soon see unveiled a statue of his likeness in his honour, some fight fans are sure to wonder whether or not the honour is a little premature. Wilder is an exciting fighter and, with his punching power, a threat to anyone – but a statue; after arguably just one solid ring victory (over Bermane Stiverne, the man Wilder decisioned to win the crown)?
In light of how long the great – truly great – Joe Frazier had to wait for his statue in Philly, the distinction going to Wilder so soon in comparison seems at least a little unbalanced. Still, "The Bronze Bomber" will be able to see his lifelike image unveiled soon, outside the YCMA in Tuscaloosa, AL.
"At first I've been spending time watching the champion training. And getting to know the body mechanics of boxing that took weeks and I'm still working on that," Caleb O'Connor, the creator of the statue told Wiat.com. "Then we had him come in and we photograph him in poses. Then the sculpture will take three to four months."
How many other heavyweight greats (and it is some big stretch calling Wilder great at this point in his career) have the distinction of being paid tribute with a statue? Rocky Marciano has one, Joe Louis does, so too does The Greatest, Muhammad Ali. But these fistic heroes were only granted the honour after they had passed away.
Does Wilder deserve his statue? Perhaps the words of the fictitious 'Clubber Lang' say it best: "Don't give that sucker no statue, give him guts!" Lang roars at heavyweight king of the Silver Screen, 'Rocky Balboa' in the flick, 'Rocky III.'
Nobody is questioning Wilder's guts, but he is still to win over a very healthy share of the world's fight fans when it comes to proving who is the best big man on the planet today. What next, a Tyson Fury statue!