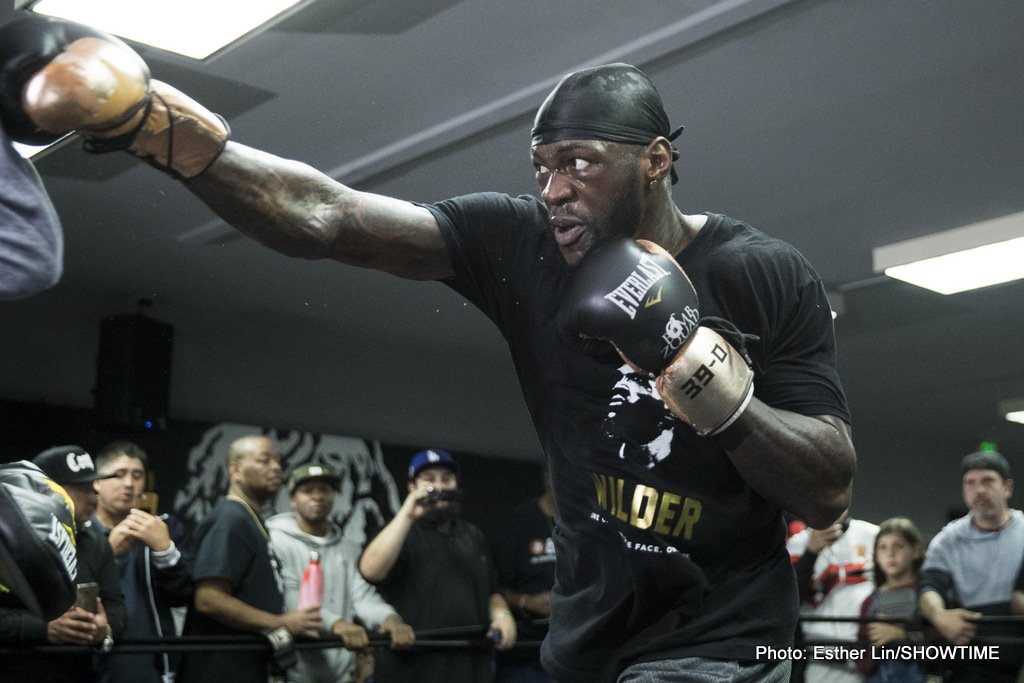 As fans may recall, Deontay Wilder recently made a comment – in reply to being asked what he felt would have happened had he met a prime, 1986 version, Mike Tyson – that was almost universally vilified. Wilder, using his own brand of colorful language, basically said he would have handed "Iron Mike" a beat-down (okay, precious few people were willing to agree with Wilder, but what was a primed and peaking WBC heavyweight champion going to say when asked if he could beat another man; even in a hypothetical match-up!)
Just yesterday, the folks at TMZ – who asked Wilder the Tyson question in the first place – caught up with Tyson himself, and in response to Wilder's response to the question about how a fight with him would go, the youngest ever world heavyweight king simply said, "I don't think so."
But Wilder had yet more to say on the matter. Speaking with CBS Sports, Wilder actually made a great point. Tyson, when he heard how Tyson Fury replied how he himself would have been beaten and quickly by "The Baddest Man on The Planet" had he met him in Tyson's prime, put out a message telling Fury to "have more confidence in yourself." To Wilder, who has all the self confidence in the world, this came across as hypocrisy on the part of Mike.
"Tyson Fury, he did the opposite of me and said [Mike] Tyson would beat him," Wilder said. "And then Tyson came out and said, 'Man, you need to have confidence.' What! Isn't that what I just did? But I got criticized. It don't make no sense, but it's because it's me, which is okay."
It's an interesting point: would fans – along with Lennox Lewis, who was moved to tweet how he could not agree with Wilder's "I'd kick his ass" statement on he Vs. Tyson (although Lewis did add how he likes Wilder's confidence) – have been so offended if Fury had said he'd have beaten Tyson, the way Wilder said he would?
On another not unrelated point, Wilder said how the previous era of heavyweights, Tyson and Lewis included, should be "motivating the new era" instead of "hating."
"These past champion, what they should be doing is motivating the up-and-coming guys," Wilder told CBS Sports. "They don't need to motivate me because I'm self motivated. But these other guys coming up, they should start a trend. Instead of hating on these guys coming for the top or worry about their legacy getting run over for that they did in their era, that era is gone! This is the new era over here. They should be praising the new guys like the other countries, where every other former champion is behind their people. But in America, it's different. Nobody wants to see nobody become bigger than the one before them."
In boxing, you can only beat who is around at the time, dominate your era. Wilder clearly has a strong belief that he can do just that. Who really cares what he thinks he would have done to champions from years gone by. Wilder needs to beat Anthony Joshua, Tyson Fury and maybe one or two other guys, and if he can do so, he will have dominated his own era. Even Tyson and Lewis will be impressed if he can do it.